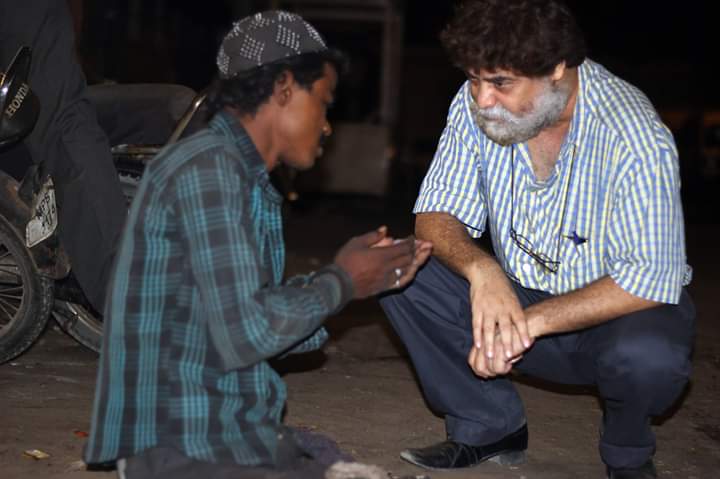 ---
KARACHI: Over the last couple of years, there has been a rising consciousness among legislators and law enforcement authorities of the need to curb the abuse of narcotic substances, especially among the younger generation.

This month last year, Pakistan Peoples Party (PPP) MNA Shahida Rehmani tabled the Prevention of Drugs in Educational Institutions Act 2018, which proposed to conduct random drug tests at least once a year in all public and private universities and high schools falling under the jurisdiction of the federal government. Several other steps have been taken by law enforcement agencies at the provincial level to check the menace.

For one man, however, these steps are too little, if not a little too late.

One-man army

For the last three decades, Dr Tariq Khan has quietly waged a war on the abuse of narcotic substances. In the process, he has seen his life wither away - first losing his job, then his life savings and ultimately his family. And yet, his efforts have largely been thwarted by the authorities, while he has been threatened on numerous occasions by the drug mafia.

But Dr Khan, who is the first Pakistani to have completed his PhD on the 'societal effects of drugs', has made it his life mission to raise awareness about the abuse of narcotic substances and rehabilitate addicts to make them productive members of society.

His book, Narcotics, Social Problems and Solutions, is the culmination of a ten-year research project on the effects of drug abuse on users and society at large and is considered the first distinctive thesis on the topic from the region.

Humble beginnings

Born into a lower middle-class family, Dr Khan was one of 11 siblings. His father, who owned a small shop selling household items, struggled to make ends meet, but pushed all his children to acquire a good education. He was also a very charitable man, remembers Dr Khan, adding that this is where he too derives his ideals.

"Despite his meager income, my father, as well as my mother, was always eager to help relatives and neighbours," says Dr Khan. It was these ideals that compelled him to join the University of Karachi's Department of Social Work - considered the last option for students who have not been able to secure admission in any other discipline. For Dr Khan, however, who was given the choice to join any faculty on the basis of his athletic performance, a postgraduate degree from the Social Work department was a no-brainer. "I had seen how narcotic substances had destroyed families in my neighbourhood," he explains. "My parents would have wanted me to help these families." Little did he know that the struggle would consume his life.

Before enrolling at KU, Dr Khan had completed his BSc from the Federal Urdu University of Arts, Science and Technology. He was also an excellent hockey player and had represented the institution at the inter-collegiate level in tournaments across the country. After completing his Bachelor's degree, Dr Khan started playing for the Habib Bank Limited's departmental hockey team, which gave him a steady income. Somehow, this wasn't enough for Dr Khan, who always had a nagging feeling of doing something for the betterment of society. Hence in 1983, he joined the KU, where he started researching on societal evils and their causes.

A recurring evil

One recurring feature in many familial and societal crises that stood out to Dr Khan was substance abuse. Which is why when it came to writing his thesis, Dr Khan chose the topic, 'The problems of families of drug addicts'.

"My research gave me the chance to shed light on the lives of the underprivileged and how their families were being ruined at the cost of drug abuse," he says. "The women in these families were the most affected, if the custodian or even a young member of the family turned to drugs," he adds. Drug addiction would also negatively impact marital relationships. Many marriages would end up in divorces, which would impact the children. "And thus the cycle would continue," he says.

According to Dr Khan, prior to the 1980s, marijuana and cheap liquor were the substances of choice for the poor. The use of diamorphine drug was also prevalent from Karachi to Peshawar during the Soviet war in Afghanistan.

Dr Khan also laid the foundation of the Karachi University Welfare Organisation, which was largely comprised of the varsity's students and aimed to raise awareness about drug abuse.

Mainstreaming the narrative

After completing his studies, Dr Khan laid the foundation of the Anti-Narcotics Welfare Organisation in 1995. Using his own resources and with the assistance of some friends, he opened a small hospital for the rehabilitation of drug addicts. The facility, however, had to be shut down after a few years due to lack of resources.

As his work started getting highlighted, Dr Khan also faced the wrath of the drug mafia. Between 1996 and 1997, he received numerous threats, warning him of dire consequences if he didn't stop the awareness campaigns. Years later in 2011, Dr Khan was abducted from a hospital and was tortured in a moving vehicle as it travelled through different parts of the very city he was working to improve. These threats, too, failed to shake his resolve.

Meanwhile, on the personal front, Dr Khan suffered even more setbacks. Having quit his banking job in 1997 for personal reasons, Dr Khan struggled with finances. "I sacrificed my family in my 30 years of struggle. I spent all my time and resources to inculcate awareness against drugs, which resulted in financial issues," he says. "I got married in 1989. The relationship could not last and ended up in divorce after 25 years due to my inability to provide for family," he laments. Dr Khan's wife left him, taking with her their two sons and two daughters.

Ignored at large

For Dr Khan, however, his biggest regret is that while the international community lauded his efforts and sought his advice to combat the menace of drug abuse, no one paid heed to his warnings locally.

In 2002, Dr Khan completed his doctoral dissertation on the 'Societal Impact of Drugs' in Sri Lanka. He chose Sri Lanka because its varsities are famous for the quality of their research. "I completed my PhD on loan with the thought that my services would be useful for Pakistan and I would be able to secure a job at an anti-narcotics department, which would also improve my financial condition," he says. Fate, however, had other plans for it.

Around 10 years ago, Dr Khan appeared for an interview for the post of director general in an anti-narcotics department. Despite checking all the boxes and being the most suitable candidate for the job, the federal ministry never got back to him. The post is still lying vacant.
Abroad, Dr Khan was sought after for advice. He has published research papers on the subject in India, the United Arab Emirates and other Gulf countries.

In 2014, after attending a conference convened in the US, he was invited to a special event in Washington, where he gave a three-hour-long presentation before over 100 experts from various state institutions. He discussed the causes of drug addiction and preventive measures to curb their abuse.

After the event, the governor of the state convened a special event in his honour and invited him to join any of the state varsities as a faculty member. Ever the patriot, Dr Khan rejected the offer and preferred to continue with his mission in Pakistan. Today, he regrets the decision.

A disaster in the making

According to Dr Khan, the United Nations estimated in 2013 that there were around 6.7 million drug addicts in Pakistan - a number growing at an alarming rate of 7%. Moreover, there is a direct co-relation between drug abuse and street crimes.

Unfortunately, there is only one 50-bed public hospital for the rehabilitation of these persons, with a two-month minimum waiting time for admission. At a private institution, it costs a minimum of Rs0.2m for the rehabilitation process.

It takes at least three months to rehabilitate a drug addict, depending on the person's history and the substance they are addicted to. The cooperation of the family is highly important during the time. During this time, the patient is made to realise his importance as a human being. Later, the chemical and toxic effects are removed and he is kept under care even after the initial three months, lest there is a relapse.
Most patients, says Dr Khan, become addicts due to lack of job opportunities and for want of any healthy activity. Hence, it is important to immediately find an activity for the patient after the treatment.

Out of hope

Today, Dr Khan's biggest worry is the penetration of drug peddlers in schools and colleges. "Drug addiction has now become a fashion," he laments, adding that the government as well as parents share the blame for this growing trend.

"The role of parents and the environment of the house are of prime importance," he says. Quoting his own research, Dr Khan says that children from broken families tend to turn toward drugs more. "Youth who do not get attention at home, find shelter outside homes and unfortunately fall in the hands of unscrupulous elements," he explains.

What the youth need are healthy activities and the opportunity to channel their energy into productive tasks. "Children who are into sports barely do drugs because sports require fitness, an alert mind and body," says Dr Khan. "Unfortunately, the playgrounds and parks in Karachi were occupied for the past several years. The remaining parks and grounds due to being desolate, instead of becoming centres of healthy activities, turned into routine places for drug addicts and drug dealers," he adds.

Dr Khan has been warning the government agencies and society at large of these worrying trends for the past three decades. He has spoken at hundreds of conferences, appeared in television shows and published research papers to relay his message.

In the absence of government support, however, Dr Khan's success has been very limited. He is also tired now, he says. Maybe he too will stop soon. Maybe this city will lose yet another well-wisher, disheartened by the society he wished to serve and unheeded by a ruling elite that couldn't care less.