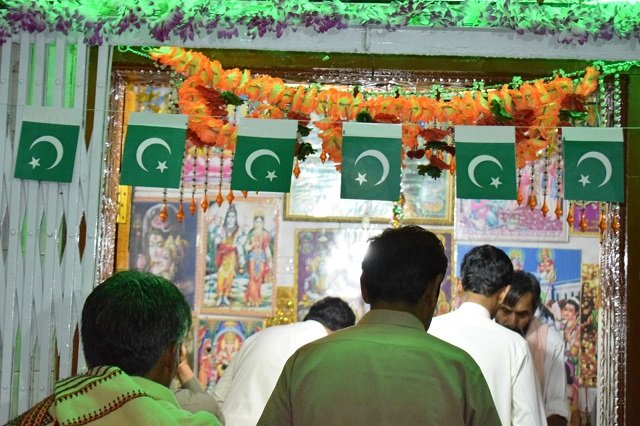 ---
THARPARKAR:
"We, the Hindus of Tharparkar, vow never to leave Pakistan alone under any circumstances. This is our motherland and we hold her sacred!" These are the sentiments of Advocate Raja Singh Rajput, a Pakistani Hindu who is serving as an executive committee member of the Tharparkar Bar Council.
The recent tensions between India and Pakistan almost brought the two countries to the verge of war. And even though Pakistan has been trying its best to deescalate the situation, the threat of Indian aggression still looms over.
At this crucial time, the whole nation is standing with the armed forces and the peace-loving Hindu community of Sindh's Tharparkar is not lagging behind. Pakistani Hindus are not only ready to extend their all-out support to the Pakistani armed forces but they have also expressed their willingness to render sacrifices for their homeland if need be.
Heart-wrenching to see India's treatment of Kashmiris: AJK minister
Located near the eastern border of Pakistan, Tharparkar adjoins the Indian state of Rajasthan because of which people on both sides of the border share the same religion, language, traditions and lifestyle. In fact, there are hundreds of families in Tharparkar who have their close relatives residing across the border. Therefore, the movement of people from India to Pakistan and vice versa is quite common in this region.
When it comes to patriotism, however, the Pakistani Hindu community has always stood firm in its resolve to support and defend Pakistan at all costs.
The census of 2017 shows that Tharparkar is home to over 1.6 million people, with the majority adhering to the Hindu faith. Moreover, per a survey by Pakistan's Hindu council, out of the total of eight million Hindus in Pakistan, a chunk lives in Tharparkar.
The Hindu community of Tharparkar has always participated in the country's progress through their contribution to businesses as well as politics. At present, two senators, an elected member of the National Assembly, three members of the provincial assembly, the special assistant to the chief minister of Sindh and the vice chairman of the district council – all hail from Tharparkar.
Despite the religious differences, Muslims and Hindus of Tharparkar have been living together in peace for decades.  Hindus observe their religious festivals with complete freedom and even participate in Eid and marriages celebrations of their Muslim counterparts. What's more, they also attend the funeral prayers of Muslims and participate in food distribution and charity events during the Islamic month of Muharram.
Keeping the friendly environment of Tharparkar in view, the Muslim community does not sacrifice cows in Hindu dominated areas – such as Mithi – and as a gesture of congeniality, Hindus even look after Muslim shrines in Thar.
And apart from demonstrating incredible interfaith harmony, Hindus of the region have always remained patriotic towards Pakistan. During the Hindu festival of Maha Shivratri, devotees decorate their temples with the flag of Pakistan along with their religious flags which shows their love and devotion for the country.
And when Hindus of Tharparkar learned about the recent Indian aggression against Pakistan at the borders, they held a special prayer for the safety of the country and the success of the Pakistan army. Young men, the elderly, women and children – everyone attended the prayers and vowed to render sacrifices for the country. The Hindus of Tharparkar also expressed their anger at the Indian government's aggression and war hysteria.
Speaking about the Hindu community of Pakistan, Dr Sonu Mill Kangha Rani – an award-winning socioeconomic expert – said that the father of the nation Muhammad Ali Jinnah had outlined the status of minorities in Pakistan and made it clear in his August 11, 1947 speech that everyone will be free to practice their religions and all citizens will be equal before the state.
Recalling history, Dr Sonu named some prominent Hindu figures of Pakistan, including Jogindra Nath Mandal – the first law minister of the country appointed by Jinnah. Sonu further said that in Pakistan, minorities are treated with dignity and respect per the Islamic Law, while in India, minorities – and even lower caste Hindus – do not enjoy equal rights.
Citing an example of the Hindu community's patriotism, Dr Sonu said that when 93,000 Pakistani soldiers were freed from India after the Shimla Agreement, more than two-hundred thousand Hindus also gained independence and joined Pakistan. She condemned the Indian Prime Minister Narendra Modis' aggressive stance and said that Pakistan's Hindu community is furious with his move. Moreover, she also praised the efforts and sacrifices rendered by the Pakistani armed forces to protect the country.
"India should not forget that it is dealing with a nuclear-armed state and it should not take Pakistan lightly. At this stage, India or any other country cannot dictate their terms to Pakistan," she said.
Similarly, Pundit Shankar Lal Maharaja – a Hindu priest from the region – said that the Hindu community of Pakistan prays for the safety and prosperity of Pakistan and wholeheartedly condemns Modi's war-mongering strategy. At the same time, he lauded Pakistan's victory and appreciated how the country maintained its composure under such a critical situation.
Family of Pakistani prisoner, stoned to death in India, seeks justice
"They [the Indian government] will have to pay for the war hysteria. We released India's wing-commander Abhinandan Varthaman as a gesture of peace but they continued with their aggressive stance," he said. "The whole world is praising Pakistan."
Pundit Maharaja also said that Modi had to face humiliation because of the war hysteria he created to win the upcoming elections.
"We, the Hindu community of Tharparkar have family ties with people in India, but that does not stop us from being loyal towards our country."
Advocate Raja Singh Rajput agreed with Pundit Maharaja's statement and added that Pakistan's Hindu community condemns PM Modi's hostile stance towards Pakistan. Rajput further added that every local resident of Tharparkar – whether a Hindu or a Muslim – is ready to respond to India's aggression.
"We do not consider ourselves a minority group in Pakistan. My grandfather Ransangh Rajput, who arrived in Mithi from his village with a rifle, participated in the India-Pakistan war of 1971," he said.
Similarly, Rajput informed that Hindus from every village participated in the war to defend their homeland and support the armed forces.
"We supported Pakistan in the past, and we will continue to do so in future, too."
COMMENTS
Comments are moderated and generally will be posted if they are on-topic and not abusive.
For more information, please see our Comments FAQ