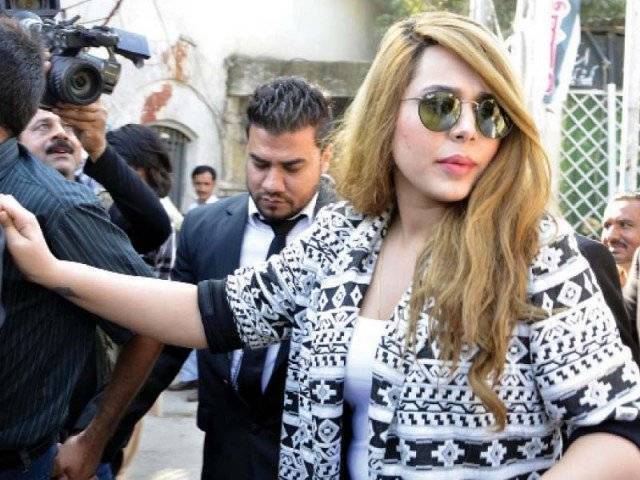 ---
RAWALPINDI: A court on Saturday ordered seizure of all movable and immovable properties of former model Ayyan Ali, while also declaring her 'most wanted' and issuing her permanent arrest warrants.

Judge Arshad Hussain Bhutta of the Special Customs Court also issued notices to Ayyan's guarantors – Shaukat Abbas and Nawaz – as the court seized their surety bonds worth Rs0.5 million each.

The court directed Karachi's district and sessions judge to appoint a magistrate to confiscate Ayyan's apartment in the DHA neighbourhood and present an implementation report at the next hearing on March 18.

The prosecution will ensure issuance of red warrants to arrest the accused from abroad and bring her back to Pakistan. During the hearing, Ayyan's lawyer Aftab Bajwa requested the court to give her more time but the court rejected the request.

Customs Inspector from Karachi Usama Munim informed the court that he was entrusted with taking the arrest warrant to the accused but when he reached her house, he learnt that she was abroad.

Currency smuggling: Court reserves verdict on Ayyan Ali's appeals

"Her arrest warrant was pasted on her residence's wall and a copy was also pasted at a nearby intersection.  The accused is deliberately absconding," he said.

Customs prosecutor Ameen Feroz informed the court that the accused was arrested on March 14, 2015 from the Islamabad airport while she was attempting to smuggle $506,800 to Dubai.

"After her release on bail, the accused appeared before the court in a few hearings and then left for Dubai on December 16, 2015 and has been absconding for three years, two months and 21 days. The accused is not sick as she moves to Oman from Dubai but does not come to Pakistan," he said.

He said the accused did not appear before the court in the last 45 hearings and is not likely to appear in future. Feroz requested the court to issue her arrest warrant and declare her most wanted.  The court approved this request and remarked that it will function according to the law.

The customs authorities also presented documents regarding the apartment in Karachi owned by the accused and purchased in 2011.

The court ordered the authorities to seize the apartment. Further hearing was postponed till March 18. Legal proceedings have been commenced against both guarantors of the accused.