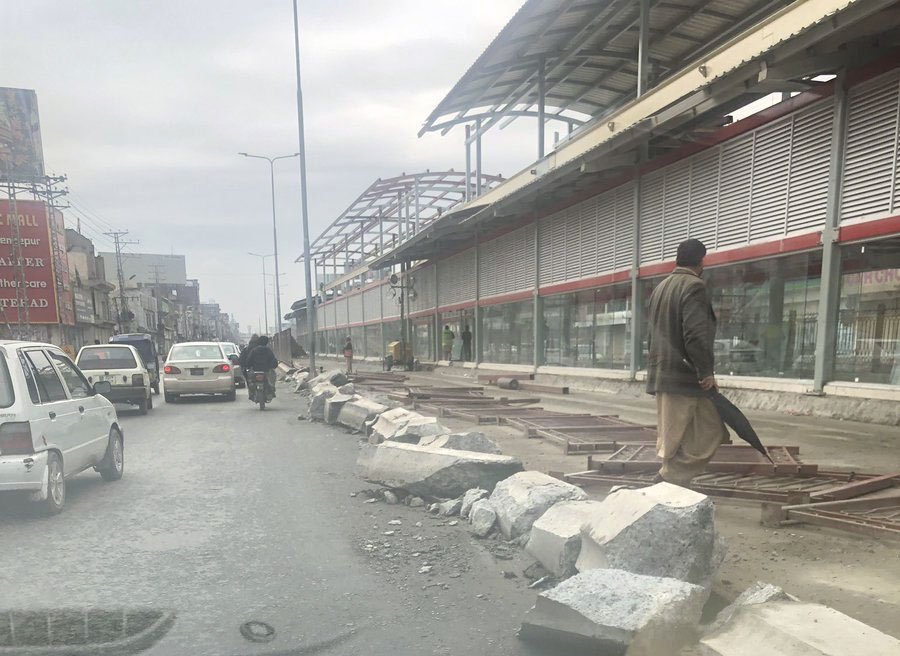 ---
PESHAWAR: Traders and civil society members have termed Bus Rapid Transit (BRT) project devastation for the provincial capital.

The project is full of flaws and corruption they said announcing to form a Qaumi Jirga to take up the issue.

They were speaking at a meeting held in Peshawar on Thursday which was attended by JUI-F Mualna Aman Ullah Haqqani, Arbab Khizar Hayat Khan, Abdul Jalil Jan the spokesperson of the JUI-F, President Traders Association Malik Meher Elahi and various members of the civil society.

It was decided that the Qaumi Jirga, they would call an All Parties Conference in Peshawar to take up the issues of mega corruption and wastage of public resources on BRT.

"There should be an external audit of the project due to mega corruption and mismanagement and those found guilty should be prosecuted," Abdul Jalil Jan of JUIF said.

The project has left the main commercial areas of the city dug-up forcing businessmen to shift their businesses to other areas and Ring-Road.

Businesses have been ruined due to construction of huge overhead bridges and parking area on narrow passages of University Road, Arbab Road and old city area said Arbab Khizar Hayat said.

The participants said soft launch of BRT of March 23 was a drama like that of Swat Expressway.

People attending the meeting included Kashif Azam Khan, Abdul Jalil Jan, Alamgir Khalil, Atifur Rahman Khalil, Arbab Zark, while representatives of traders organisations and civil society Khalid Ayub Khan, Mujibur Rahman, Zafar Khatak, Rehman Gul, Amir Nawaz Khan Afridi, Mazmal Khan Advocate, Umad Khalil, Noor Mohammad Lala Khalid Hamoud, Saifur Rehman Tanoli and others.

Published in The Express Tribune, March 8th, 2019.