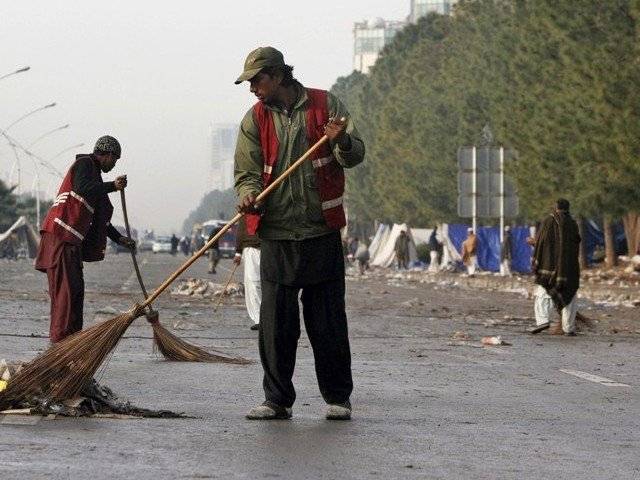 ---
ISLAMABAD: The practice of throwing litter on the roads from the running vehicles will be banned soon and violators will have to face a heavy fine.

This was stated by Advisor to the Prime Minister for Climate Change Malik Amin Aslam during the briefing of the Clean and Green Pakistan Project.

Following the instructions of Prime Minister Imran Khan, there would be a plantation drive in the capital in the coming days, Aslam said.

He further stated that the government was committed to banning the sale and use of plastic bags.

Moreover, he added that the government would take measures to dispose of solid waste in an appropriate manner. Aslam stated that solid and liquid waste management of international standard were two important elements of the project.

Furthermore, officials of the Capital Development Authority (CDA) said directives would be issued to all car service stations in Islamabad for installing water recycling plants. CDA would impose penalties and even seal the stations not implementing the orders, the officials said.

The delegation of the Islamabad Metropolitan Corporation (IMC) discussed the water levels of Khanpur and Simly Dam and deliberated over different steps that could be taken to raise awareness regarding water usage, water meter installation and other necessary measures.

Genetically modified seeds

The National Bio-Safety Center (NBC) has approved some 400 types of genetically modified (GM) seeds, which have been under testing since 2005 for commercial use, sales purposes, export, as well as laboratory and field trials.

As per the documents available with Daily Express, the NBC has approved the commercial sale and purchase of 84, import of 62, field trial of 165 and lab trial of 102 different types of GM seeds.

According to the documents, some 267 GM cotton seeds could be sold or purchased and imported.

Furthermore, out of 267 GM seeds, 75 could be commercially sold or purchased while 117 could undergo a field trial. Whereas, some 20 different types could be imported while 48 could undergo a laboratory trial.

Moreover, some 99 different types of GM corn seeds have been approved for various purposes. Around nine types can be sold or purchased commercially, 45 can undergo field trials and four can undergo laboratory trials. Moreover, 41 genetically modified seeds of corn can now be imported.

As for GM wheat, up to 17 can undergo a laboratory trial while three can undergo a field trial.

The center has allowed laboratory and field trials of 10 different types of sugar cane.

Apart from this, NBC has approved different GM seeds including two types of tobacco, four types of potatoes, three types of tomatoes, one type of banana, one type of rice grain, two types of oil, one type of soybean and one type of pea as well as seven other types of seeds for laboratory trials.

The import of GM seeds remained a burning issue in the previous tenures particularly after the 18th Amendment. The federal government faced difficulties approving GM seeds as the NBC was dissolved and the rights were transferred to the provinces.

In this regard, some multinational companies and national institutions for agricultural research pushed the government to approve the commercial sale and purchase of GM seeds through a presidential ordinance. However, the ordinance was rejected by the related minister then who stated that he could not make a decision on the matter as he did not have adequate knowledge on the subject.

Moreover, there was a discontentment in the agricultural sector against the GM seeds. Agricultural experts argued that the commercial sale and purchase of these seeds would affect the land locally, and they claimed that the adverse results would get visible in the upcoming years.

Published in The Express Tribune, March 6th, 2019.