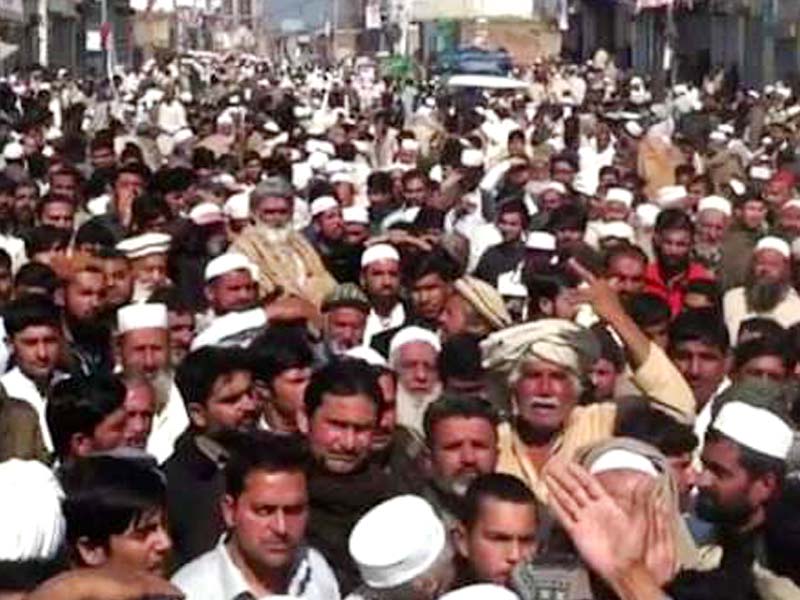 ---
PESHAWAR: People in Swabi poured out on the streets and blocked the main road protesting against attack on two traders by extortionists.

They said that target killing on refusal to pay extortion money was on the rise in Khyber-Pakhtunkhwa once again. According to police extortionists shot two brothers, both businessmen, in Swabi for refusing to meet the demands. One brother was killed while the other was lying in hospital in critical condition.

According to the police report unidentified gunmen attacked two businessmen Zubair Ali and Shah-e-Rome when they refused to pay extortion money.

The extortionists had sent several demand notes and on continuous refusal they attacked Zubair Ai and Shah-e-Rome in Yar Hussain village of Swabi.

The relatives, businessmen and political activist staged a protest and blocked the main road for several hours demanding action against the killers .

Later, after assurances from Swabi District Police Officer Syed Khalid Hamdani the protesters dispersed.

Hundreds of local people were present in the rally expressing anger over the return of extortion and killing in the area. JUI leader Ashfaq Ullah Khan and ANP's Awwal Sherkhan addressed the rally.

Meanwhile in Jamrud Tehsil of Khyber district, unidentified gunmen riding a motorbike targeted a notable Zarbdan Mastikhel. Two students of a school were also injured in the firing.

People in Khyber district took to streets to protest against the blatant act of impunity showing lack of security of life and property of the people. It's pertinent to mentioned here that previously the KP police have curbed the target killing series with serious efforts from police and intelligence agencies, now it's on rise and people of influences on wealth side and power are main target.

Published in The Express Tribune, March 6th, 2019.
COMMENTS
Comments are moderated and generally will be posted if they are on-topic and not abusive.
For more information, please see our Comments FAQ