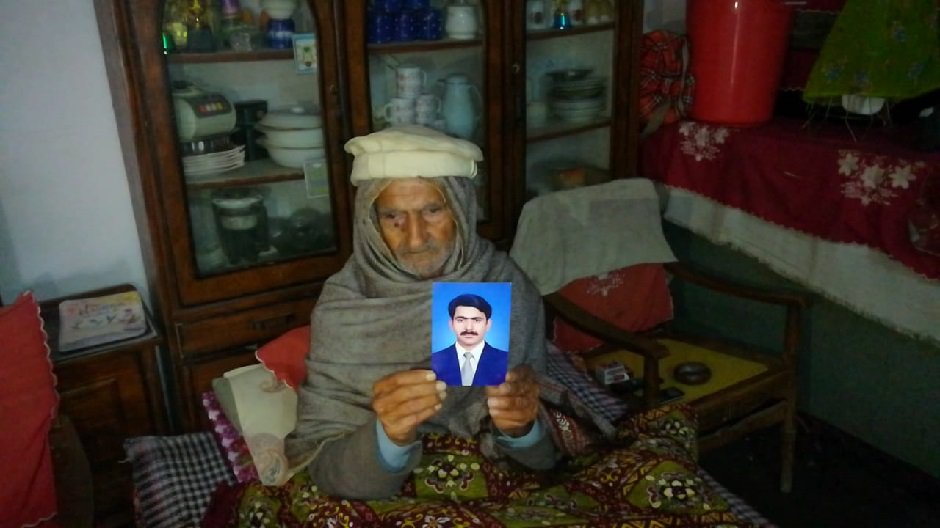 ---
SARGODHA: "I just want to see my son before I die," says 70-year-old Raja Zahoor. "I just want to hug him and kiss his forehead once again."

Zahoor and his family already lived through the trauma of not knowing if his son Muhammad Irfan was dead or alive once. Now, he and his family fear his son may not make it out from an Indian jail he has languished in for a decade and a half with his life.

Fifteen years ago, Muhammad Irfan set off for New Delhi from his family's rustic household next to lush green crop fields in Sargodha district's Salanowali Tehsil. Irfan had just finished a computer course and had set up a computer coaching centre for local youths. This was back in a time when computer hardware and software were prohibitively expensive for most in Pakistan.

New Delhi 'changed plan of a missile attack' after warning

Facing some financial difficulty in running his coaching centre, Irfan came to learn that computer equipment was sold for comparatively much lower prices in India. With this in mind, he decided to source the hardware and software he needed from the neighbouring country. His only mistake, in retrospect, was to travel to India in person rather than hire an agent to procure the equipment.




PHOTO: EXPRESS

On a cold morning on February 9, 2007, Irfan boarded the Samjhota Express bound for New Delhi, knowing nothing of the tragedy that would befall him and his family later. Irfan spent a week procuring the items on his shopping list in the Indian capital and other areas before he boarded the train back home.

Everything changed on February 18. As the train reached Qasba Dewana near Panipat, it was hit by a blast that claimed the lives of 60, most of them Pakistanis. Irfan counted himself among the lucky ones, walking away injured but not fatally so.

"We contacted people in India as soon as we heard about the blast," recounted Irfan's brother Raja Mubashir. "Our contacts in India visited Panipat hospitals, but they were not allowed to meet Irfan."

Still, Irfan's family was glad to know that he was alive and not badly injured. His family's contacts conveyed that he would be discharged from the hospital he was admitted to in two days.

Family of Pakistani prisoner, stoned to death in India, seeks justice

"I couldn't wait at home," Mubashir said. "I left for India myself two days after the incident."

In India, Mubashir too was stopped from meeting Irfan. "I went to the hospital he was kept in, but they did not even confirm if Irfan was there."

"Fearing the worst, we headed to Maharana, a small town next to Panipat where we were told 19 of those who died in the blast were buried," he told Daily Express. "We found no indication that Irfan was buried among them."




PHOTO: EXPRESS

Mubashir added that he was interviewed by Indian media around this time. "But they aired my interview and that of others with me without any context. After looking for my brother for several days, I had no choice but to return to Pakistan disappointed."

When Indian authorities began carrying out DNA tests to identify the deceased and injured and match them to families in Pakistan, Irfan's family were quick to submit their own samples.

"We had high hopes… in our hearts, we knew Irfan was alive," said Irfan's father Zahoor. "We anxiously waited for a letter confirming if he was alive or informing us of his death every day."

Zahoor and his family suffered through this ordeal for a year. "We finally received a letter from the foreign ministry on December 17, 2008," said Zahoor. "We were told our DNA samples did not match any of the deceased or wounded."

Far from being a source of solace, the letter only increased Zahoor and his family's anguish.

"We approached everyone we could… the foreign ministry, the interior ministry, the Indian High Commission… but no one told us anything more about Irfan," said Zahoor. "The anxiety made all of us… especially Irfan's mother… both physically and mentally ill."

"Being the man of the house… I tried my best to console my wife and my children and to keep their hopes up… but I too became a broken man inside," he recounted solemnly. "The distress… it eventually was too much for my wife, Kulsoom Bibi… she passed away after suffering cardiac arrest… not knowing where her son was, if he was even alive, it proved fatal for her."




Despite all this, Zahoor and his other sons did not waver from their search for Irfan. "One of my brothers, Raja Musharraf joined the Pakistan Rangers," said Mubashir. "He requested his superiors to post him at the Wagah border."

According to Mubashir, while posted at Wagah, Musharraf showed a photograph of Irfan to every traveller that crossed the border gate in hopes of finding some information. "He kept this up for many years," Mubashir said.

"Finally, about five years after Irfan went missing, Musharraf found a clue. He met a Pakistani named Sakhawat who was released from Amritsar jail who readily identified Irfan. Sakhawat told Musharraf that he and Irfan were both imprisoned together in Amritsar jail," he said.

News that Irfan was alive, even if he was imprisoned brought some relief to his family. "I met Sakhawat myself. He told me Irfan missed us all terribly and had given Sakhawat our address so that he could tell us where he was," Mubashir said.

Finally having proof of life, Irfan's family renewed their efforts to bring him home. "We contacted Rana Shaukat, a Faisalabad resident who lost three of his sons in the Samjhota Express tragedy. He was willing to assist anyone who was affected by the incident," Mubashir told Daily Express.




"Shaukat introduced us to Ashok Randhwa, an Indian man who runs an NGO called the 'South Asian Forum: Peoples against Terror' to help victims of terrorism," he said. "After we shared our story, Ashok tried twice to meet Irfan at Amritsar jail but was not permitted to do so."

"Even so, he told us not to lose hope and that Irfan would be back with us," Mubashir added.

In 2016, Irfan's family decided to give Ashok power of attorney so that he could take up Irfan's case in India. According to Mubashir, Ashok hired lawyers to fight for Irfan's release. His case is currently being heard by India's Supreme Court.

According to an NDTV report from three years ago, the Indian top court had asked the government of Indian Punjab, India's foreign ministry and the superintendent of Amritsar Jail to explain why Irfan had been incarcerated. However, there has not been much progress towards Irfan's release since.

The hopes of Irfan's father and brothers were raised briefly recently when Pakistan released Wing Commander Abinandan Verthaman, the Indian Air Force pilot who was captured by Pakistani troops after Pakistan jets shot down his MiG-21.

But their hopes were soon overtaken by distress when another Pakistani prisoner in India, Shakirullah, was returned to the country in a coffin.

As Irfan's family continues to hope for his release safe and sound, his father has grown old and frail, no longer able to walk. "I just wish I can see him again… that is all I wish before I die," Zahoor said, as he pulled out Irfan's picture and kissed it.

Zahoor appealed to Prime Minister Imran Khan and Army Chief General Qamar Javed Bajwa to ensure Irfan is released. "Please, consider it the last wish of an old father."

"We have given up everything we had… we sold our land, spent all our savings… to bring Irfan home," said Mubashir. "We do not have any money for his release," he said, as he called on the Indian government to release his brother as well.