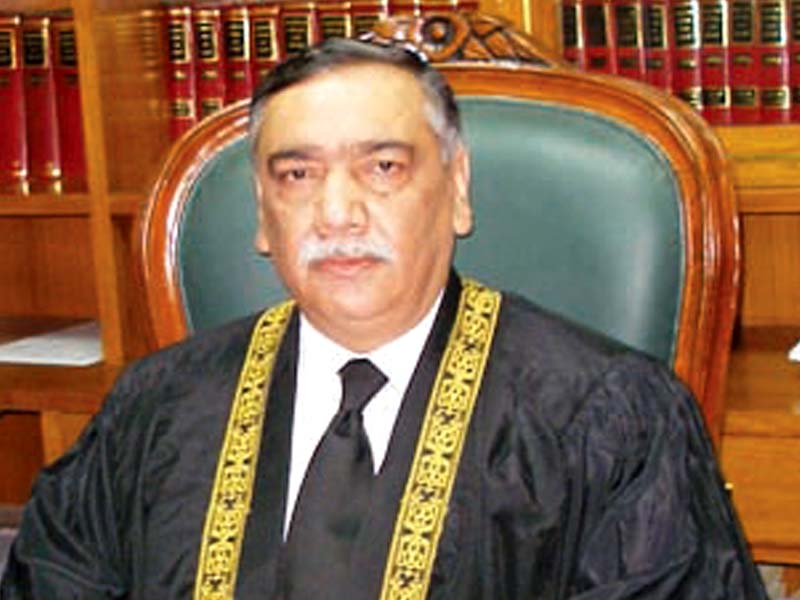 ---
ISLAMABAD: Chief Justice of Pakistan Asif Saeed Khosa said on Monday that the court is starting a "journey towards truth" from today, which will entail strict action against those found to be guilty of having given false testimony in cases.

The chief justice made the observation while dismissing a murder case after it was found out that it was based on a false testimony given by a police officer.

"All those who have given testimonies, beware. We are starting a journey towards truth from today — March 4," the chief justice said.

"If any part of any testimony is found to be false, the whole of it [the testimony] will be disregarded," the chief justice warned. "People who lie in testimonies have ruined the [judicial] system," he remarked.

Meanwhile, the Supreme Court sought a detailed report on repatriation of Pakistani prisoners' stranded abroad and held the interior ministry responsible for the deaths of Pakistani inmates in other countries' jails.

A three-member bench, headed by Justice Azmat Saeed and comprised Justice Faisal Arab and Justice Ijaz Ul Ahsan, heard a case regarding the stranded prisoners in British jails.

At the outset of hearing, the court expressed annoyance over absence of interior secretary and directed the additional attorney general to ensure his appearance before the court in ten minutes.

The court said if the interior secretary failed to appear, it would issue his arrest warrant and a contempt of court notice.

After short break, the court resumed the hearing and the interior secretary appeared before the bench.

Justice Azmat Saeed grilled the interior secretary and said he could be served a contempt of court notice and summon interior minister into the matter.

He inquired the secretary about interior ministry's initiatives being taken for Pakistani prisoners stranded in foreign prisons. He observed that the ministry was responsible for deaths of Pakistani prisoners in the foreign jails.

Justice Saeed, while expressing his concerns over interior secretary's conduct, proposed him to find out another job as interior ministry's affairs were beyond his wisdom.

Justice Ijazul Ahsan revealed that about 423 Pakistani were stranded in British prisons and 16 in Thailand.

He lamented that Shakirullah remained in Indian jail for 16 years and his dead body was received two days ago.

The interior secretary apprised the court that the ministry was working to bring reforms in its laws into the matter.

Upon this, Justice Azmat Saeed responded, "But we are working to change you instead."

Later, the apex court ordered to submit a detailed report on the issue and adjourned hearing of the case for a week.