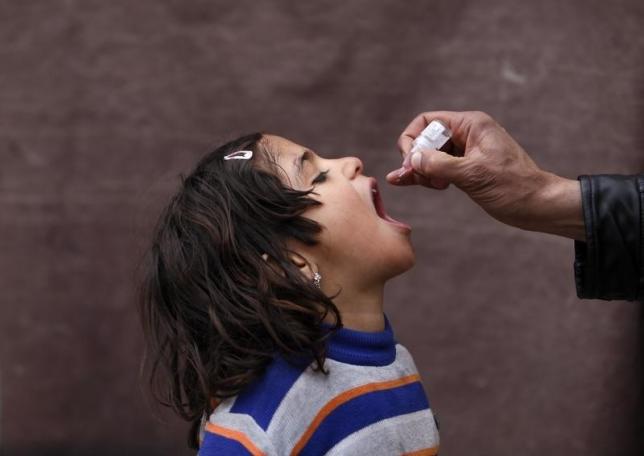 ---
PESHAWAR: An emergency response unit (ERU) has been set up at Molvi Ameer Shah Hospital to control poliovirus in 18 high-risk union councils of Peshawar.

Peshawar is among three wild poliovirus reservoirs of Pakistan, consistently showing presence of the virus in the environmental samples collected from the sewers of the city, said K-P Health Secretary Dr Farooq Jameel.

Within the Peshawar district limits, these 18 high-risk union councils have shown highest prevalence of wild poliovirus in the environmental samples, he said.

Minister for Health Dr Hasham Inamullah inaugurating the ERU at Shaheen Muslim Town (SMT) at Molvi Jee Hospital said that Additional Assistant Commissioner will be administrative head of the unit, while Deputy District Health Officer (DDHO) and technical staff from WHO and Unicef will be responsible for operational and communication side of the project.

Besies Dr Jameel, EOC Coordinator Capt (retd) Kamran Afridi, Peshawar DC Imran Sheikh, EPI Director Dr Akram Shah, DDHO Dr Jahanzeb, Unief Team Lead Dr Joahar Khan, Technical Focal Person BMGF Dr Imtiaz Ali Shah and relevant officials of EOC and K-P Health Department were present on the occasion.

Dr Hasham said that Peshawar is one of the three core reservoirs in Pakistan and environmental surveillance site is in Shaheen Muslim Town which is persistently positive for wild poliovirus for last 16 months since October 2017.

Therefore, he added ERU was established in the light of the administrative order of deputy commissioner Peshawar in November, last and the objective of the initiative was to provide one roof to government and technical experts to effectively manage polio eradication activities in the 18 drainage UCs.

Secretary Health Dr Jameel appreciated the closer coordination of district administration, emergency operations center and health department for polio eradication saying that polio eradication was a national emergency and unless all line department work together for stamping out the crippling virus from the last endemic countries the dream of polio free world will not materialize. He said that health was the priority of the government and every effort was being made to ensure better healthcare facilities to the people.

Coordinator EOC Capt (retd) Kamran Afridi lauded the established of ERU saying that stopping virus circulation in SMT circle was vital for polio eradication adding that the new Unit will help address the lingering issue of positive environmental sample in SMT.

He said that phenomenon achievements have been made in polio eradication with no polio case from Peshawar for more than two years now and last push was required to reach the finishing line. However, he added that virus was circulating in the environment and unless every child was vaccinated with oral polio vaccine the virus will continue to find guts to survive and will stay in the sewage water.

It is relevant to mention here that the country has recorded four positive polio cases in 2019 so far out of which one case each has been reported from Hangu, Bannu, Bajaur and Lahore.

Published in The Express Tribune, March 5th, 2019.
COMMENTS
Comments are moderated and generally will be posted if they are on-topic and not abusive.
For more information, please see our Comments FAQ