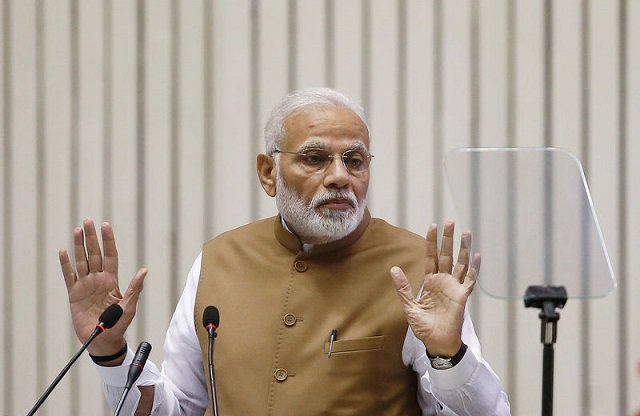 ---
Right groups in India have condemned insensitive remarks made by Indian Prime Minister Narendra Modi during an interaction with students at a local institute.

In a statement issued, groups demanded Modi apologise to differently abled students for the statement, reported the Indian Express.

Indian PM Modi left 'red faced' after Turkish first lady's 'snub'

Modi faced criticism as a video clip showing him cracking a joke on dyslexia at the expense of Congress president Rahul Gandhi and his mother Sonia Gandhi was widely shared on the social media.

During a conference, which he was attending, an engineering student told Modi about a programme that could help dyslexic children who face reading and writing difficulties.

"Dyslexic children are those whose learning and writing pace is very slow but creativity level and intelligence is quite good," the student told Modi, giving an example of Bollywood movie Taare Zameen Par.

After Gujarat genocide, this is Modi's worst insensitive moment. 2.6 crore dyslexics kids. 5.2 million families. Cry, India cry for a guy like him at top. pic.twitter.com/yKG7Vw5Q4Z

— N.S. Madhavan این. ایس. مادھون (@NSMlive) March 3, 2019

This was when Modi interjected to ask her, "Will your scheme help a kid who is 40-50 years old?"

As the students laughed at his remark, Modi continued, "In which case, the mother of such kids would be very happy."

According to Indian right groups, instead of replying to the question, Modi made fun of dyslexia to take "potshots at his political rivals".

"The [Indian] PM should under no circumstances be making such a remark…The least the PM [Modi] can do is apologise for his remarks."

Modi pursues yoga diplomacy at Argentina G20 summit

They added, "In an uncalled for and totally insensitive response where the [Indian] prime minister tried to portray all dyslexic people in poor light. It is all the more unpardonable as it comes from a person holding such a high office."



This story originally appeared on the Indian Express.
COMMENTS (1)
Comments are moderated and generally will be posted if they are on-topic and not abusive.
For more information, please see our Comments FAQ