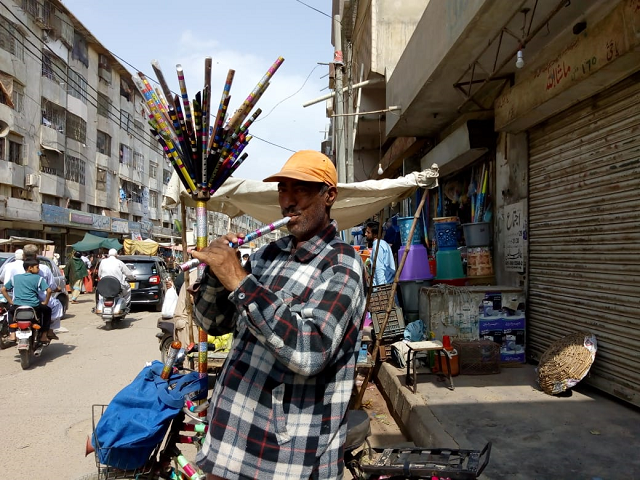 ---
KARACHI: Every Sunday, visitors to the market near Water Pump in Federal B Area are in for a treat. For as they go about their weekly shopping routine, a soothing melody plays in the background bringing smiles to all within hearing range.

The man behind the melody is Jaffer Hussain, though he will not be able to prove it to you. Wearing a simple shalwar kameez under a warm coat, topped by a p-cap on his head, Hussain stands by his bicycle in the market area, playing tunes requested for by the gathering audience. Men, women and children gather around him, seemingly mesmerised by the harmony that encompasses the sounds that escape the flute as he blows into the piped instrument.




Hussain, now 53 years old, has been selling flutes in the streets of Karachi for the past 23 years. He likes to think of himself as an ambassador of peace and harmony. Wherever he goes, he is inadvertently approached by passers-by, requesting their favourite songs. The younger generation want to hear tunes from new movies.

The elderly want to reminisce the past, with requests for melodies sung by greats such as Noor Jehan, Mehdi Hassan, Muhammad Rafi and Lata Mangheshkar. Hussain never turns down a request, only smiling before blowing into the instrument that has been his companion for the better part of his life.

He came to Karachi to find himself. Now, she wants to be a judge

A life-long devotion

Hussain learnt to play the flute at 16 years of age. His mentor, Ustad Siddiq, used to sell flutes in Saddar. He introduced Hussain to the basics and with time, the young student became quite the prodigy. Life, though, wasn't too kind to him.

Hussain's mother passed away when he was hardly 10 years old. His father, who was a construction contractor, tried to care for Hussain and his six siblings himself, but the job and household responsibilities soon took a toll on him.

Soon after his father's death, they had to sell their house in Laalukhet and Hussain has been living with his family in a rented space since. Initially, Hussain trained as a carpenter, but lack of employment opportunities made it difficult for him to make ends meet. It was at this time that Ustad Sadiq suggested he turn his passion into a profession. Ever since, Hussain has sold thousands of flutes, trained scores of students and roamed the streets of Karachi inspiring others through his music.




A struggle to survive

For years, Hussain traversed the over 15-kilometre stretch from Liaquatabad to Surjani Town on foot. Recently, however, he bought a bicycle for his failing health had made it impossible for him to walk the distance anymore.

Hussain is suffering from diabetes and hepatitis and can't afford proper treatment due to lack of resources. He earns around Rs700 to Rs800 a day after selling the flutes from 9am to 7pm. The money is barely enough to cover his monthly rent and other household expenses.

With life becoming exceedingly difficult on account of his failing health, Hussain still doesn't solicit help from anyone. "If anyone offers any aid or help, I ask them to buy a flute," he says.

Hussain has also trained hundreds of people in the art of playing the flute. He still has six students, who include a woman and an elderly man. Hussain cycles to the student's houses once a week and charges Rs300 rupees for each class. Many of his students have become experts in the art.

Hussain also supplements his income by performing in TV shows and at hotels, whenever his services are requisitioned. He can't do live TV shows anymore, because he gets short of breath.

Lack of identity
At 53, Hussain's biggest peeve is not that he is suffering from diabetes and hepatitis. Nor has it ever bothered him that he couldn't get proper treatment for want of funds. No, Hussain's biggest worry is that he does not have a Computerised National Identity Card. "I couldn't get one made because I don't have the NICs or death certificates of my parents," he says. And now, he fears his children will suffer the same fate. Hussain has visited the National Database & Registration Authority's (NADRA) office several times, but has been turned away because of incomplete documentation.

But Hussain isn't giving up just yet. He still gets up each morning and steps into the streets to further his mission of bringing smiles to people. "When I play sad tunes, people with broken hearts gather around," he says, adding that he understands their feelings by observing their expressions. "They leave their chores and gather around me to listen to the tunes. Some remember loved ones from back home, which they have left behind for employment. Others remember old friends or loved ones who may have passed away." They all start smiling as they if they are transported into a different world by the melodies. "From these people, I ask for nothing in return - just their love and respect," he smiles.


COMMENTS
Comments are moderated and generally will be posted if they are on-topic and not abusive.
For more information, please see our Comments FAQ