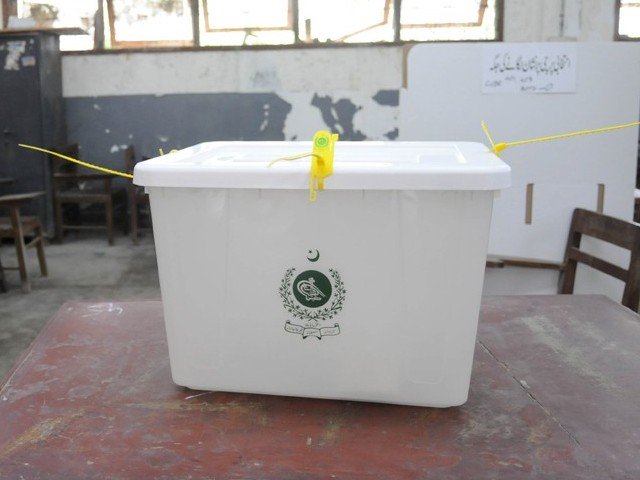 ---
PESHAWAR: Pakistan Tehrik-e-Insaf (PTI) candidate Syed Ahmed Shah on Wednesday won the PK-30 Manshera I by-election by securing 46,438 votes.

According to the unofficial results of the PK-30 Balakot by-election,
the winning candidate of PTI got 46,436 votes while the candidate of PML-N Syed Mazhar Qasim Shah remained in second position by securing 39,945 votes.

Seven candidates contested the PK-30 Manshera I by election where the other candidates including Attaullah of MMA got only 1,402 votes, the independent candidate Amjad Hussain Shah secured 185 votes, Tabarak Ahmed got387 votes, Amir Shahzad 1029 and Muhammad Ashraf 37 votes.

Total registered voters in PK-30 Balakot were 193,830 including 110647 male voters and 83,183 female voters. The number of total votes cast was 90,610 where 37,886 were female and 52724 were male voters. Rejected votes were 1,187 while the ratio of the votes remained 46.75 in the constituency.

ECP had established 186 polling stations in the constituency where 58 were for male voters and 56 for female voters and 66 were combined.

38 polling stations were declared as sensitive while the rest were normal. Police, army and elite force were deployed inside and outside the polling stations.

A decline in male voter turnout and violations of the Election Commission's Code of Conduct for campaigning marked the PK-30 Mansehra-I by-election held on February 26, 2019, observes Free and Fair Election Network (FAFEN).

The Election Day proceedings remained smooth across the constituency with 47 percent registered voters turning out to vote despite unfavorable weather conditions. However, the observers noted seven incidents of unauthorized persons influencing voters or polling staff on polling day. The by-poll followed month-long campaigning by two major political parties including Pakistan Tehreek-i-Insaf (PTI) and Pakistan Muslim League-N (PML-N).

Party workers were observed violating the ECP's code of conduct for political parties and contesting candidates by using banned (panaflexes) and oversized campaign materials (banners, portraits, pamphlets and posters) at public places. PTI and PML-N were also observed using loudspeakers in their party meetings. The code of conduct prohibits the use of loud speakers for campaigning purposes and also bars elected representatives and public office-bearers from participating in campaign activities. However, FAFEN observed the participation of incumbent legislators of PTI and PML-N in the election campaigns of their respective party candidates.

Published in The Express Tribune, February 28th, 2019.
COMMENTS
Comments are moderated and generally will be posted if they are on-topic and not abusive.
For more information, please see our Comments FAQ