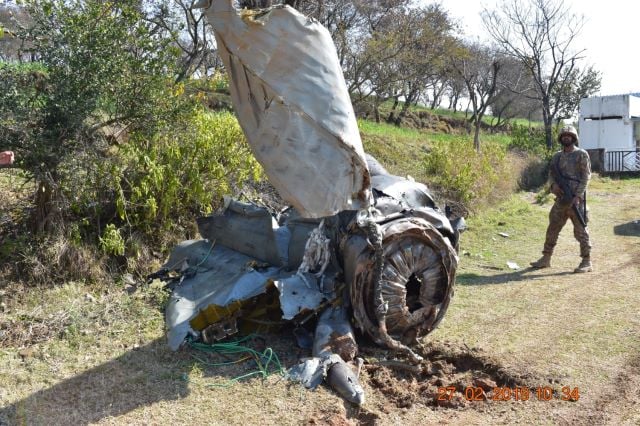 ---
ISLAMABAD:

Pakistan lived up to its promise that Tuesday's "uncalled-for aggression" from India would not go unpunished. Pakistani military had promised to 'surprise' India. And it did. That too with ample proof.

Pakistan Air Force (PAF) fighter on Wednesday jets shot down two Indian warplanes after they intruded into its airspace while responding to a Pakistani aerial mission on targets inside Indian Occupied Kashmir (IOK).

The Pakistani military spokesperson said one pilot of the downed Indian jets was captured correcting an initial statement that two pilots were in custody.


In response to PAF strikes this morning as released by MoFA, IAF crossed LOC. PAF shot down two Indian aircrafts inside Pakistani airspace. One of the aircraft fell inside AJ&K while other fell inside IOK. One Indian pilot arrested by troops on ground while two in the area.

— DG ISPR (@OfficialDGISPR) February 27, 2019


The rare aerial engagement that significantly raises the stakes in the perilous standoff came a day after Delhi claimed its aircraft had launched an air strike on what it called the "biggest training camp of Jaish-e-Muhammad" militant group inside Pakistan – a claim debunked by Islamabad.

"The sole purpose of this [PAF] action was to demonstrate our right, will and capability for self defence. We do not wish to escalate, but we're fully prepared if forced into that paradigm," the Foreign Office said in a statement.





Pakistan's civil and military leadership a day earlier had denounced the violation of airspace by Indian jets as "uncalled-for aggression" while promising reprisal at the "time and place of its choosing".

Major General Asif Ghafoor, the director general of the Inter-Services Public Relations (ISPR), said the India jets were shot down after PAF planes earlier struck targets across the Line of Control (LoC) in a show of strength.

Afterwards, he said, the two Indian warplanes crossed the LoC into Pakistani airspace. They were engaged by PAF jets and downed. One fell into Azad Jammu and Kashmir (AJK), while the other crashed on the other side of the LoC, he said.

"In response to PAF strikes this morning, as released by MoFA, IAF [Indian Air Force] crossed [the] LoC," he said. "[The] PAF shot down two Indian aircraft inside Pakistani airspace. One of the aircraft fell inside AJK while [the] other fell inside IOK. One Indian pilot arrested by troops on ground."

He denied Indian reports that a Pakistan plane had been shot down, saying accounts an F-16 had been lost were incorrect as none was used in the action.


Pakistan Army inspects wreck of IAF aircraft. -EXPRESS

Later, Indian foreign ministry spokesman Rajeesh Kumar confirmed the downing of one Indian warplane. "We have unfortunately lost one Mig-21. The pilot is missing in action. Pakistan has claimed that he is in their custody," he added.

While speaking at a news conference, Maj Gen Ghafoor said Pakistan did not want hostilities with India. "Today's action was in self defence; we do not want to claim any victory. The in-built message was that despite our capability, we look towards peace," he added.

India's 'fictitious' air strike imperils regional peace

He said prior to engaging the Indian targets in IOK, "we had decided that we shall not take military targets and would avoid any collateral damage and civilian population, so two jets were hit in an open space".

He said after the ongoing activity along the LoC and intrusion of Indian jets into Pakistani territory a day before, Pakistan was left with no other option than to manifest its capacity, capability, will and resolve.

"However, we kept in mind that no collateral damage is caused. Therefore, staying within our own airspace, we selected targets in Bhimber Gali, PG Top and Naryan areas, our pilots locked those target," he added.

"When they had an option to fire, they manifested responsibility and keeping safety engaged the targets in an open area."

He reiterated Pakistan's resolve for peace and referred to the statement of Prime Minister Imran Khan that initiating a war was easier but it was difficult to gauge where it led to afterwards.

"Pakistan is a responsible state. We never desired escalation or war. We do not want to go for war. Our Prime Minister and people also sent a message of peace as we do not want war in the region at any cost," he added.




He said Pakistan, its government, armed forces and people had always conveyed a message of peace to India and its route was through the process of dialogue.

"Both the countries have capacity and capability, but war is actually failure of policy which India needs to understand," he stated.

"We want to follow a path which leads to peace. The people of both the countries and the region at large have a right to live and live in peace," he said.

"If we desire to provide education, health and employment, then let us sit together and talk on the issues as war is no solution to problems. India should consider our overture with cool mind as where we want to lead," he added.

Maj Gen Ghafoor also reminded the international community of its responsibility to come forward and see how the environment between India and Pakistan was not only a threat to the two countries but also the region beyond.

Asked about the possibility use of nuclear arsenal, he categorically stated: "I have always said, we must not talk about this. This is insane to talk about nuclear conflict. It is a capability and a weapon of political choice. It is neither our level nor a subject to be talked about."

In a sign of the deepening crisis, Pakistan closed its airspace 'until further notice', though it was partially opened later on. At least six airports were shuttered in India, and a vast area north of New Delhi was closed to civilian flights.

The military spokesperson said it was shut down due to prevailing environment. He said Pakistan was not pushing the environment towards war. If that were the case, Pakistan could have easily engaged the target on which the PAF jets had locked first. But that would have resulted in human casualties and collateral damage.

The incidents are the latest in a dangerous sequence of events between the two countries, whose ties have been under intense strain since the February 14 suicide bombing in IOK that killed 44 troops.

The US, along with China, Britain and the European Union, have called for cooler heads to prevail.

"We encourage India and Pakistan to ... avoid escalation at any cost," US Secretary of State Mike Pompeo said.

China Wednesday again urged the two sides to "exercise restraint" and seek dialogue. Britain said it was "deeply concerned" and working with partners including the UN Security Council to defuse tensions.

(With additional input from agencies)
COMMENTS (1)
Comments are moderated and generally will be posted if they are on-topic and not abusive.
For more information, please see our Comments FAQ