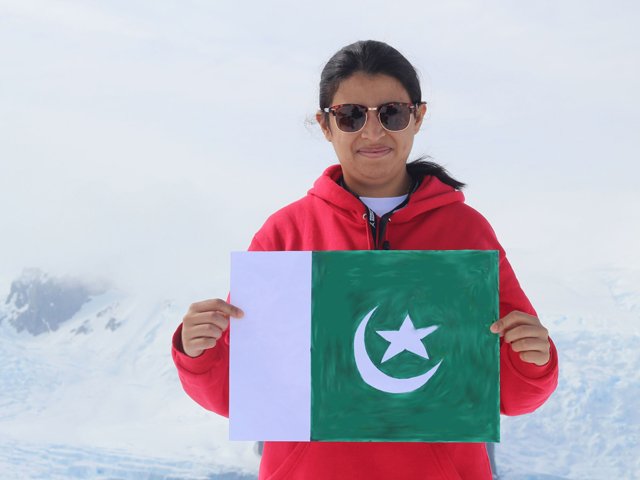 ---
KARACHI: Stargazer Dr Tayyaba Zafar always aimed for the sky and its galaxies. While she may not have reached there yet, Dr Zafar has managed to reach Antarctica, the final frontier on Planet Earth.

Originally from Lahore, Dr Zafar made the nation proud by becoming the first Pakistani woman to be selected for an Antarctic research trip under the Homeward Bound programme.

Around 80 women were selected from 26 countries and Dr Zafar was the only one from Pakistan. The programme aims to increase the influence and impact of women global leaders and involved specialists in science, technology, engineering, mathematics and medicine.

Under the programme, Dr Zafar visited Antarctica for three weeks. Apart from the daily leadership lectures, the women scientists visited various sites being affected by climate change. They covered everything from different penguin species colonies to country bases, melting glaciers, zodiac cruises and whale watching.




Talking to The Express Tribune, Dr Zafar says she gazed at the stars, but the trip to Antarctica was a celestial experience back on Earth. "You can feel the positivity and inhale it. You can reflect yourself."

The trip to Antarctia was part of a one year programme. During those 12 months, the participants attended online sessions on various subjects, including leadership qualities.

"Although it was a great experience, some of us fell seasick and the most common effect was dizziness," she recalls.

The 35-year-old shares that she has loved astronomy since childhood and taken inspiration from the stars, sky and galaxies. In school, physics and mathematics remained her favourite subjects.

Pakistani student goes to NASA on week-long internship

"In Pakistan, the subject of astronomy isn't taught. Since I liked astronomy, I used to buy books on the subject and read them for pleasure. Studying the subject, in depth, became a passion."

Dr Zafar obtained her early education in Lahore. She has done a master's in physics from Pakistan and later lectured at the Punjab University for a year and a half. "In 2007, I won a scholarship for PhD studies at the DARK Cosmology Centre of the famed Niels Bohr Institute in Copenhagen."

Discussing her area of expertise, Dr Tayyaba says she focuses on galaxies. Although galaxies have nothing to do with the environment, this project helped her understand climate issues. "In Pakistan, we use a lot of plastic which emits carbon and is destroying our planet."

Dr Zafar says there is a need for more girls or women to enter the field of science. She adds that the way to inspire them is to encourage the reading of science and astronomy books at an early age. She stresses that girls also should be pushed to read the biographies and autobiographies of renowned women scientists. "This will show them that the subjects of science and astronomy are not only for men. If some women have made it, they can make too."

Young Pakistan scientist to attend Lindau Nobel Laureate meeting

Dr Zafar has been supervising MPhil students at the Punjab University, but finds it unfortunate that barely any girls are interested in science, especially astronomy. The explorer and scientist adds she has failed to convince even one girl to apply for scholarships abroad.

There is no dearth of talented girls in Pakistan, but almost every one of them has an issue. Some of them are not allowed to go abroad and other get married, she bemoans. "It saddens me to see talented young women not reaching their true potential."

Dr Zafar remembers that her family was not easily convinced over her travelling alone abroad when she secured her PhD scholarship in Denmark. However, her passion to study and excel in her field softened their hearts, she says.

"Don't give up on your mission. I didn't. We have one life and must live it to the fullest. Each one of us has a shining star inside us and we need to follow it; seek guidance from it," she says in her message to young women.

Dr Zafar says the Homeward Bound programme has taught her to plan ahead. She feels better equipped and in a position for concrete strategic planning. "I will suggest women scientists apply for this global programme and represent Pakistan on an international platform."  In the future, she hopes to set up her own research group and mentor students. At present, she is working as a lecturer at the Macquarie University in Australia.
COMMENTS
Comments are moderated and generally will be posted if they are on-topic and not abusive.
For more information, please see our Comments FAQ