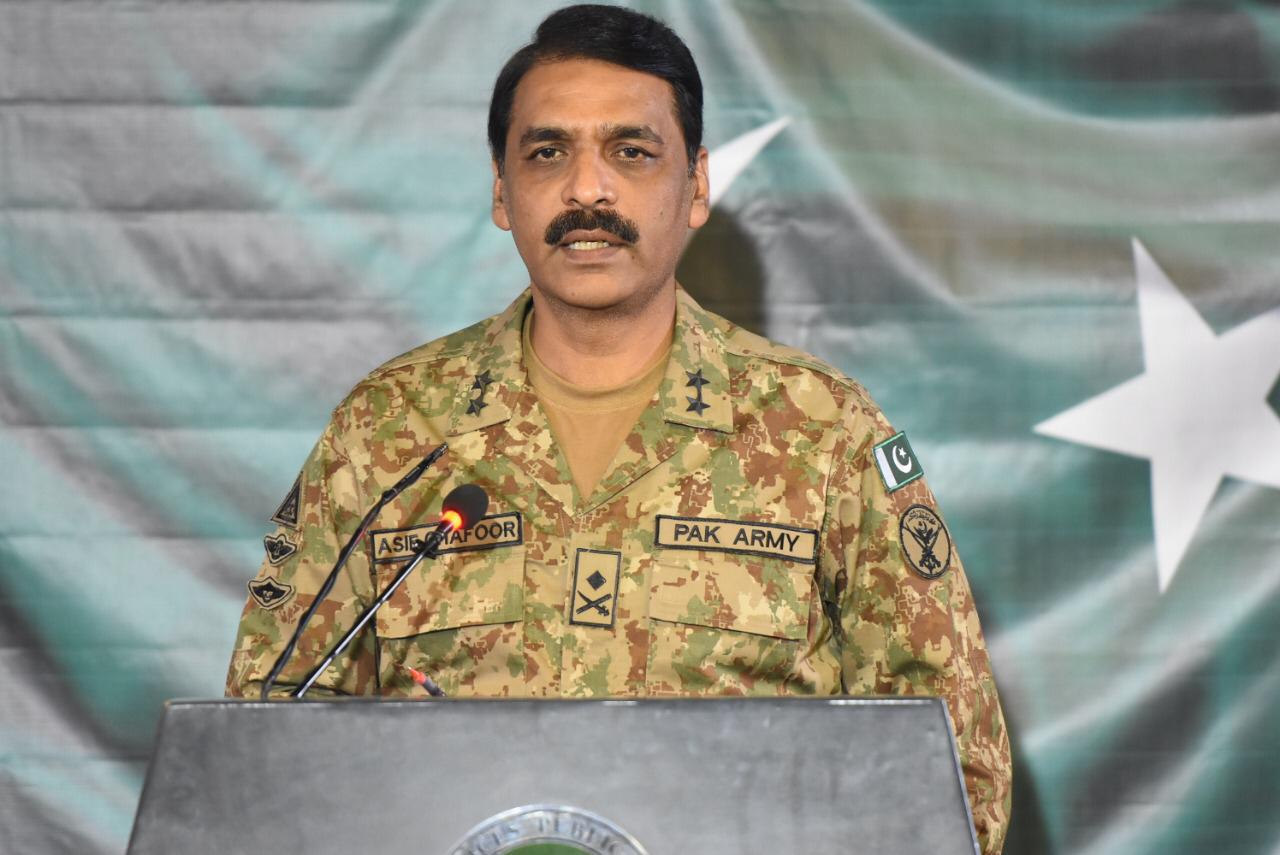 ---
RAWALPINDI:
Amid crescendoing war hysteria and relentless threats of military action from India, Pakistan Army on Friday issued an unambiguous warning to New Delhi: "Don't mess with Pakistan".

"We do not wish to go to war. But please be assured, should you initiate any aggression, you shall never be able to surprise us. We shall, for sure, surprise you," the chief military spokesperson, Major General Asif Ghafoor, said during an unusual media briefing.


"We shall dominate the escalation ladder. We shall have superior force ratio at decisive points. Never think that we shall fall short of capacity," said Maj Gen Ghafoor.

"We have singleness of conception – from the prime minister to the common citizen, including all political parties and other segments of society – from our chiefs down to the soldiers. We have the will and determination," he added. "We are ready to respond to full spectrum threat."

He said India was accusing Pakistan of warmongering, while in fact it was India which was whipping up war hysteria. "We are only trying to protect our country which is our right," he added.

War frenzy has been sweeping across India even since a young man from Indian occupied Kashmir (IoK) rammed a vehicle full of explosives into a military convoy in Pulwama, killing nearly four dozen soldiers on February 14.

Jaish-e-Muhammad militant group, which Delhi claims operates from Pakistan, purportedly claimed credit for the deadliest attack on Indian troops in IoK. Delhi put the blame squarely on the state of Pakistan, deployed its troops menacingly close to the border, and started issuing threats.

We're peace loving nation but won't be intimidated: COAS

Interestingly, parents of the 20-year-old bomber, identified as Adil Ahmad Dar, have said that he had joined the militant group after he was beaten up and humiliated by Indian troops while returning from school with friends.

Though the Pulwama attack seemed to strike a nerve in India, with growing calls for 'revenge', defence analysts say India has few good military options.

Islamabad has offered India every possible help to investigate the attack and even held out an assurance that action would be taken if Delhi shared credible evidence of involvement of any group using Pakistan's soil for attacks in mainland India.

"After the Pulwama attack, Pakistan studied and evaluated the situation and then responded. The proposals given to the Indian government have never been given in the past to any Indian government. This is Naya Pakistan," said the military spokesperson.

India, however, summarily rejected the offers and instead threatened Pakistan with an array of threats, including surgical strikes, global isolation, and water supply cut.

Though Pakistan has been making conciliatory statements despite India's warmongering, Prime Minister Imran Khan on Thursday authorised the armed forces to respond "decisively and comprehensively to any aggression or misadventure by India".

Ghafoor, the director general of the Inter-Services Public Relations (ISPR), regretted that India was quick to pin the blame on the state of Pakistan without investigations. "Right after the attack, India started accusing Pakistan without thinking and without any evidence," he added.

The military spokesperson ruled out the possibility of infiltration into IoK from Pakistan. "Once you cross the LoC (Line of Control), there are multiple layers of Indian defences. The attack in IoK happened miles away from the LoC. How is it possible for someone to cross the LoC without their knowledge," he wondered.

An Indian military commander has also said that it was not possible for someone to bring such massive amount of explosives by infiltrating the LoC.

"The explosive material [used by the Pulwama bomber] may have been taken from stashes of explosives being used to broaden the Jammu highway where the attack occurred," Lt Gen DS Hooda, who commanded the Indian army's Northern Command during a similar crisis in Sept 2016, told The New York Times.

Maj Gen Ghafoor advised India to question its own security forces deployed in IoK for the past 70 years. "It is a failure of their intelligence," he said.

"India has always conspired against Pakistan through terrorism. It also forced war on Pakistan in 1965," the military spokesperson said. "New Delhi has yet not accepted the reality of Partition."

He said Pakistan has fought war against terrorism for a long time. "Pakistan has attained peace today after a lot of sacrifices and hardships – and today, we are moving towards a better future".

The spokesperson said that "countries do not and cannot develop individually. If the region wants to progress and prosper, then we cannot go to war".

Maj Gen Ghafoor appreciated the coverage of Pulwama attack by the local media in Pakistan. Unlike the Indian media, Pakistani journalists have covered the incident very responsibly. "The entire Indian media is obsessed with war journalism, while Pakistani media is trying its best in doing peace journalism. I applaud Pakistani media for it."




Meanwhile, the military spokesperson said former Inter-Services Intelligence (ISI) chief Lt-Gen (retd) Asad Durrani had been found guilty of violating the military code of conduct.

"An inquiry against him is under way. Durrani has been found guilty of violating the military code of conduct. He is no more entitled to pension and facilities and his name has been placed on the Exit Control List (ECL).

Lt Gen Durrani has co-authored a book, The Spy Chronicles, with Amarjit Singh Dulat, a former chief of Indian spy agency Research and Analysis Wing (RAW).

The military spokesperson also revealed that two senior military officials were investigation on espionage charges. "Two senior military officials are under custody on charges of espionage. They are not part of a network and the army chief has ordered their court martial," he said without elaborating.

Meanwhile, the DG also read a joint message of the services chief, who vowed to remain steadfast and determined for country's defence.

In an informal discussion with journalists after the press conference, the military spokesperson said the Kashmir issue will be resolved soon as unlike the past, it was being discussed worldwide.

India must think how it would get forward if it does not come at the dialogue table, he added.
">
">