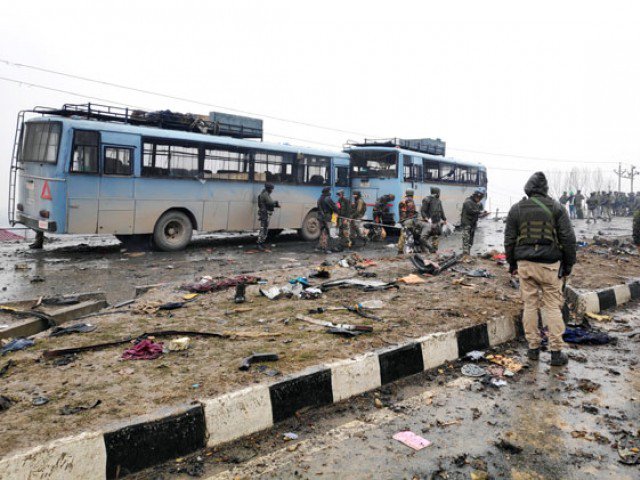 ---
On the eve of his visit to South Asia in March 2000, American President Bill Clinton referred to the Line of Control (LoC) in Kashmir as "the most dangerous place in the world".

This was not an exaggeration but recognition of the fact that the Kashmir dispute, made even more volatile by the popular Kashmiri uprising against the Indian occupation, could escalate into war between two nuclear weapon states.

The recent Pulwama incident has once again raised the spectre of war between Pakistan and India which can, either through intention or accident, lead to the use of nuclear weapons.

Therefore, Kashmir still remains the most dangerous place in the world and it is incumbent on all sides to act responsibly in order to avoid Armageddon.

The Pulwama attack — in which more than 40 Indian paramilitary troops were killed by a young Kashmiri, Adil Ahmad Dar, who had been tortured by Indian forces — should not come as a surprise.

For more than seven decades, India has resorted to brute force to put down the Kashmiri struggle for self-determination. Indian failure is not just due to the brave resilience of the Kashmiri people but also due to the escalating levels of Indian brutality that has made the Kashmiri resolve even stronger.

Despite the presence of more than 700,000 Indian troops armed with draconian powers, nearly 90,000 casualties, use of indiscriminate killings, torture, rape, illegal detentions, and disappearances as instruments of policy, India has failed to intimidate the Kashmiris.

Now, an entirely new generation has taken up the struggle, including children in their teens. Even they have not been spared from the cowardly Indian use of indiscriminate firepower including pellet guns that have blinded and maimed hundreds of them. No wonder Kashmiri youth like Dar are ready to sacrifice their lives to exact revenge on their tormentors.

All Indian governments since 1947 have refused to recognise the reality that Kashmiris do not want to be a part of India. Instead they have blamed Pakistan for promoting "terrorism" in Kashmir.

The Modi government of Hindu chauvinists and extremists has taken this repressive charade to an even lower level — seeking a Nazi-type fascist solution in Kashmir by settlement of Hindus in the Muslim majority valley to change its demographic character.

Viewed from this perspective, the Indian allegations of Pakistan-sponsored terrorism in occupied Kashmir are hollow. The Kashmiris are fighting for themselves and do not need persuasion from Pakistan. Some Indian political and military leaders now acknowledge this fact.

In terms of international legal norms, the UN Charter and several UN resolutions recognise not only the legitimacy of the struggle of peoples under foreign occupation and alien domination to wage an armed struggle for their freedom and realisation of the right of self-determination, as is the case of the Kashmiris, but also draw a clear distinction between terrorism and the legitimate struggle for self-determination.

Therefore, the Kashmiris are not engaged in terrorism but a legitimate struggle for their inalienable right to self-determination.

Unfortunately, however, in the realm of realpolitik, international law and principles are only relevant when they suit the powerful — as in East Timor or South Sudan, but not Kashmir or Palestine. After 9/11, America's war on terror has essentially targeted all Muslims as terrorists even if they are involved in a just and legitimate struggle under international law.

India was quick to seize this opportunity by fully aligning with the US and Israel to project Muslims as terrorists, including of course the Kashmiris. False flag operations carried out by Indian security forces and 'Sarkari' militants have been blamed on the Kashmiris and Pakistan.

The Americans, instead of determining the truth, are just happy to have India join them in the fight against 'Islamist terrorism'. Today, this is even truer of Trump and his crowd of bigoted anti-Muslims who have found a fellow fascist in Modi. No wonder Trump says he is "a great fan of Hindu".

This has added to the prevailing dangers of an Indo-Pakistan conflict. Modi and his Hindutva cohorts, who have already created mass hysteria against Pakistan and Kashmiris, are now braying for blood to avenge the Pulwama attack. Forthcoming Indian elections make Modi even more desperate to be seen as being muscular.

Apart from threatening to 'isolate' Pakistan and withdrawing the MFN status, military options are being explored. American support for Indian allegations against Pakistan could make India even more adventurous in its actions.

Despite all this Indian bravado, it will have to be cold hard logic that will determine Indian response. 'Isolating' Pakistan has already been tried and failed.

Withdrawal of the MFN status is meaningless given the low volume of bilateral trade, and in any case Indian non-tariff barriers have already stunted Pakistani exports to India. While sponsoring terrorist attacks is possible, any 'surgical strike', like the last one, would be more of a sham.

Heavy artillery or air strikes are also possible. Then there is the much-hyped 'Cold Start' type limited military operations option. But the Indians are fully aware of Pakistan's Full Spectrum deterrence doctrine and it remains to be seen whether they will risk testing it.

Prime Minister Imran Khan has already assured them that Pakistan will surely respond. Significantly, former Indian generals like General DS Hooda, former head of the Northern Command, and in whose tenure the so-called surgical strike was carried out, has suggested caution and hoped for 'rethinking and reconciliation' from all sides.

Owing to these factors, the only realistic option for India is to seek a sustainable solution to the Kashmir dispute through dialogue with Pakistan and the Kashmiris.

As their American allies have learned in Afghanistan, there is no military solution to such problems. Only then can Kashmir cease to be the most dangerous place in the world.

Published in The Express Tribune, February 22nd, 2019.

Like Opinion & Editorial on Facebook, follow @ETOpEd on Twitter to receive all updates on all our daily pieces.
COMMENTS
Comments are moderated and generally will be posted if they are on-topic and not abusive.
For more information, please see our Comments FAQ