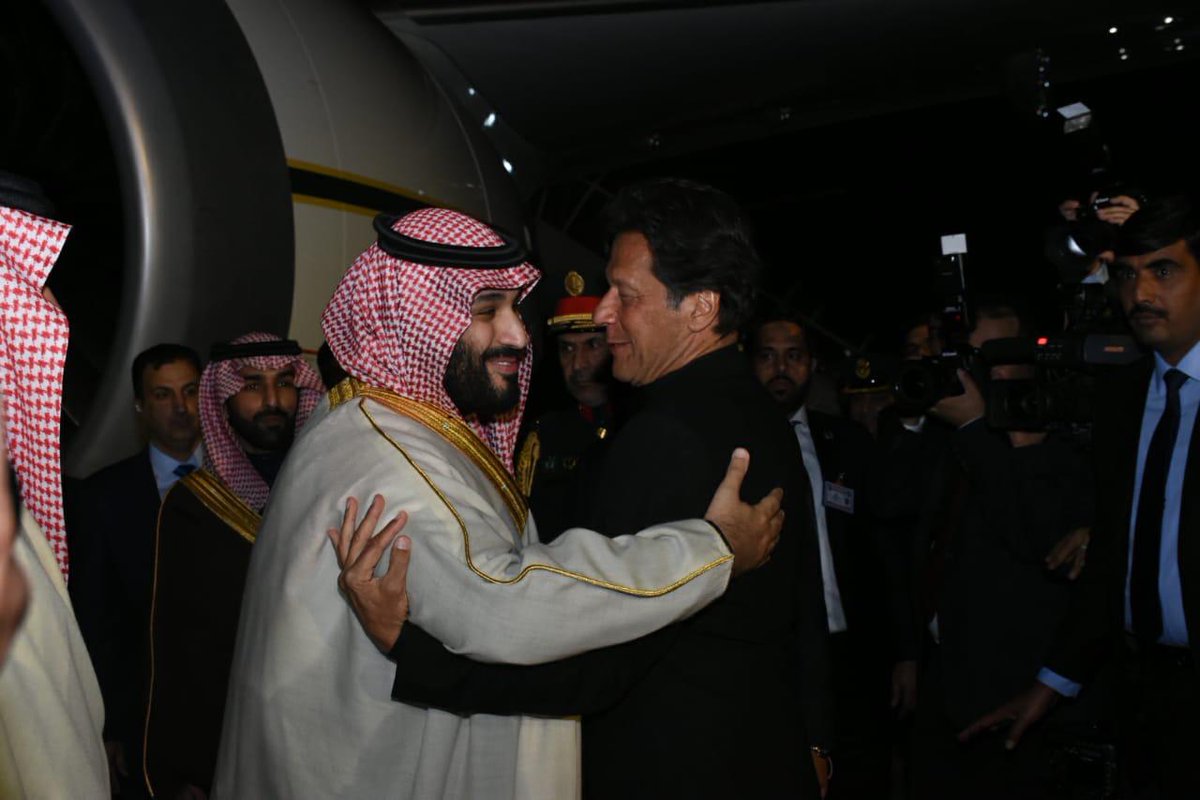 ---
ISLAMABAD: Saudi Crown Prince Mohammed bin Salman has said the first phase of investment of $20 billion in Pakistan has been completed while more investments will be made in the future.

Saudi crown prince sees Pakistan as 'very important country in future'

Pakistan and Saudi Arabia signed contracts and Memorandums of Understanding (MoU) pertaining to investments in various projects on Sunday during the crown prince's maiden visit to the country.

The MoUs were signed in diverse fields, including energy, power, petrochemical, mineral resources and sports, to give a fillip to the cooperation.

Saudi Arabia's Minister of State for Foreign Affairs Adel al-Jubeir, Saudi Energy Minister Khalid al-Falih, Foreign Minister Makhdoom Shah Mehmood Qureshi, Minister for Finance Asad Umar, Minister for Power Division Omar Ayub Khan, Minister for Petroleum Ghulam
Sarwar Khan and Minister for Inter-Provincial Coordination Fehmida Mirza signed the documents on behalf of their respective governments.

The agreements included technical cooperation programme in the field of standardisations/quality control, framework on the development of renewable energy products, study on investment opportunities for the establishment of an integrated complex (refinery petrochemical plant), mineral resources, framework for power generation, and agreement for cooperation in the field of sports.

After the signing ceremony, the guests proceeded for dinner where the crown prince pledged further investments for Pakistan and hoped the country will further develop under the leadership of Prime Minister Imran Khan.


Upon arrival at the Prime Minister House, a contingent comprising personnel of all three services presented the Crown Prince a Guard of Honor. The visiting guest inspected the Guard of Honor. #CrownPrinceinPakistan pic.twitter.com/zOEDCZIIhN

— PTI (@PTIofficial) February 17, 2019


Addressing the ceremony, the crown prince expressed his delight to be in Pakistan and said he considers  Pakistan as a friend and a brotherly country for Saudi Arabia.

"I have decided to visit the Middle East as the crown prince and chose Pakistan as the first destination," Mohammed Bin Salman said, adding the first phase of Saudi investment of $20 billion in Pakistan has been completed while more investments will be made in future.

"It's big for phase one, and definitely it will grow every month and every year, and it will be beneficial to both countries," said the crown prince. "We have been a brotherly country, a friendly country to Pakistan. We've walked together in tough and good times, and we (will) continue."

Prime Minister Imran Khan described the crown prince's arrival as an auspicious moment for the country, adding Saudi Arabia has always been a friendly nation for Pakistan and the Saudi leadership commanded high respect in the hearts of Pakistanis.


Delegation level talks between the Kingdom of Saudi Arabia headed by Saudi Crown Prince Mohammed Bin Salman & the Islamic Republic of Pakistan headed by Prime Minister @ImranKhanPTI #CrownPrinceinPakistan pic.twitter.com/pD9gBvwhL0

— PTI (@PTIofficial) February 17, 2019


"Saudi Arabia has always been a friend in need, which is why we value it so much," said Imran, thanking Riyadh for helping Islamabad through bad times.

He said over the last six months in power, the greatest moment for him was to visit Saudi Arabia where he was allowed to go inside Makkah and Madina and for which he was personally thankful to the Kingdom.

"The journey to Mecca and Medina is an honour for any Muslim," said the prime minister, adding Pakistan had a lot of potential for tourism and the country needed to unlock the opportunities.

Commenting on the China-Pakistan Economic Corridor (CPEC) project, he said the massive project will boost trade and business opportunities by connecting Pakistan to a large market of the world.

"Saudi investment in Pakistan benefits both the countries," said the premier recalling that Saudi Arabia is home to 2.5 million Pakistanis who work as labourers in the kingdom to make their livelihood.

Saudi crown prince's visit 'a manifestation of strength of bilateral ties': PM Imran

"We request the Kingdom to take special care of our residents there as they were an important source of foreign exchange while the country had its highest regard for them as citizens," he said.

Responding to his request, the crown prince said he would not decline the request at all and special care would be taken of the Pakistanis working in his country.

Minister for Information and Broadcasting Chaudhry Fawad Hussain, Chairman Board of Investment Haroon Sharif, Foreign Secretary Tehmina Janjua, Saudi ministers and other members of the delegation were also present during the ceremony.



Published in The Express Tribune, February 18th, 2019.
COMMENTS
Comments are moderated and generally will be posted if they are on-topic and not abusive.
For more information, please see our Comments FAQ