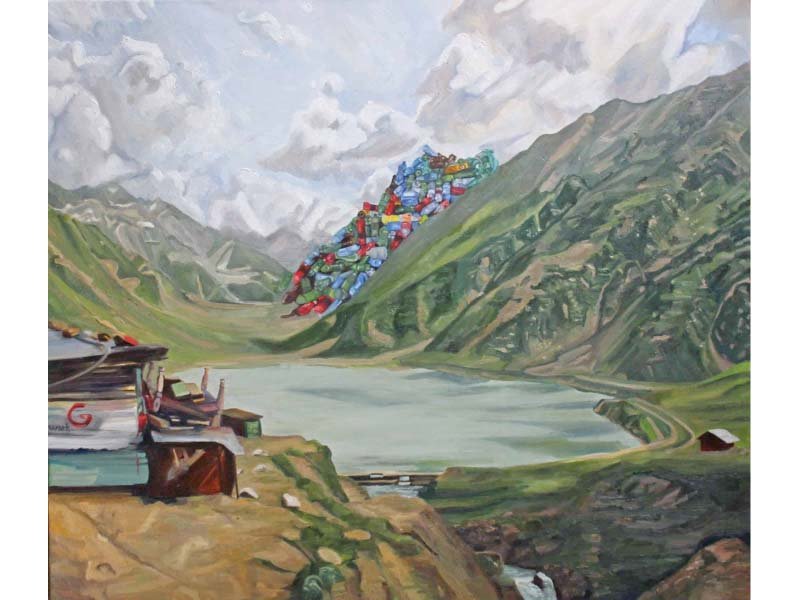 ---
ISLAMABAD: Gallery 6 Islamabad chose "Art for social change" movement to reach out to a large audience to raise awareness regarding the needs of the planet in a time of climate change. It invited artists, photographers, a filmmaker and a journalist to travel together and observe effects of climate change and environmental degradation in northern Pakistan. This was done to facilitate development of paintings, photographs, sculptures, documentaries, blogs on climate change and other environmental issues.

These were then displayed in an exhibition, which was inaugurated by the President of Pakistan at Pakistan National Council of Arts (PNCA) in presence of other stakeholders. Now the exhibition "Art for Climate Change" reopened for a wider audience at Gallery6 in F-6 Markaz on Friday February 15, 2019 a very central location in Islamabad with easy access. Spanish Ambassador Manuel Duran was the chief guest.

The presented artworks highlighted several issues in stunning ways. The photographer Amna Yaseen used the double exposure technique to draw attention towards rapid deforestation, invasion of open spaces, excessive consumption of fossil fuels and land erosion etc that threaten our survival.

Kiran Saleem, Fakhra Asif and S.M. Khayyam through their art work have drawn attention towards spread of garbage. Many areas, which are still beautiful and attractive for tourists are being loaded with garbage haphazardly by the visitors, endangering surroundings.

Asad Asghar and Muhammad Ajjad Akram drew attention towards the increasing use of wood and paper respectively by us in our daily life, which results in extensive cutting of trees and contributing to climate change. If this practice continues in the current manner, then we are going to suffocate our world. Hence, Asad has developed posters with slogan "stop killing yourself, stop cutting trees".




A related poster campaign "Plant for me" has been developed by Dr Arjumand Faisel in which children are demanding that the viewer plant for their future. "Plant for me" campaign can be picked by the Ministry of Climate Change, national or regional institutions and stakeholders, NGOs or community based organisations to promote tree plantations at different levels.

Sujjal Kiani made two posters and three sculptures that remarkably hit the viewer about the massive water crisis. Moreover, Muhammad Sajjad Akram's sculpture of a devastated man sums up the detrimental effects of climate change on humans.

Exhibition at COMSATS

Art Exhibition "Imaginary Scenes, Oriental Influences" by American born French Artist Wendy Billingslea opened at COMSATS Art Gallery, COMSATS University, Islamabad on Thursday February 14, 2019. Wendy Billingslea (a well renowned International artist) is an American born French artist with remarkable achievements on her credit. Having studied arts from New York, Paris and London she has exhibited her work in Paris, London, Austria, Japan, Portugal and now in Pakistan. Nine of her large scale paintings were kept in the exhibition mostly made with oil paints on linen.

The exhibition was inaugurated by COMSATS University Rector Prof Dr Raheel Qamar. The show was attended by dignitaries from different embassies including Austrian Ambassador Nicolas Keller, artists, media persons and people from several walks of life.

The exhibition will be on display till March 3, 2019.

Dr Qamar expressed his pleasure over successful opening of the show. He thanked the artist Wendy Billingslea on bringing her art work to Pakistan and especially bringing it to COMSATS University. He further encouraged the artist for her remarkable work and said COMSATS Art Gallery In-Charge Farrah Mahmood is providing a great platform for artists to display their work as well as for art lovers to be a part of such exhibitions. He said it's great to see foreigners visiting Pakistan despite all negative propaganda about it.

The newly appointed Austrian Ambassador Nicolaus Keller was also present at the occasion and speaking at the occasion he thanked the artist for exhibiting her work. He congratulated COMSATS Art Gallery for organising a successful exhibition and said such events are extremely important to bring people of different countries, cultures and religions together.

Published in The Express Tribune, February 16th, 2019.
COMMENTS
Comments are moderated and generally will be posted if they are on-topic and not abusive.
For more information, please see our Comments FAQ