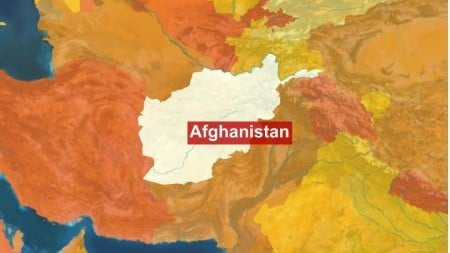 ---
KANDAHAR: A remote controlled bicycle bomb killed at least one policeman and wounded 15 civilians in the southern Afghan city of Kandahar on Saturday, police and a provincial spokesman said.

The bomb detonated as police were getting out of a vehicle close to the provincial governor's office and the offices of the Afghan Red Crescent, the spokesman for the provincial governor, Zalmai Ayobi, told AFP. Three children were among the 15 wounded.

Also a Nato soldier was killed in southern Afghanistan, the alliance said Saturday, taking the number of foreign troops killed in the country this year to 230.

The soldier, a member of Nato's US-led International Security Assistance Force (Isaf), was killed by small-arms fire, according to a Nato statement, which did not disclose any further details.

It was the second death on Friday of an Isaf soldier in the militant-infested south, where international forces are fighting an increasingly deadly insurgency led by the Taliban.

According to an AFP tally, based on one kept by the independent website icasualties.org, last year was the deadliest yet, with 520 killed.

Around two-thirds of this year's casualties - 143, according to icasualties - are American. US forces make up the bulk of the 130,000 foreign troops based in Afghanistan, with the total deployment expected to reach 150,000 later this year.

Nato and US-led forces have announced a massive counter-insurgency operation in Kandahar, the spiritual home of the Taliban during their rule over the country prior to 2001.

The Taliban are trying to topple the Western-backed government of President Hamid Karzai. A three-day peace conference in Kabul attended by tribal elders and religious leaders ended on Friday with a call to militants to lay down their arms.

The conference, called to advise Karzai on how to make peace with the Taliban, demanded the establishment of a "powerful commission" to lead talks with the militants.

Published in the Express Tribune, June 6th, 2010.
COMMENTS
Comments are moderated and generally will be posted if they are on-topic and not abusive.
For more information, please see our Comments FAQ