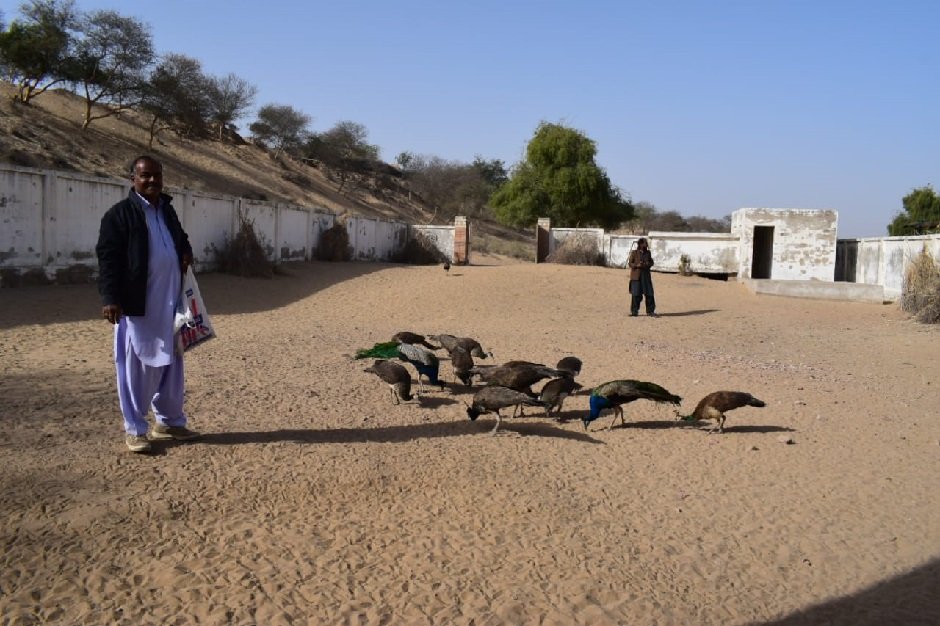 ---
MITHI: The severe six-year drought in Tharparkar has taken its toll on man and beast alike. People are dying, and so are cattle and birds, all facing starvation in the face.

The Sindh government has recently begun providing free wheat flour to residents of the area. Three instalments of wheat aid have been provided this year, with each family registered with NADRA in Tharparkar being given 50kg of flour.

It is hoped that this will help families in the area get by. But there is still concern for wildlife, and that is where people like Sonjhi Sothar come in.




The 40-year-old is a resident of Sothar, and teaches at a primary school almost 30 km away from his home in Batri Bhopa village. He takes a bus to school every day, although he still has to cover the last kilometre on foot.

After starting with just five students in his class, he managed to convince parents from his village and others nearby to admit their children. Now he has almost 50 students. Around this time, he also started feeding a peacock that was hanging around near the school. Within a month, the peacock's friends started joining him, and now a flock of up to 60 birds can be seen coming by.




Sonjhi now buys grain and birdseed, which he keeps in a cupboard in the school, along with some of the wheat that he receives in aid. The peafowls now actually follow him around. Early in the morning, they wait at the bus stop near the school and surround him as soon as he comes out, flocking around him as he walks to school. He then feeds them around 1.5 kg of seeds, after which the peafowls scurry off towards the jungle.

Sonjhi said that the school is sometimes full of peafowls for the last six months. Much of the wheat he received as aid in the past three months has been fed to the peafowls, and he has even had to buy more on occasion. He said properly feeding such a large number of peafowls would require closer to five kg of wheat every day, but he can't afford to buy that much.

"Luckily, the peafowls are happy with the amount of food I can provide."




He said that as soon as they see him, they flock around like children. "Other birds sometimes try to sneak a bite along with peafowls, but they give up after seeing the size of the larger seeds of wheat," he added.

The teacher also said that he feels happy by feeding the peafowls. He said that apart from this service he also teaches the children. He informs that when he joined the school there were only 5 children and now there are 50. He said that children from nearby villages walk to the school on foot. The school lacks furniture, water and other facilities.




According to the department of wildlife, there are 100,000 peafowls living around the 1,400 villages in the region. Due to the drought, these peafowls suffer from hunger and are susceptible to a disease called rani (Ranikhet or Newcastle disease – a potentially deadly viral disease among birds). Due to this reason, 1,600 to 2,000 peafowls die every year.

Local resident Imtiaz Ali informed that people in Thar love the birds and treat peafowls like children. They provide them with food and water according to their ability and also protect them from hunters. "The peafowls lay eggs that hatch in the rainy season and locals also protect these. On peachicks, he said hunters are not allowed to catch young birds. "A complaint is immediately sent to the wildlife if anyone from the village catches a peachick," he explained.




Due to the continuous drought in Tharparkar, birds big and small alike have died and generations of some species are being wiped out. The bird populations most under threat in the area include crows, pigeons, dove, sparrows, nightingales, parrots, eagles, and partridges.

The responsibility of protecting the peafowls in Tharparkar rests with the Wildlife Department, and residents said they extend full cooperation in this regard. If they notice that birds are getting sick with Ranikhet, they inform the wildlife department and in the meanwhile will look after the peafowls and tend to them on their own as well.




The medicines being provided by the Wildlife Department are also administered by locals. Unfortunately, the wildlife department does not have any arrangements for medicine or food for sick peafowls. Medicines and vaccines are taken from the poultry department in Tharparkar. But the poultry department in Tharparkar only has one doctor and in case of Rani, medicines reserved for chickens are given to the peafowls.

In the current year, more than 300 peafowls have died due to hunger and disease, and even though Ranikhet remains a serious problem, no one is taking notice of it. Despite reports in the media, Wildlife officials just seem to have given up.
COMMENTS (1)
Comments are moderated and generally will be posted if they are on-topic and not abusive.
For more information, please see our Comments FAQ