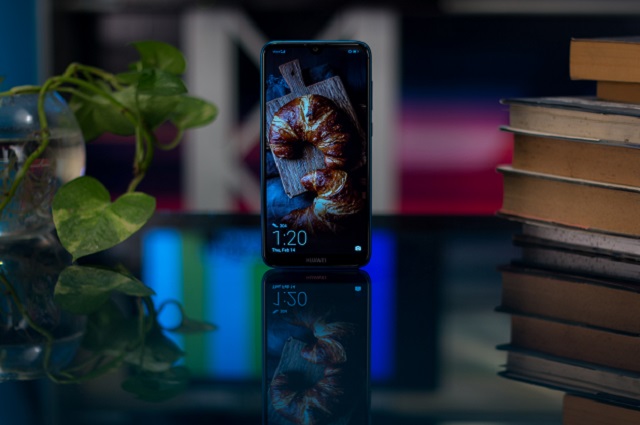 ---
Keeping up with our tradition of reviewing upcoming devices the latest entrant to our review brigade is Huawei's Y7 Prime 2019.

China's smartphone giant is trying to capture each specific payscale in regards to Pakistan's smartphone market. Their flagship the Mate 20 Pro received a great deal of praise Internationally and domestically while the Nova series has arguably been the most popular.

The Y7 Prime 2019 is another attempt to stay in touch with the mid-tier smartphone market. Whether the phone has the capability to do that, we shall see but first, let's take a look at the device.

Review: Huawei Y7 Prime 2019, staying afloat in the midtier

With a 4,000 mAh battery, 6.26 inch LCD display, the device is powered by the Qualcomm Snapdragon 450 chip, 3 GB RAM, 13MP dual camera and a 16MP selfie camera.

Design




With rounded edges on the backside of the device, the 6.26-inch display seems surprisingly bigger than it actually is. The width of the device wider than most screen examples out there. The display could have been even larger if the full-screen model was applied but with the way the width is extended, it doesn't seem like a miss. It's screen is also always slightly bigger than that of the Y7 Prime 2018. (5.99-inch)

The LCD display, of course, doesn't have the resolution of an OLED display but that's not something we expected.

A downside of the design includes the lack of a USB-C port. Fast charging is slowly becoming a necessity for most smartphone users. Other competitors for devices of this price range have not yet taken the USB-C step so far so the company doesn't lose much in this regard but users would ideally want the fast charging option.

The Aurora blue colour is a delight to see. The shine and gloss on the backside of the smartphone make it an aesthetically attractive smartphone. It may be a little susceptible to a few smudges given the shine but that's just something that cant be avoided. Huawei has always experimented with visually attractive colours that are different from the more commonly applied colours.

Performance




With 3GB of RAM and the Snapdragon 450 chipset, the device boasts a good performance level. We would have liked to have a 4GB RAM in the device but 3GB seems to be the norm given the price range.

The EMUI 8.2 skin certainly supplements the Android Oreo software pretty well.

One interesting feature includes the Face recognition software installed. Usually, you wouldn't expect Face ID for a device of this price range, however, Huawei has managed to get some of more high-end features into mid-tier devices. Performance as a whole remains decent although we expected a few more changes to the usual norm set recently.

Camera




With a 16MP + 2MP AI camera with f/1.8 aperture, the device boasts a decent photo output. With an AI impact, the picture quality improves based on the subject. Of course, the camera isn't as good as some of Huawei's high-end models but for its tier, the quality is decent.

There is a certain emphasis on low-light and HDR performance in line with the general direction Huawei has taken towards its Camera quality. The camera keeps that trend intact with the pictures that were taken in low light standing out.

Price

Priced at Rs 28,999, the device is reasonably priced for its competitors.

Conclusion




The device checks most of the right boxes for its price. the problem for us is the change in perception.

A year ago, we would be satisfied with this device but for anyone who has used the Mate 20 Pro or the P20 Pro will struggle to understand Huawei's mid-range devices and will always find faults just because they've been exposed to something better. It simply means Huawei can't be classified as a mid-tier expert anymore with the company seriously improving their high-end game.

All in all, for the Y7 Prime 2019, the price definitely helps the company stay in touch with the mid-tier smartphone market.