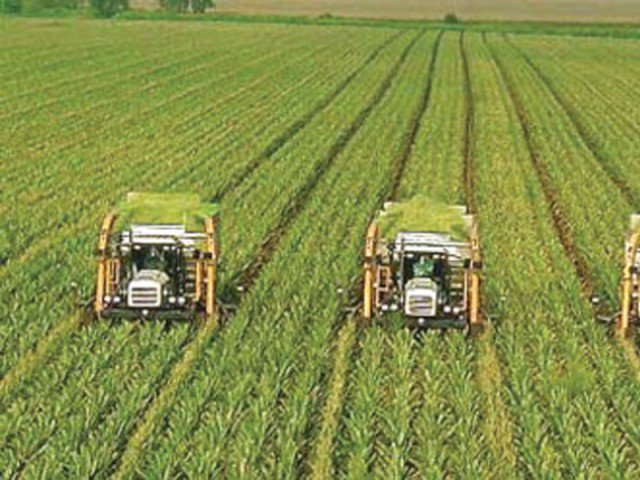 ---
ISLAMABAD: The previous government of Pakistan Muslim League-Nawaz (PML-N) hailed the China-Pakistan Economic Corridor (CPEC) as a game-changer and mega project, claiming it would boost economic growth. However, the main focus of the project has only been on road infrastructure and power plants.

Pakistan is an agriculture-based economy, where majority of the population directly or indirectly depends on this sector. The agriculture sector contributes around 24% to gross domestic product (GDP) and accounts for half of the employed labour force.

It has been a big source of foreign exchange earnings, but sadly the sector has been neglected, forcing people to migrate from rural to urban areas for employment opportunities.

CPEC could have provided an opportunity to boost the agriculture sector, but the previous government failed to pay attention to it. Pakistan has always been a traditional exporter of textile products, but past governments did not pay heed to calls for diversifying exports.

Diversification could have been achieved had there been a policy to ensure value addition in agricultural products for boosting exports. However, not a single farm project was included in CPEC during the PML-N government's tenure. Then food security minister Sikandar Hayat Khan Bosan had protested in a cabinet meeting for not including the agriculture sector in CPEC.

On the contrary, the current Pakistan Tehreek-e-Insaf (PTI) government appears to be focused on agriculture and livestock sectors to boost exports and help the farming community. The agriculture sector fuels industrial growth of Pakistan because the country's industries heavily rely on agriculture and livestock such as textile and leather sectors.

Adviser to Prime Minister on Commerce Abdul Razak Dawood recently announced during a press talk that the trade deficit would be brought down by $5-6 billion during the ongoing financial year. His major focus is now on reducing imports and enhancing exports.

He was of the view that in order to have sustainable industrial growth in Pakistan, the growth of agriculture was necessary. The adviser's main focus is on making interventions for the promotion of agricultural trade, agribusiness and investment in agriculture and livestock.

According to officials, the Ministry of Commerce is working on interventions, which are expected to push Pakistan's agricultural exports. The ministry wants to bring competitiveness in exports of agriculture sector to become a major regional exporter through upgraded production technology and standardised service provision.

It wants to take initiatives to reduce the cost of doing business, promote high-value crops and ensure profit for producers. It also aims to introduce commercial farming integrated with international and domestic value chains.

The commerce ministry is currently identifying impediments in the way of access to complete value chain financing for small farms, cooperatives and commercial farming entities for an agricultural export and import substitution strategy with focus on regional trade.

The trade policy will promote modern logistics and trade infrastructure for the agriculture sector to achieve greater efficiencies in the international and domestic marketing environment.

There is a dire need to move towards precision agriculture technology, big data, etc for higher productivity and quality assurance to meet international quality parameters. The government wants to focus on agricultural research, education and extension to promote export-focused production that cannot be avoided anymore as it is vital for agro-based industrial development.

Pakistan is among leading importers of oil and oilseeds in the region. The government is working on import substitution by bringing innovation in the agriculture sector.

Different countries are now focusing on agriculture in Pakistan. The Netherlands has extended its support for improving agriculture and agro-business. A Dutch agro-business delegation is coming to Pakistan in the first week of March, which is expected to ink agreements for investment, trade and research in agriculture with private-sector companies of Pakistan.

Recently, the government formally approached the Chinese government, seeking support for agricultural research to improve crop productivity and reduce post-harvest losses. Chinese investment and support can turn around Pakistan's agriculture sector.

The Board of Investment is also trying to lure companies, particularly agro-giants around the globe, to come and invest in Pakistan. Cargill, the US agro-giant, met PM aide Dawood and announced an investment of $200 million in Pakistan's agriculture sector.

SBP governor stresses harnessing technology to boost agriculture

Cargill will bring world-class innovations to support the flourishing dairy industry in Pakistan, which is already moving towards modernisation.

Investors are keen now to invest in the agriculture sector of Pakistan. However, the government should take initiatives to improve the quality of agricultural products, especially in the livestock sector, in line with international standards.

With CPEC, Pakistan is entering into the industrialisation phase and setting up duty-free zones. The government should include the agriculture sector in CPEC for establishing an economic zone in Multan.

SBP governor stresses harnessing technology to boost agriculture

International investors should be offered incentives for setting up dairy-related and food product industrial units in the economic zone. In this regard, a Russian delegation visited Pakistan and expressed interest in importing food products and meat during the PML-N's rule. However, it was not satisfied with the quality standards and therefore an opportunity was missed.

Now, is the time for the PTI government to avail of the opportunity, which could generate employment and boost exports.

The writer is a staff correspondent





Published in The Express Tribune, February 11th, 2019.

Like Business on Facebook, follow @TribuneBiz on Twitter to stay informed and join in the conversation.