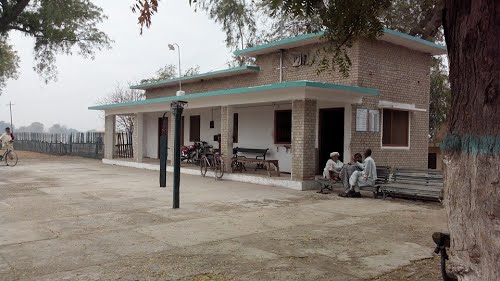 ---
BAHAWALPUR: The Mubarakpur railway station's building is in shambles. Windows and doors have been stolen and the structure of the building is falling apart.

Mubarakpur Village was named after the former Nawab of Bahawalpur State Nawab Mubarak Khan Abbasi in 1757. For a long time, it operated as an important station for Bahawalpur State and the area was one of its sub-tehsils.

The British laid the railway track from Karachi to Peshawar and different parts of India which went through Mubarakpur. In 1880, the construction of Mubarakpur railway station started and by 1881, a beautiful building was completed. It was a busy railway station for quite some time, but the dissolution of Bahawalpur's provincial status meant that it lost the attention of the political leadership.

With the passage of time, this historic railway station started falling apart. Due to the lack of interest by successive governments and the Pakistan Railways, the condition of the building went from bad to worse. The dome of the building has fallen. Rather than renovating the building, authorities declared the structure unsafe and it closed down.

A few years ago, an old building was renovated and offices of the railway's staff were shifted there. However, this building is also in shambles. The railway station's footpath is dilapidated and there is no furniture or shade to save passengers from the heat or the rain. Even the pedestrian bridge is rusted to the point that it could fall on any given day.

The residential quarters established by the Pakistan Railways for its staff looks like a haunted place. Windows, doors and even bricks of the boundary walls have almost vanished.

Now, no major trains stop at Mubarakpur station. Mubarakpur's social and political representatives demanded that the Minister for Railways and other senior officials restore the historic building and reintroduce the stops for major trains.

Mian Danish, a resident of Mubarakpur, told The Express Tribune that people of the area who wanted to travel to major cities needed to do so by road. He added this proved more expensive and also took a physical toll on the passengers. "If major trains stop here, locals will be able avail the facility of quality travel services," he said.

Another resident, Haji Amanullah, said the Railway Station was in bad shape. "First of all, the government should restore the building of the railway station and provide basic facilities including furniture and restrooms."

Another resident, Sukhaan Mai said his son worked in Lahore and he has to travel on two buses to get home.


COMMENTS
Comments are moderated and generally will be posted if they are on-topic and not abusive.
For more information, please see our Comments FAQ