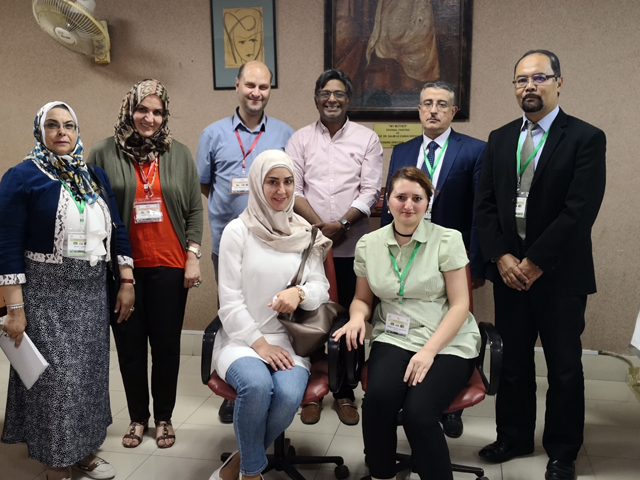 ---
KARACHI: Some 57 Muslim countries in the world are home to more than 25 per cent of the population. Most of these nations are confronted with problems such as poverty, war, unrest and political instability However, the countries in Gulf and United Arab Emirates are rich in resources and are self-sufficient.

Despite the varied spectrum, one factor is common in all of these states – they lag far behind in science, technology, new patents and innovations as compared to other developed nations.

In 2016, the Task Force on Science at the Universities of the Muslim World published a comprehensive report regarding the status of science, technology and higher education in Islamic countries. The report presented alarming facts from the Muslim world.

Here are some disturbing details from the Organisation of Islamic Countries (OIC) as mentioned in the report:

Only three scientists from OIC namely Dr Abdus Salam from Pakistan (Physics 1979), Prof Ahmed Zewail from Egypt (Chemistry 1999) and Aziz Sancar from Turkey (Chemistry 2015) received Nobel Prizes in their respective fields.

All of them did their award winning work outside their home countries.

Science is booming in our neighbourhood!

The Muslim world produces only six per cent of the global academic publications, 1.6 per cent of the world's patents and shares 2.4 per cent of global research expenditures.

Muslim countries on an average invest 0.5 of their GDP in research and development programme.

The Express Tribune asked eight scientists from different Islamic countries to communicate the reasons behind the lagging of Muslim states in the field of science & technology.

Colonialism, conflicts and lack of political will

Speaking to The Express Tribune, Dean of College of Pharmacy University of Alkitab Dr Nohad Alomari said that Iraqis were struggling for everyday utilities as war after war had badly disturbed every aspect of their lives.

Alomari said science needs a suitable environment to mull over facts but the Iraqis were preoccupied with daily needs. A lot of time was required to normalise the situation in the war-torn country.




The US-led invasion of Iraq not only destroyed dozens of universities and science institutes but also targeted hundreds of top scientists.

Baghdad University geologist and head of Association of University Lecturers Al-Rawi archived that around 300 academics and university administrators have been assassinated since the US occupation of Iraq that began in 2003.

Almost all scholars agreed that lack of political will in acquiring higher education and conducting research was another problem in majority of the Muslim states.

Prioritising science and technology

Eldar A Garev and Kamala Badalova, both from Azerbaijan Medical University stated that they have language hurdles in the higher education.

"Azerbaijani, Russian and English are the medium of teaching in my country, however, we have some political hurdles in research and higher education," said Garev.

Karachi University director of International Center for Chemical and Biological Sciences Dr Muhammad Iqbal Choudhary said the leaders have failed to understand that progress without science and technology is not possible in the ever changing world.

"I would state three problems: First is the lack of understanding and political will. Secondly, our own issues and problems kept busy in the civil wars and political unrest. The third is our failure to unite as Muslim Ummah or our inability to create a Pan-Islamic movement for science and technology," he added.

Manal Fardon from the American University of Beirut said that there was no luxury of science amid war and insecurity.

"In my country, resources are very limited and the market is supersaturated with many competent graduates. So the authorities should determine that who is good for teaching and who is eligible for research as lack of research center is another problem in Lebanon," Manal remarked.

But the situation seems to be different in Palestine where there is shortage of human resource in universities.

Rami Arafeh from Palestine Biotechnology Research Centre said that he had a modern food science laboratory in his country but it was closed due to lack of skilled professionals.

According to Arafeh, favouritism, low capacity and teaching instead of research were three main problems of higher education in the Palestine.

"The USAID and other NGOs come to us, and say, here is the money, do the research. But we do not have technicians and experts who can run these machines," Arafeh noted.

"In general, from Palestine, only those research publications are high ranking if they are jointly produced with at least one or two western scholars," he added.

Sahar Mostafa of Mansoura University in Egypt reiterated that majority of Egyptian scientists are not concerned with research and development. They only focus on their own promotions by writing papers which is a waste of time and resources.

Pakistani scientist Dr Muhammad Iqbal Choudhary stressed upon the need of virtual network of scholars from Islamic countries.

"Instead of waiting for the political leadership, I think it is important that the scientists from chemistry, medicine, social science and other disciplines should create a web-based network to achieve the common goals," he said.

Eminent Malaysian chemist Prof Dr Dato Ibrahim Jantan maintained that science is controlled by the west. A strong leadership is required to bring the Muslim scholars together.

The Express Tribune is grateful to Jafar Askari and Muhammad Iqbal Choudhary for arranging this panel discussion