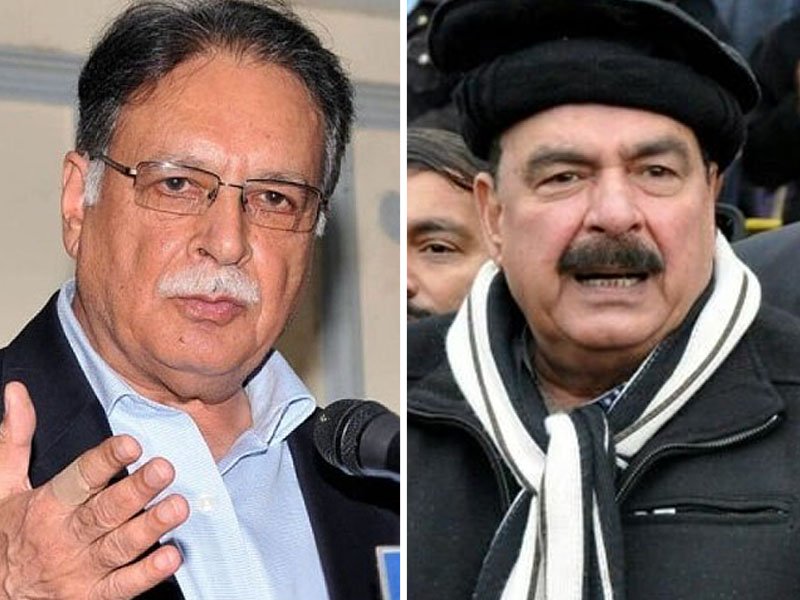 ---
ISLAMABAD: Pakistan Muslim League-Nawaz (PML-N) leader Pervaiz Rasheed has asked Railways Minister Sheikh Rashid to name the parties involved in a 'deal' that he has been referring to in his recent statements.

Speaking at a ceremony in Lahore, the former information minister criticised Rashid and claimed that his statements were always based on flawed assumptions. He asked the minister to name the other party that he was referring to for striking a 'deal' with the government.

Commenting on Sahiwal tragedy, Pervaiz Rasheed called for the formation of a judicial commission to investigate the incident. He said that those responsible for the incident must be taken to task.

Addressing the issue of Kashmir, the former information minister maintained that India should fulfill the promise made by its founder for resolution of the dispute.

He observed that the people of Kashmir of their own free will were supportive of Pakistan, while India was trying to take over the territory by force.

He said that artwork made by Pakistani students depicted the atrocities in Indian occupied Kashmir and the voice for occupied valley could be raised by holding art exhibitions.

Rasheed recalled that Indian leader Jawaharlal Nehru had vowed to decide the fate of Kashmir in accordance with the wishes of Kashmiris. He stressed that India should adhere to the commitment made by its founder and head towards resolution of the issue.

The PML-N leader claimed that in 1999 Indian premier Atal Bihari Vajpayee came to Lahore on the invitation of then prime minister Nawaz Sharif and expressed acceptance for Pakistan and desire to resolve the Kashmir issue. However, former president Pervez Musharraf indulged in a misadventure which worsened the situation, he added.

Responding to a question on Nawaz's health, Rasheed said that his medical tests were being conducted and it was hoped that those responsible for the job would perform their duty.