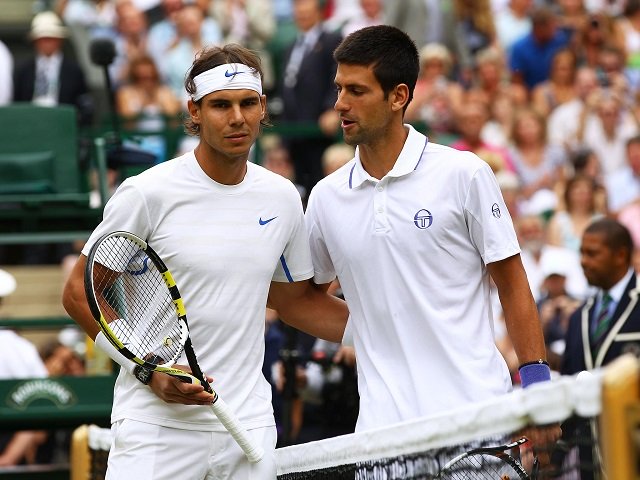 ---
KARACHI: They say age is just a number, but numbers are telling; of success, of failure, of greatness, of ordinariness and of the passing of time. And time, no one ever had a hold on, not even the greatest of champions.

Champions retire; their reigns come to an end. Such is the trajectory of every sportsman's career. But for tennis's 'Big 3', time seems to have stretched.

Rafael Nadal, Novak Djokovic and Roger Federer have dominated tennis for more than a decade.  Between them the trio has won 51 of the last 62 men's major singles titles starting from Wimbledon 2003. No other player outside tennis's ruling triumvirate together with Andy Murray has ranked number one in the last fifteen years, and that is how things stand today. Djokovic is world number one, Rafael Nadal world number two and Roger Federer world number three in the current ATP Rankings.

For years, analysts, journalists and veterans have speculated about a changing of the guard; when tennis's next generation will take over from the so-called old guard. John McEnroe announced that a change of the guard had occurred after Roger Federer fell to Greek wunderkind Stefanos Tsitsipas in the fourth round of the ongoing Australian Open.

However, despite Federer's loss, despite the monumental 17 years of age gap between the opponents and despite a likeness to the 2001 Wimbledon match where the 19-year-old Roger Federer conquered Pete Sampras, John McEnroe was too hasty in making that declaration.

All the next generation favourites, notwithstanding their remarkable victories along the way, have been forced out of the Australian Open.

Racket-smashing Alexander Zverev came into the tournament on the back of an ATP Finals victory over Novak Djokovic. The world number four was the fan favourite among the new generation stars to win the Australian Open.  German continues to struggle in grand slams and was expelled by Canadian Milos Raonic in the fourth round. The 20-year-old failed to capitalize on the break he got in the first set and lost serve in the second. From there on, things went downhill for the young prodigy.

It was the 20-year-old Stefanos Tsitsipas, however, who swept crowds off their feet. His astonishing victory over Roger Federer left many stunned. The fearless world number 14 was on point with his half-volleys and matched Federer winner for winner with his forehand. Always gracious in defeat, Federer commended the youngster's game yet attributed his loss to his 'need to win the second set'. The rueful champion wasted eight break-points to give Tsitsipas the break he needed in the second set.

Tsitsipas went on to defeat Agut but had lost in straight sets to none other than Rafael Nadal in the semi-final. The young Greek had no answers to Nadal's powerful groundstrokes and was booted out 6-2, 6-4, 6-0 in a paltry one hour and 46 minutes.

In the other semi-final, Serbian giant Djokovic annihilated 24-year-old Lucas Pouille, allowing him to claim just four games. The world number one is in enviable form as he awaits his final match of the tournament against a familiar yet formidable foe. The trophy will ultimately be won by a member of the so-called old guard of tennis.

Federer, Nadal, and Djokovic have given us continuous, glorious years of brilliant tennis. They have elevated the game, defied age and time with their comebacks and etched their names in the history books forever. And they are still the men to beat.

Surely they will retire, surely their dominance will come to an end, and surely they will be beaten because time catches up with everyone. But for now, to the relief and amazement of many, tennis's old guard stands tall.
COMMENTS
Comments are moderated and generally will be posted if they are on-topic and not abusive.
For more information, please see our Comments FAQ