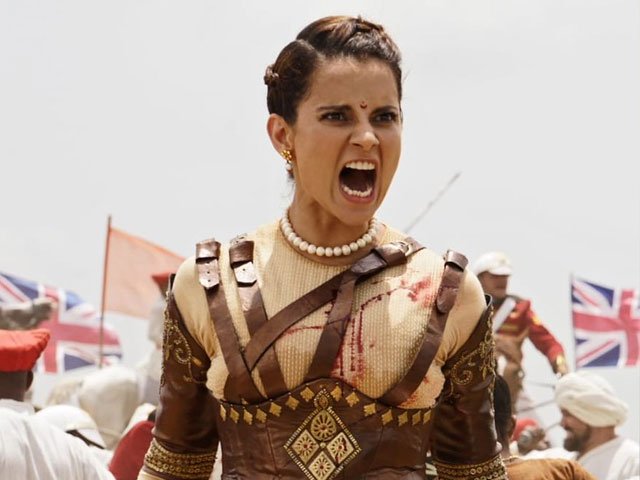 ---
KARACHI: Watching Kangana Ranaut as Rani Laxmibai, the Queen of Jhansi who led an army against the East India Company in 1857, one realises it's difficult to imagine anyone else in that character.

From the Queen of Bollywood to the Queen of Jhansi, the controversial star makes a powerful statement and solidifies herself yet again, after a few duds in the last couple of years.

Of course, this is on a grander scale than her 'wars' against Bollywood bigwigs like Karan Johar and Hrithik Roshan. However, in Manikarnika: The Queen of Jhansi, Ranaut – like Lakshmibai – further establishes how comfortable she is standing alone on the battlefield.




The comparisons between the two may feed the metaphors but regardless, it stands true that the actor (who also served as the co-director of the film) is not holding back.

Manikarnika, therefore, is a one-woman-show. Ranaut, in an avatar never seen before, displays a determination, fury and softness in her composure, body language, movement and expressions to bring the iconic rebel to life.

In the dramatisation of the historical events, Manikarnika takes justified creative liberties to craft a linear fairy-tale narrative following the classic hero's journey. The first half focuses more on the utopian world where the chaos has remained suppressed yet. The world of Manikarnika has cracks but the flood has yet to break the walls down.




And the walls do break post-interval. With that come carnage, betrayals and a fight for independence led by a brave-hearted queen. It is then you realise that 'Jhansi ki Rani' is more than just a title your mum dropped on you when you acted out in your childhood.

But as much as the film-makers attempt to engage in a discourse about independence, the dialogues end up coming off as actors checking off a fact list. It feels too on-the-nose. This lack of subtlety isn't limited to only writing but extends to the direction as well.




At times, it feels like a theatrical adaptation where an actor, mid-scene, turns toward the audience to deliver a line for emphatic purposes. These moments occur so often that they dilute their impact.

Granted, Manikarnika garners obvious comparisons with the epics of Sanjay Leela Bhansali. In terms of CGI and aesthetics, the film isn't superior to Bhansali's baroque canvases but in a lot of ways, Manikarnika is grittier and real in its portrayal. It chooses to present dramatic moments instead of making moments dramatic by overstated play between delivery and expressions. This organic approach gives us enough moments to chew into, such as Lakshmibai refusing to bow to the British commander or later going on a rampage to save her child.




Of course, Manikarnika isn't perfect. A few stunts come off as just plain ridiculous. One also wonders why the British are speaking in Hindi throughout the film, or why a Pathan army leader is shown with pale-face makeup.

But such details aside, Manikarnika delivers on most fronts and proves an engaging affair from beginning to end. Ranaut appears in top form and even proves she can hang as a director. The #MeToo era or not, the superstar doesn't need any crutches and has the room to mature as a film director in the future.

Verdict: Go witness the Queen of Jhansi in all her glory. Ranaut leads the uprising to its ultimate success.

Rating: 3.5 out of 5 stars

Have something to add to the story? Share it in the comments below.