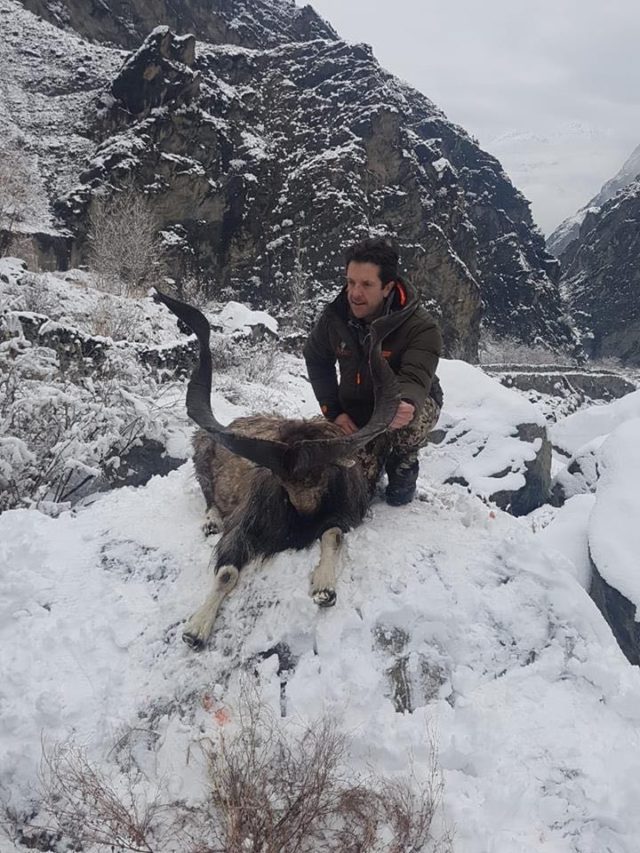 ---
GILGIT: As trophy hunting season continues in Gilgit-Baltistan (G-B), local communities are receiving more financial benefits in return for facilitating the legal hunt of the wild animals.

Last week, Dianda Christopher Anthony became the second American to hunt down the flare horned Markhor in the region. Anthony's hunt came in return for $105,000, an amount he had paid to purchase a permit in October when permits for four-Markhor hunts were auctioned.

Of the amount paid by him, 80 per cent went to the community as a reward for conserving the wildlife.

Shooting permit: Three Markhor trophy hunting licences go for Rs10m each

The Himalayan goat that Anthony shot down had 48-inch long horns, which officials say are the longest ever. "To my knowledge it's the biggest horn size of Markhor that's hunted," said Faizan Dukhi, an official in the wildlife department, who supervised the hunt.

Interestingly, the hunter shot the wild goat from a distance of 360-meters and with a single shot, Dukhi told The Express Tribune.

According to Mayoor Khan of the Wildlife Conservation Society (WCS), the hunted Markhor was an exceptionally good size trophy, which will be a source of pride for the hunter. "Trophy hunting is also considered a form of ecotourism with low impact but high in value," he added.




The Jutial conservancy, where the hunt took place, falls in the Hindu Kush mountain range and is home to several wildlife species, including snow leopard, Markhor, musk deer, ibex, and woolly flying squirrel.

The trophy hunting licence not only finances the Markhor conservation but also helps in the protection of the majestic snow leopard.

"This is certainly a unique setting in the world where one can get a Markhor trophy just a few kilometers away from a metropolitan city like Gilgit," Anthony was quoted as saying.

He lauded the efforts put in by the Jutial community, district administration, G-B Parks and Wildlife Department, and WCS-Pakistan for the conservation of Markhor, the national animal of Pakistan.

Earlier this month, John Amistoso hunted a Markhor, becoming the first hunter of the season to hunt down the Himalayan goat.