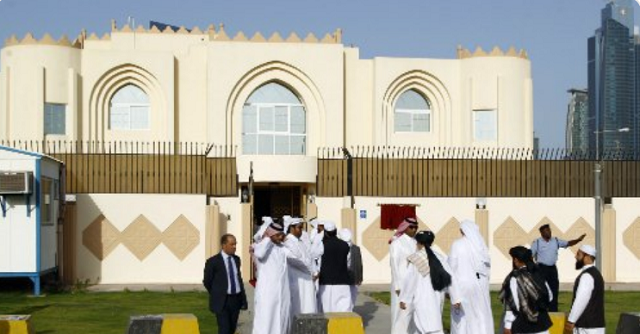 ---
KARACHI: The Afghan Taliban and US representatives began formal talks in the Persian Gulf state of Qatar on Monday after the two sides agreed on a two-point agenda, the militia said in a statement emailed to the media.

"The two-point agenda says a.) US-led foreign forces would end the "occupation" of Afghanistan, and b.) Afghan soil would not be used in future to harm any country," Taliban spokesperson Zabiullah Mujahid said in the statement.

100-plus killed in Taliban attack on Afghan spy agency's training centre

"US officials met with Islamic Emirate representatives in Qatar's capital Doha. The negotiations will continue tomorrow (Tuesday)," he added.


طالبان باردیگر با نماینده‌گان امریکا در دوحه دیدار کردندhttps://t.co/m1tVehWxWl pic.twitter.com/H8kM4za8Dz

— TOLOnews (@TOLOnews) January 21, 2019


Efforts to negotiate a peace deal to end the 17-year war in
Afghanistan have been beset by disagreement in recent weeks,
with the United States opposing the Taliban's decision to shut
the Afghan government out of discussions.

Senior Taliban leaders said that regional powers including Pakistan had approached them and wanted them to meet the US delegation in Islamabad and also include the Afghan government in the peace process but that the approaches had been rejected.

Earlier in the day, the Taliban killed over 100 members of the
Afghan forces in central Maidan Wardak province of Afghanistan.
COMMENTS
Comments are moderated and generally will be posted if they are on-topic and not abusive.
For more information, please see our Comments FAQ