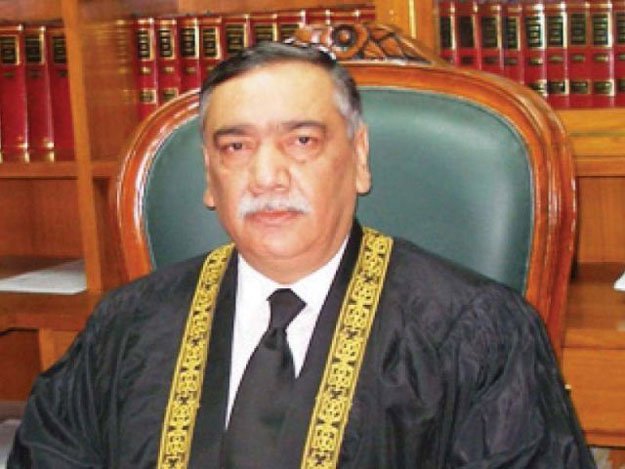 ---
Justice Asif Saeed Khosa took oath as the 26th chief justice of Pakistan on Friday in a ceremony held at the President House.

Khosa's tenure as chief justice would span around 11 months and he will remain the country's supreme judge till December 20, 2019. The oath was administered by President Arif Alvi.

A full court reference was held to bid farewell to former chief justice Saqib Nisar on Thursday.

While most lauded Justice Khosa for his address on Thursday, users on social media had mixed feelings about the transition in the country's top court.

Senator Sherry Rehman termed Khosa's words that "Suo motu powers of the court shall be exercised sparingly" to be an expression of his intent.


Important statement of intent by Justice Khosa https://t.co/C5GLFiKzWQ

— SenatorSherryRehman (@sherryrehman) January 17, 2019


Pakistan Muslim League-N (PML-N) leader Miftah Ismail implied in his tweet that "Pakistan was free at last" as the former chief justice's tenure ended.


Free at last, free at last, thank God almighty we are free at last. https://t.co/P2ORGuHS0N

— Miftah Ismail (@MiftahIsmail) January 17, 2019


German Ambassador to Pakistan Martin Kobler congratulated the new chief justice on assuming office.


warm congratulations Justice Asif Saeed Khosa on your appointment as Chief Justice of Pakistan. thank you justice Saqib Nisar for highlighting the important issues.
Strong justice system is a guarantee for stability & governance. Good luck!! pic.twitter.com/NCcEsDPCkO

— Alfred Grannas (@GermanyinPAK) January 18, 2019


Senator Murtaza Wahab tweeted hoping that Justice Khosa reforms the criminal justice system of the country.


If there was ever a time for reforming the criminal justice system, it starts from tomorrow with the oath of Justice Asif Saeed Khosa as Chief Justice of Pakistan. I hope & pray that the next 11 months will change the course of Pakistan's judicial system. All the best Khosa Sb

— Murtaza Wahab Siddiqui (@murtazawahab1) January 17, 2019
"I would also like to build some dams, a dam against undue and unnecessary delays in judicial determination of cases, a dam against frivolous litigation and a dam against fake witnesses and false testimonies..." - Justice Khosa.
Glad the new CJP is focused on his actual job. pic.twitter.com/mFsdRbCxq1

— M. Jibran Nasir 🇵🇸 (@MJibranNasir) January 17, 2019
Justice Khosa very politely reminds CJ Saqib Nisar that building dams or solving national debt issues are not duty of a Chief Justice while there are 1.9 million cases pending in the court. #AsifSaeedKhosa #SymbolOfJustice pic.twitter.com/QytktIT9sW

— Saleem Javed | سلیم جاوید (@mSaleemJaved) January 17, 2019
Very encouraging speech by incoming CJ Asif Saeed Khosa. But similar hope and pedigree was associated with the outgoing honorable CJ. Our list of disappointments is too long to ignore—even for an incorrigible optimist like me.

May Allah guide & protect those in high offices.

— Mosharraf Zaidi (@mosharrafzaidi) January 17, 2019
Justice Khosa's speech today was extremely promising. Hopefully he will be able to neutralise populism, not only in the judiciary but also in politics. It's been a disaster like populism often is. pic.twitter.com/IOyFxt9hqn

— Nadeem Farooq Paracha (@NadeemfParacha) January 17, 2019
New CJP:"I would also like to build some dams, a dam against undue and unnecessary delays in judicial determination of cases..against frivolous litigation..fake witnesses and false testimonies."

Hope Justice Khosa will stay the course and not succumb to judicial populism.

— Raza Ahmad Rumi (@Razarumi) January 18, 2019
New Chief Justice Asif Saeed Khosa sworn in #AsifSaeedKhosa

— Mubashir Zaidi (@Xadeejournalist) January 18, 2019
The Supreme Court shouldn't make efforts for becoming a jirga. It should function as a genuine Apex Court. No need for another Charter of Governance as we have one in the shape of the Constitution. But when will judicialization of politics & politicization of judiciary end?

— Afrasiab Khattak (@a_siab) January 17, 2019


https://twitter.com/shahnazsk/status/1086126690651250688


COMMENTS
Comments are moderated and generally will be posted if they are on-topic and not abusive.
For more information, please see our Comments FAQ