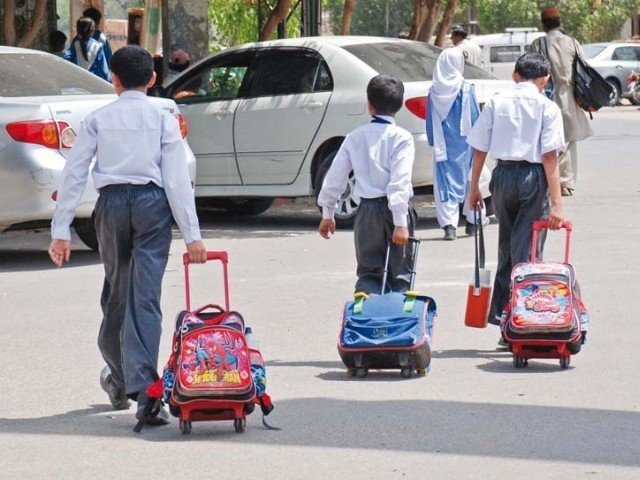 ---
ISLAMABAD: The Supreme Court (SC) on Wednesday issued a written order directing 22 schools to reduce their fees by 20 per cent.

The interim orders for the same were issued on December 13, 2018.

The detailed judgement also clarifies that the original orders apply to all schools across the country that charge more than Rs5,000 per month.

The judgment upholds all points laid out in the interim judgement from December and adds that some schools are trying to pressurise parents so that they give up their stance and schools are not held accountable.

Orders have been issued to specifically scrutinise these schools under the legal framework, while contempt of court notices may also be issued to the same.

Parents' woes: Children, parents protest against exorbitant fee structures

In addition, the apex court also asked for schools to ensure that they do not downsize in terms of staff or try to cut salaries for any of the teachers that were already employed at the time that the interim order was passed.

The court has also directed schools to ensure that any incentives given to students in the form of scholarships or fee concessions before the passing of the orders should also remain in place and should not be affected.

Furthermore, parents have been directed to ensure that they pay the fee on time, especially after the implementation of the fee reduction and schools have been directed to take what action they deem fit, if parents fail to pay on time.

The Federal Investigation Agency (FIA) has also been directed to return computers and ledgers picked up from the schools after the interim order had been passed and asked the FIA to make copies of relevant documents.

Advance charges: Capital's schools barred from charging summer fees

Furthermore, the SC believes that a mechanism is needed to ensure that schools are not run like businesses where director-level officials earn high salaries, while they complain that even a 20 per cent cut in fee will cost them their businesses and that check and balances can be maintained on the amount of money charged as fees.

Keeping these points in mind, the apex court order says it will revisit the case on a later date but has stated in the detailed verdict that all orders given to this day will be implemented to full effect till the next hearing.
COMMENTS (4)
Comments are moderated and generally will be posted if they are on-topic and not abusive.
For more information, please see our Comments FAQ