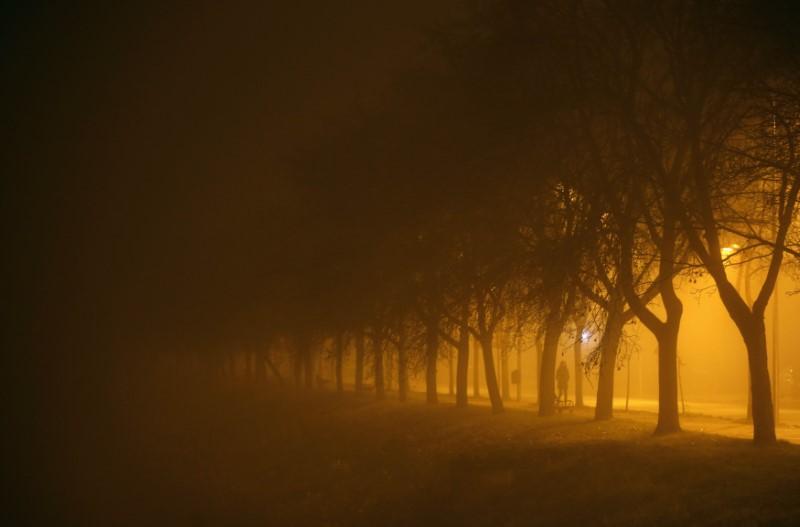 ---
Pakistan's urban air pollution is among the highest in South Asia, exceeding several high-profile causes of mortality and morbidity in Pakistan. According to the World Health Organisation (WHO), over four million people around the world succumb to air pollution-related illnesses on an annual basis, due to toxic air quality levels that go well beyond the standard guidelines outlined by the WHO.

In addition, the WHO report also highlights countries such as China, India, Pakistan and Bangladesh that have "increasing trends in PM2.5 exposure." PM2.5 readings are often included in air quality reports from environmental authorities and companies. It refers to atmospheric particulate matter (PM) that have a diameter of less than 2.5 micrometers, which is about 3% the diameter of a human hair.

The good news is that China has made some improvement in tackling air pollution. But India, Pakistan and Bangladesh have experienced the steepest increases in air pollution levels since 2010 and now present the highest sustained PM2.5 concentrations.

The number of ailments and illnesses due to the poor quality of air in the cities of Pakistan has risen significantly over the past few years. While this may mean more business for doctors and pharma companies, the extent of urban air pollution in Pakistan — South Asia's most urbanised country—is among the world's most severe, significantly damaging human health, quality of life and the economy and environment of Pakistan.

According to a World Bank study 'Cleaning Pakistan's Air – Policy Options to Address the Cost of Outdoor Air Pollution', which was conducted four years back, current trends, including industrialisation and urbanisation, suggest that air quality will worsen unless targeted interventions are adopted in the short, medium and long term, and unless the institutional and technical capacity of organisations responsible for air quality are strengthened.

The problem starts with vehicles. The number of vehicles in Pakistan has jumped from approximately two million to 10.6 million over the last 20 years. From 1991 to 2012, the number of motorcycles and scooters grew more than 450%, and motor cars, close to 650%.

Industrial facilities, particularly those consuming fossil fuels, emit significant amounts of air pollutants. Emissions from large-scale facilities, such as cement, fertiliser, sugar, steel and power plants have also risen. Many of these use furnace oil that is high in sulfur content.

A wide range of small-scale to medium-scale industries, including brick kilns, steel re-rolling, steel recycling and plastic molding, also contribute substantially to urban air pollution through their use of 'waste' fuels, including old tyres, paper, wood and textile waste.

More than 54,000 tonnes of solid waste are generated daily, most of which is either dumped in low-lying areas or burned. The burning of solid waste at low temperatures produces carbon monoxide (CO), PM, and volatile organic compounds (VOCs), including toxic and carcinogenic pollutants.

Farmers in Pakistan burn cane fields to ease harvesting. During sugar-cane harvesting, high concentrations of particulate matter of less than 10 microns (PM10) are found in rural areas in Punjab and Sindh. Predominantly dry weather in arid conditions and strong winds also generate substantial dust in most parts of Sindh and southern Punjab, elevating PM10 levels in the air.

Due to high summer temperatures (40–50°C), fine dust is transported into the atmosphere with the rising hot air and forms 'dust clouds' and haze over many cities of southern Punjab and upper Sindh.

Dust storms are also generated from deserts (Thal, Cholistan and Thar), particularly during the summer, and adversely affect air quality in the cities of Punjab and Sindh.

Without any government intervention or even social awareness campaigns – it is difficult to inform citizens in Pakistan on how to protect themselves from the toxic smog. The past few years have seen an extraordinary rise in air pollution, particularly during the onset of winter.

According to a report by Lancet, a medical journal, approximately 22 per cent of deaths in Pakistan each year are attributed to air pollution. So far, no initiative or intervention has been taken by the government with regards to air pollution. But given the danger it poses, there is hope that some debate and action take place in 2019.

There is evidence that air quality is severely affecting millions of Pakistanis. Experiences from around the world indicate that well-targeted interventions and an adequate institutional framework can significantly improve air quality.

Published in The Express Tribune, January 14th, 2019.

Like Opinion & Editorial on Facebook, follow @ETOpEd on Twitter to receive all updates on all our daily pieces.
COMMENTS (2)
Comments are moderated and generally will be posted if they are on-topic and not abusive.
For more information, please see our Comments FAQ