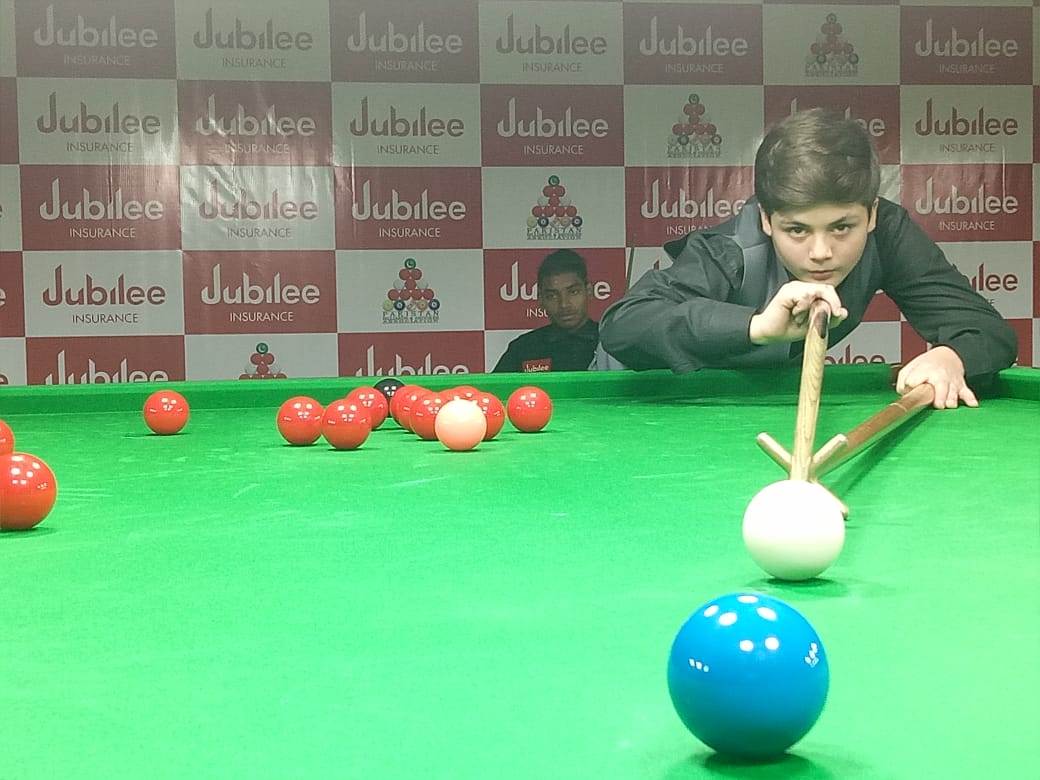 ---
KARACHI: How many eighth graders can be certain of their future? Not many. But Hamza Ilyas is a talented cueist who has won the inaugural Jubilee Insurance U16 National Championship in Islamabad defeating Khyber-Pakhtunkhwa's Kamran Albert Masih 4-0 this week.

Hamza is just 14, but he has been playing in the national U18 circuit for the last three years and feels that one day he wants to represent Pakistan in the world professional circuit.

"This was the toughest championship," young Hamza told The Express tribune, as he will be preparing for the National U18 Championship that will start on Thursday. "I thought it would be easy when I started. The competition is tough, I started playing in 2016 I really liked the game and the first time I saw a snooker table, it was my father playing on it. But I work hard, I train three to four hours a day with my coaches."

According to Hamza even his school International Studies in Science and Arts also encourages him to play and it becomes easy for him to compete at the national events, when he needs to take offs.

Hamza had defeated Shaban Butt 4-2 to reach the final, while Kamran outplayed Muhammad Umer Khan 4-3 in his semi-final.

Hamza is dreaming big and believes that only taking snooker seriously can get him to a professional circuit. He trains with former snooker stars Imran Shehzad and Farhan Mirza.

"It needs hard work, if anyone wants to take it, they should be serious about it," said Hamza, as he trains in Lahore.

His favourite players that he wants to follow are Ronnie O'Sullivan and Stephan Hendry.

He received Rs50,000 as the prize-money, while Kamran got Rs 25,000. Also, the semi-finalists bagged Rs15,000 each and the quarter-finalists pursed Rs5,000 each.

When asked what Hamza will do with the money, he just replied that he will be giving it to his father.

The U16 championship had 18 top juniors in it and according to the Pakistan Billiards and Snooker Association official Naveed Kapadia the reason is the comfort for the youth players and getting them to Islamabad where the facilities for accommodation are available easily near the snooker hall.

However, will the PBSA be able to send Hamza to an international U16 event later this year depends on the availability of funds.

"The young players need security and safety and the reason why we kept the number comparatively smaller at the first U16 National Championship was that it should be easy for the children and they don't get weary, and their parents are satisfied too," said Kapadia. "But it is a well-received result. We are trying our best to continue on the junior level too."

On the other hand the Pakistan Sports Board has not been playing the best role, as despite winning at least 11 medals internationally the snooker body's special grants have been reduced from Rs3m to Rs1.5m.

"It is something that we don't understand. Our players have done so well in international events, but instead of increasing that grant they decreased it. However we'll keep trying," said Kapadia.