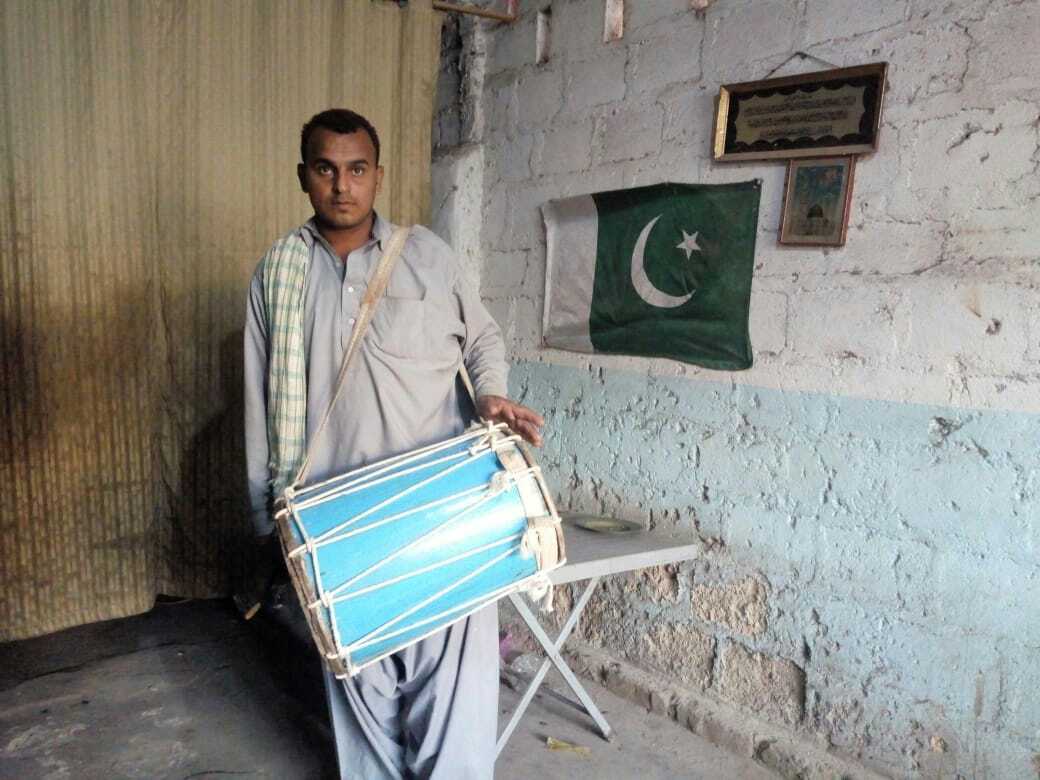 ---
KARACHI: Nabeel Ahmed was born into poverty. The youngest of 10 children, he, like his father before him, started earning a meager living, transporting goods on a donkey cart from a very young age. But the hunger for more never waned.

A resident of Kalakot, Lyari – Karachi's oldest neighbourhood and until recently, its most volatile - Ahmed grew up surrounded by violence and bloodshed. When the world around him was falling apart – sometimes literally – Ahmed immersed himself in what he loved most – music and football.

Today, the wind finally seems to be blowing in the right direction. The notorious gangs have all but disappeared, new schools and sports clubs are opening and the hopes of Lyari's almost one million residents have been rekindled. Ahmed has landed himself a gig at the hit music show - Coke Studio – beating the dhol [a cylindrical wooden drum used in South Asia] to the tune of 'Hawa Hawa' as pop icons, Hassan Jahangir and Gul Panrra, sing their hearts out.

Lyari's 'Theatre of Dreams'

A bumpy ride

For Ahmed, the road to success has never been easy. But giving up was never really an option. Neither was going into the criminal world, unlike many around him.

So he took to doing what his father had done all his life. As soon as Ahmed hit the teens, he became a daily-wage labourer in the wholesale market. Each day, he would load and unload sacks of grains and sugar that was being sold in the market. This is still his day job. "I get paid Rs4 per sack. This means, if I lift 100 bags on a good day, I make Rs400," he tells The Express Tribune. The money may be lax but at least it's coming, he says.

Ahmed's other job starts after dark. He is a professional Leva dancer – part of a troupe that performs at weddings and other celebratory occasions.

Do what you love

The Leva dance – very African in its movements and drum beats – has been native to Lyari since before anyone cares to remember. The performers are decked in vibrant and colourful silk dresses and tie colourful pieces of cloth to their hands and head. The costumes glitter as the dancers dance to the beat, occasionally performing stunts such as fire-breathing.

Ahmed's troupe, which besides him, includes Naveed, Adnan Shahzeb and Abid, has gained popularity in a short time. All are aged between 20 and 25 years. All have seen hardships well beyond their years. But it is their passion for music and dance that brings them together.

Lyari Girls Café marches to celebrate Universal Children's Day

When they are invited to an event, the troupe may earn between Rs3,000 and Rs5,000, depending on the number of hours they perform. Each member troupe gets takes home around Rs600 to Rs700, excluding the cost of transportation. "It isn't much, but it is what we love doing," says Ahmed. "I couldn't get a permanent job because I have no formal education. But I have talent and can work hard so I have made my passion into a profession," he adds. The troupe has become so popular that it has even travelled to Oman and other Gulf states, where there is a large Balochi population, to perform, besides being commissioned by the government to perform alongside international artists in cultural ceremonies in Islamabad and Lahore.

There is one other passion shared by the troupe members – football. Not only are they great players themselves, Ahmed is an even better coach, say his mentees.

Despite his own financial difficulties, Ahmed uses whatever he can save from his two jobs to coach a children's football team. On the nights he is not engaged with the music troupe, Ahmed can be found at Gabol Park between 9pm and 10pm, where he currently trains 25 children from different parts of Lyari.

Over 40 of his students completed their training with him last year. The most promising among them were selected for an under-10 tournament in Qatar.

So what makes Ahmed one of the most popular coaches in Lyari? His association with his students doesn't just end on the field. He also helps them supplement their nutrition, spending from his own savings to purchase food and nutritional supplements for the children. He also bears the transport costs if the children get the chance to play football elsewhere in the city.

Lyari's story is richer than its conflicts

All for nothing

Others see Ahmed as a source of inspiration. His students look up to him. His elders take pride in him. He is after all, a success story. As much success as someone in his circumstances could hope for.

But Ahmed has no hope. "With no education, we will never be able to rise above our current state," he says, suddenly lowering his gaze. "There was a time when various government departments offered jobs to sportsmen. But those have been replaced by political appointments," he continues. For the children he trains, he fears the most. "They too will grow up to be like me. Stuck doing physical labour and struggling to make ends meet."

This story is part of a weekly series that seeks to bring to light the average citizens of Karachi - the hawkers, traders, doctors, teachers, engineers, lawyers and daily-wage labourers. It is they who make Karachi the city of lights.
COMMENTS
Comments are moderated and generally will be posted if they are on-topic and not abusive.
For more information, please see our Comments FAQ