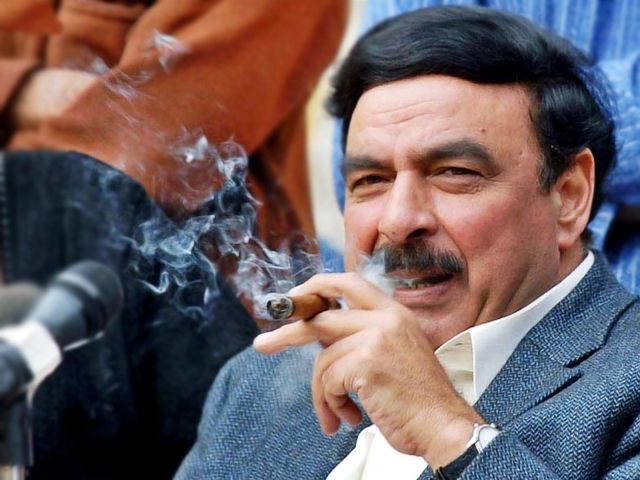 ---
LAHORE: Minister for Railways Sheikh Rashid Ahmad has termed the appointment of Opposition Leader in National Assembly Shehbaz Sharif as Chairman of the Public Accounts Committee as a decision that did not find any appreciation from the general public.

Addressing a press conference on Saturday, he said people wanted corruption to end and this decision had not sent a positive message to the public and the world. "If Shehbaz Sharif is honest then believe me no other person is dishonest in Pakistan Muslim League-Nawaz (PML-N)," he remarked.

The minister said Prime Minister Imran Khan wanted all culprits behind the bars.

He claimed that he was the most senior politician in parliament. "I never talk with reckless people nor I represent them," he said.

With regard to PML-N leader Khawaja Saad Rafique, he said the opposition wanted his production orders. "My mother died and no one was ready to give me production orders when I was accused in a Kalashnikov case," he added. "His father was a great man but Saad is crying to save his money," he said.

Speaking about the Railways affairs, he said it was due to his efforts that the organisation was facing considerably less deficit. "If we had not adopted the cost-cutting strategy in the past four months, the deficit could have been much larger than it is today."

The minister claimed that a private group involved in the hotel business had shown interest to operate a train. "I wish a VVIP train to be launched by this business group. Apart from this we invite others to come and run their trains. We will charge a minimal amount against this initiative," he said.

He wished that Railways should have its own fuel stations from where it could supply oil to engines and other government or private entities. "We have managed to save fuel worth Rs225 million, which in future will go up to Rs1 billion," he said, adding that there could be a bigger scope for despatching oil for the air force and talks were being held with Air Vice Marshal Aamir Masood.

He said the freight sector was the key to success. "We are adding more freight and passenger trains," he said, adding, "If the management manages to run 20 freight trains then I will admit its abilities."

"We will utilise the available capacity of tacks to run as many trains as possible in future, and for this purpose we will use the 4,000 horsepower locomotives which the previous minister purchased to transport coal and other freight traffic," he said.