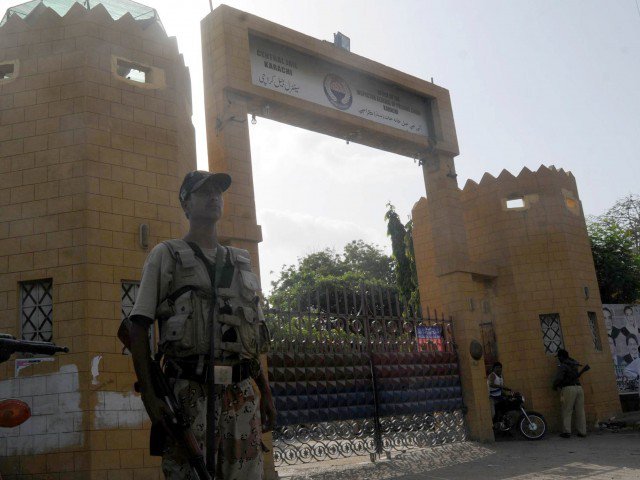 ---
KARACHI: An anti-terrorism court (ATC) found on Thursday an accused guilty and awarded life imprisonment along with a fine of Rs0.5 million in the case of a policeman's murder. The case was heard at the anti-terrorism complex at Karachi Central Jail in which the convict, Mohammad Rehan, was found guilty of killing a police constable.

The judge announced the verdict, which was earlier reserved, after recording the evidence and hearing the final arguments from both sides. However, the ATC acquitted another accused in the case, Ali Arbaz, due to lack of evidence.

According to police, Rehan had killed police constable Maqsood on August 23, 2015 in Liaqatabad near Nairang Cinema. The weapon used in the murder was also seized from the convict. The case against him was registered at Super Market Police Station. The court remarked that the convict would remain in prison for another three years if he did not pay the fine.

TLP workers' arrest

The special ATC accepted the bail pleas of 26 workers of Tehreek-e-Labbaik Pakistan (TLP) who had been arrested in the case regarding vandalism in the city following the arrest of TLP Chief Khadim Rizvi.

The hearing was held at Karachi Central Jail where the 26 accused were presented. Lawyer of accused, Advocate Afzal Roshan, argued that the cases against his clients did not have grounds. He requested the court to accept their bail pleas and then conduct a trial. The court accepted the bails of 26 workers, after hearing the arguments of Advocate Roshan, against a surety of Rs100,000 each. Bilal Qadri, son of Sunni Tehreek's deceased chief Saleem Qadri, was also among the accused. The cases against the accused were filed on charges of vandalism, police encounter in the police stations of Brigade, Soldier Bazaar and Jamshed Quarters.

Amal Umer case

The special ATC on Thursday provided the CD of the incident to the defence lawyer in the murder case of minor, Amal Umer, who was killed during a robbery, and adjourned the case till January 8.

The jail officials of the Karachi Central Jail presented the accused Khalid in court. The CD was provided to the defence after which the court was adjourned. According to police, the accused had confessed to seven more robberies. Accused Khalid used to commit robberies while driving a rickshaw. He was arrested in a police encounter while his companion was killed on the spot. The case of 10-year-old Amal Umer's murder has been registered against two police officials. Khalid had received protective bail. 

Published in The Express Tribune, December 14th, 2018.
COMMENTS
Comments are moderated and generally will be posted if they are on-topic and not abusive.
For more information, please see our Comments FAQ