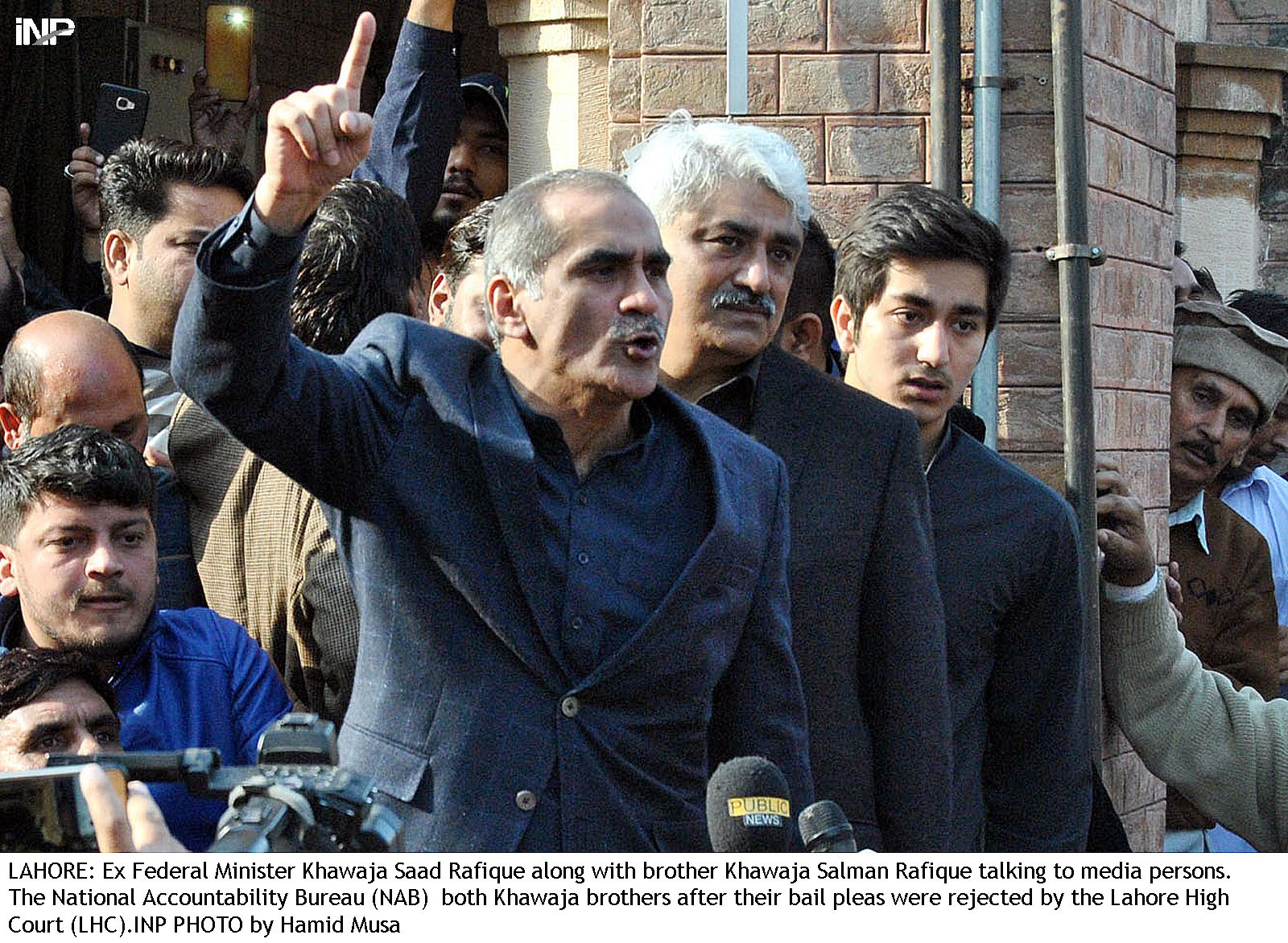 ---
LAHORE: An accountability court in Lahore on Wednesday remanded Pakistan Muslim League-Nawaz (PML-N) leaders Khawaja Saad Rafique and Khawaja Salman Rafique into custody of the National Accountability Bureau (NAB) for 10 days in the Paragon City Housing Scheme scandal.

The Khawaja brothers were arrested by NAB on Tuesday. Both were produced before Accountability Court Judge Syed Najamul Hassan, where NAB prosecutor Waris Ali Jangua requested for a 15-day physical remand.

Jangua told the court that the brothers were running affairs of the Paragon City through benamidars. He submitted the co-accused in the scam, Shahid Butt and Qaisar Amin Butt, had admitted in their confessional statements that the Khawaja brothers were the "owners of the Paragon Society".

He alleged that both brothers made a dubious exchange of land with the society. They received Rs100 million but they failed to give justification for it. The prosecutor further told the court that Qaisar Amin Bhutt had turned approver against Khuwaja Saad Rafiq and Nadeem Zia, who had absconded.

Lawyer for the Khawaja brothers, Amjad Pervaiz, informed the court that Saad Rafique and Salman Rafique had given answers to all the NAB questions, yet NAB called them several times. He added that the anti-graft watchdog had already investigated this case during the then Musharraf regime.

He informed the court that the brothers did not have any link to the Paragon Society. "All allegations against the Khawaja brothers were baseless and NAB did not have an iota of evidence against them," Pervaiz argued.

He said that the brothers were running advertisement companies and had received Rs100 million as marketing and advertisement fee from builders in the past five years. He added that the brothers legally exchanged the land with Paragon Society and also paid Rs30million development charges.

During the hearing, Khawaja Saad Rafique complained about lack of facilities in NAB custody. He alleged that the NAB was violating his human rights. He said each cell has a camera, the breakfast they get was inedible and that there were no locks on the bathroom.

Later, the court sent the Khawaja brothers to NAB custody on 10-day physical remand. The court also directed for provision of necessary facilities to the brothers and sought a report from NAB director general on the matter.

The court also ordered for the provision of home-cooked food to the two and their regular medical examination. The court further directed NAB officials to produce both the brothers on expiry of remand term on December 22.

Strict security arrangements were made in and outside the court premises for the hearing. The Khuwaja brothers were taken to the court from the route of Johar Town Mall Road due to protest on Canal Road.