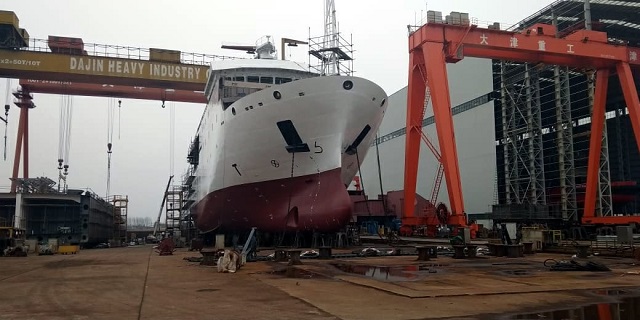 ---
ISLAMABAD: A state-of-the-art 3,000 tonne survey ship prepared by Pakistan Navy was unveiled in China's Yang Zong where it was put afloat in River Yangtze.

It is the most advanced survey ship made by Pakistan Navy which will enhance the scope of marine research in the country.

The vessel was made with the joint cooperation of Pakistan and China.

The survey ship will also provide services related to operations of water search and locating positions.

Pakistan, Russian navies hold joint drills in Arabian Sea

Addressing the ceremony, Chief Naval Overseas Commodore Asaf Humayun, who was the special guest for the ceremony, said the new survey ship even in uncommon conditions has the additional capability of carrying out operations.

He also said that the ship also carries the most advanced survey equipment which adds to the abilities of the Pakistan Navy to carry out a geographical survey.

The special guest commended the Best Way group and Dogen Shipyard and those people associated with the project for completing the important milestone of launching the project on time.
COMMENTS
Comments are moderated and generally will be posted if they are on-topic and not abusive.
For more information, please see our Comments FAQ