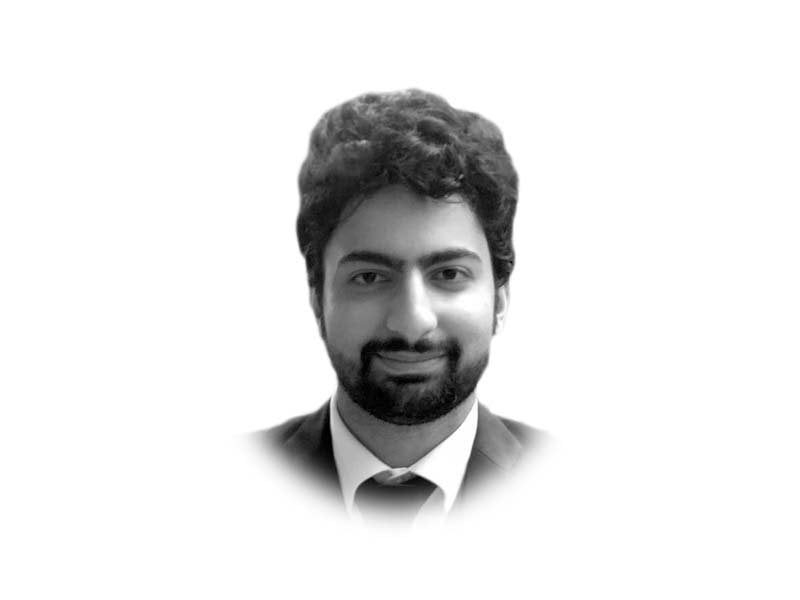 ---
It is a frustrating thing, this process that we call democracy. Law making is a slow, cumbersome process even when you have a majority in parliament. There is always an opposition, watching your every move and waiting for you to slip; and, there are constant drafts, redrafts and debates that must be done before any legislation is made. However, democracy's most frustrating features are often also its most important. They form a system of checks and balances that tend to smooth out any wrinkles in proposed legislation and prevent power from being concentrated in one person, or party, unchecked. The most frustrating feature of a parliamentary democracy is its demand for compromise — and this has gotten Imran Khan all worked up.

Recently, the Prime Minister said that because he didn't have the numbers in the Senate, he would achieve his legal reform agenda through the promulgation of Presidential Ordinances. Meaning that Mr Khan hopes to bypass parliament altogether — at least for the 120 days that an ordinance can be effective for before it has to be placed before parliament.

There is nothing illegal in this suggestion. The Constitution does allow for President to make law through ordinances. So, if the PTI does go through with this proposal, it won't be doing anything that goes against the Constitution, nor will it be acting any differently than the political parties that have come before it. The PPP and the PML-N both resorted to the ordinance power numerous times during their respective tenures after all. But, despite the fact that there is both text and precedent in favour of the PTI's proposal, the constant use of law making through ordinances is dangerous for democracy.

To understand why, we first need to understand that a democracy runs smoothly just as much because of adherence to certain unwritten norms and conventions as opposed to written ones. For example, in the past I have written about the unwritten norm of 'mutual tolerance'. Similarly, there is also an unwritten norm of 'forbearance'. This means, simply, that while some person or body may have the power to do something, they are reluctant to exercise it because excessive use would damage the democratic system. In short, it means self-restraint for the greater good.

No democracy can work without institutions showing self-restraint. Harvard Professors Steven Levitsky and Daniel Ziblatt explain this in the context of the United States. Imagine, they say, if the President of the United States started exercising all of his legal powers without restraint: he could pardon whoever he wanted for any crime; he could start manipulating the number of judges that sit on the Supreme Court; he could make unilateral policy. The reason, they say, that American democracy has worked for so long (Donald Trump notwithstanding) is because institutions have exercised restraint.

PM Khan needs to do the same. The ordinance power is legal, but excessive use, especially with regard to something as sensitive as legal reform can erode trust in the legislature. Bypassing parliament should not be done lightly because that is where the will of the people resides. Furthermore, without the debate and critique of legislation that happens in parliament, whatever law the PTI passes is bound to be of a lower quality than what it would be if it went through the two houses of parliament. Plus, let us not forget our own history: The Presidential Ordinance was the favourite instrument of dictators to make law in Pakistan; surely now, we must try to reduce our reliance on such a measure.

Khan's call to make law through ordinances also sends across an image that he does not respect parliament and the democratic process. He has said that if he cooperates with the opposition in making law, he will be condoning their corruption. But these are elected members of parliament who were voted into office by the people of Pakistan. By refusing to hear their voice in parliament, the PM is disenfranchising the citizens of Pakistan who they represent. Parliament has been suffering from a deadlock because of the perpetual mudslinging between the government and the opposition for a 100 days now, yet it seems that rather than resolve the paralysis parliament is facing, the PTI has decided to shrug its shoulders and resort to bypassing parliament altogether.

Even if we ignore everything that has been just said, if the PTI wants to make law through ordinances, it should at least respect the text of the Constitution. Under Article 89, President may make and promulgate an ordinance when the Senate or the National Assembly is not in session; and, when it is satisfied that circumstances exist which render it necessary to take immediate action. The ordinance power is thus suited for emergencies. What emergency is the PTI facing that it has to resort to this mechanism? PM Khan's logic for doing so does not sit comfortably with the Constitution.

The PTI has a long way to go in creating Naya Pakistan and there is no doubt that its reform agenda is ambitious, but it must buckle down and break this deadlock in parliament that it has created with the opposition. Any government in power must respect the opposition, and the opposition must respect the government. Both are after all elected and empowered under the Constitution. It is important for the PTI to reflect on whether bypassing parliament is really the route that is best suited to implement legal reform, given that an ordinance is a short-term measure anyway. It is better to discard this rhetoric of bypassing parliament and present its legal reform proposals before the National Assembly and the Senate. The PTI must realise that for a democratic system to work, a holier-than-thou attitude will only result in further frustration and less implementation.

Published in The Express Tribune, December 11th, 2018.

Like Opinion & Editorial on Facebook, follow @ETOpEd on Twitter to receive all updates on all our daily pieces.