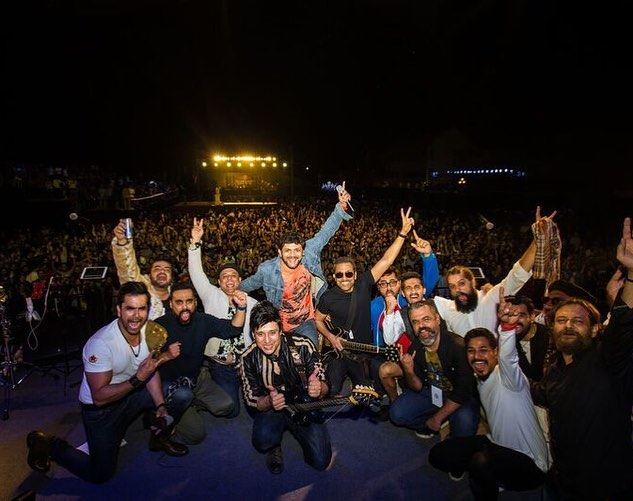 ---
KARACHI: Sheikh Saadi was a Persian poet and a literary giant of the 11th century. Among his many profound anecdotes and famous couplets is the saying "Har boorha shakhs buzurg nahi hota (Not every old person is wise)." The context of it is unclear but the premise nonetheless on point. Especially in the backdrop of the Pakistani music industry where artists fade away complaining of a lack of taste in the audience, instead of adapting or bowing out of the limelight.

Working musicians, who have had their fair share of glory, complain about their work no longer being recognised; not realising that the kids they launched are now drowning in attention. Music-making is indeed a sensitive yet labour-intensive process and keeping the nerves intact can be a Sisyphean task when the 'industry' you work in doesn't have a business model.

It's hard, in fact unimaginable to be a Sting or a Springsteen in Pakistan and even harder to go on the one final tour in your 70s and yet keep rolling like the Stones.




Saturday night saw Ali Azmat and Strings – two of the oldest live performers – clash in a 'battle of genres'. As much as the idea of pinning pop against rock is both naive and stupid, the audience didn't care and neither did Azmat. He broke all the rules of the battle like that kid who spends half of the time detained outside the classroom and the rest stealing other kids' lunches. Strings on the hand completed their homework and scored a 10/10 like the class prefect.

In the genre round, both acts were supposed to play a song of their own in the genre given on spot by DJ Faisal Baig. Whether it was rockabilly or… Azmat made sure the song turned into a hard rock track 30 seconds in and started sounding exactly like the original after a minute. The crowd did seem a little baffled by his lack of versatility. They knew he was cheating his way into the challenge but then it was Ali Azmat; he has the license to make his own rules like he has the license to believe in the illuminati and be vocal about it.




Strings had come prepared. In fact not just prepared, they were meticulous in the execution of every single note and every single word Faisal Kapadia spoke on stage. Their extremely powerful and surprisingly heavy version of Zinda Hoon had Strings opposers (like myself) inch a bit closer to their stage anyway. It was no longer a soft, mellow pop song featured in a Bollywood film; it was a proper power ballad that could pull any rock music fan.

Which is why their genre round was not a surprise at all; their band of extraordinary musicians pulled one trick after another as the crowd danced to a dandiya version of Anjane. Their sound got bigger and better with time and the punk version of Sajni was a testimony to how much of a difference Bradely D'Souza and Ahad Nayani have made to the Strings' overall sound. At times, they sounded even more rock than Azmat.

If rock is to be considered for its musical inclinations and not lifestyle preferences, the deadly duo of Ahad and Bradley has turned Strings into a proper progressive rock live act. They made Saturday night look like a session of casual flirting between a creative new band and an aging rock star.




There were, however, major glitches from the technical team's end. Azmat's sound was too bass-heavy for the most part of the show and you could hear a loud feedback every time his drummer Fahad would hit the second tom. Even the most seasoned of live performers such as Mannu on bass and Omran Shafique on guitars couldn't salvage the situation, which looked pretty bleak on Azmat's stage.

The last clash I attended between Azmat and Umair Jaswal had worse sound issues and the backstage murmur was that the latter's sound was intentionally kept shoddy and minimal. I don't believe that. Whatever the case maybe, Azmat has sounded much better in a worse venue and he must have really taken his technical team to the cleaners post show. However the sound game and the seriousness of Azmat's attitude towards the show got better Sayonee onward. A musician who attended the concert said that you might call him an aging rock star but Sayonee is an extremely difficult song to sing and Azmat was pitch perfect.




"He is still on top of his game." That is true but perhaps he has been jamming more frequently with his old buddies for the Junoon reunion concert and not so much with his usual partners in crime. His sound lacked the oomph that was compensated by Strings' finesse.  The guitars sounded much louder and complete when Call joined Ali's band on stage as a surprise act but Junaid Khan was  wasted in their collaboration on Dharti Kay Khuda.

Strings' revealed their surprise act in style. Out of nowhere came an unusually melodic voice, singing verses that had Anwar Maqsood written all over them. Ahmed Jehanzeb joined Strings to sing an extended version of Dur and boy can he sing live? Absolutely! It was a wise decision by Kapadia to stick to harmonies as the Khaaki Banda hit-maker belted out one pristine note after another.

Strings, Ali Azmat embroiled in online clash

We are a country of narrow minds and bright ideas, enterprising women and demanding households. Increasing digital footprint and decreasing space for debate. All of this commotion got dissolved in an unbelievable harmony as Bilal Maqsood hit one sweet note after another. The crowd followed him less like a flock of sheep but more like a bunch of children being lured away from the inevitability of power breakdowns and unkept promises.

Together, they longed for a lover they are destined to meet, they sang of hopes and dreams that might come true. That a simple, acoustic version of Mera Bichra Yaar (not the most popular track) could pull together a mass so organically, spoke highly of the musicians' skill-set and deeply of our contradictions. The country that had devoured Momina Mustehsan's confidence, personality and enthusiasm for not living up to the mark was singing in sync. We are a crowd that likes to be tamed; not through flashy covers on YouTube but live music that moves us.

=68.ARDhyVYUEuyc5LLjSVdjOqfXdiOe8oYPIMJzIpKGQ00dMzET2Qwo2_TZzQvcjEz5XXqlTv6D2UGjs-Su1UZrhJB0RLUOe2_Twy7Rwsu0CSAVVrF0aUqSFmZm-Bcc1G0A-mPYMy-07d10AatnCiBKj-494qzQhzsy1iaYy7a089q5vC5x7wmeD11GfTcZ6O0J8OQhBGn4Yeonr5tutWSFlgqeLqmXk2tppwrXNnXVclwvYFEqJrg5mEQ6m2DYbJIGQIrDwbcdYLnEZ-xntuuGzQUeBkAY8AfnyUB7gt0UFfD7psJ7IJjj7iDDNajwUBwbS6Um_BbWMKnf5_XWma6cZdIkv6khVw&__tn__=-R"]

The finesse and 'woke'ness of Strings and how they conduct themselves was neutralised by the rock star who doesn't think twice before calling them a p**p act on stage. "Bilal you make me cry, you should do this professionally," shouted the rather gloriously incorrect and passionately political Azmat after Mera Bichar Yaar.

I guess the crowd was there for a treat and Azmat's notoriety coupled with Kapadia's sobriety had enough for both the families and sakht launday. To go back to Sheikh Saadi, both Strings and Azmat have aged wisely; it's just that Bilal and Faisal are working to build a new audience and Azmat to build up on his legacy.

The night ended with all artists coming together to sing Yaaron Yahi Dosti Hai.

Have something to add to the story? Share it in the comments below.