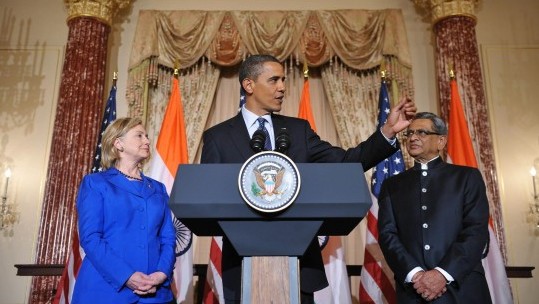 ---
WASHINGTON: US President Barack Obama set a visit to India in November as he pledged on Thursday to push forward ties between the world's two largest democracies as part of his busy diplomatic agenda.

The United States also offered full support for India's role in Afghanistan after high-level talks in Washington, despite Pakistan's lingering suspicions about its historic rival's influence in the war-torn country.

Relations between India and the United States have steadily warmed over the past decade, with the two countries overcoming decades of mutual distrust during the Cold War era.

But many Indian policymakers have remained anxious about Obama, who has set an early priority on broadening cooperation with Asia's other rising power China and on supporting Pakistan in fighting extremism.

In a symbolic show of his commitment, Obama journeyed to the State Department for the first time since the days after his inauguration to address a reception for the "strategic dialogue" between the United States and India.

"The relationship between the United States and India is fundamentally unique," Obama told a reception of senior officials and members of the increasingly influential Indian-American community. "We share common interests, but we also share common values, as the world's two largest democracies, and as countries that are rich in diversity, with deep and close connections among our people."

Obama did not give an exact date for his first presidential visit to Indian other than to indicate it would take place in "early November," but he is due in Yokohama, Japan for the November 13-14 summit of the Asia-Pacific Economic Cooperation forum.

He is unlikely to travel abroad close to the November 2 mid-term elections, in which his Democratic Party is fighting to retain control of Congress. After the talks, the United States and India pledged to "regularly consult" on Afghanistan. "It is in our common interest that the people of Afghanistan succeed in their reconstruction and development efforts without outside interference, in an atmosphere free from violence and extremism," said a joint statement by Secretary of State Hillary Clinton and Foreign Minister S.M. Krishna. "Afghanistan's success is vital for the security and stability of the region."

At a joint news conference, Clinton thanked India for its "generous contributions" in Afghanistan. The chief US diplomat said she was "delighted" to learn from Krishna "how deep the ties between India and Afghanistan go back, and it is clear that what India has been doing in development projects are very significant."

Islamabad has voiced concern about India's role in Afghanistan. Pakistan was the chief supporter of the Taliban regime but switched sides after the September 11, 2001 attacks, cooperating with the United States to install President Hamid Karzai's administration. Obama has supported a five-year, 7.5 billion-dollar aid package that aims to build the economy and democratic institutions in hopes of chipping away at extremists' allure in the nuclear-armed nation.

India has pressed the United States to turn up pressure on Pakistan to rein in extremists such as Lashkar-e-Taiba, a group implicated in the bloody 2008 siege of Mumbai.

"The trust deficit in relations between India and Pakistan needs to be specifically addressed. The continuing threat of terrorism is a cause of great concern for us in India," Krishna said.

Obama last year welcomed Indian Prime Minister Manmohan Singh for the honor of the first state dinner of his presidency. But if his visit goes on schedule to India, Obama would have headed a full year earlier to China, with which his administration has pledged broader ties.
COMMENTS
Comments are moderated and generally will be posted if they are on-topic and not abusive.
For more information, please see our Comments FAQ