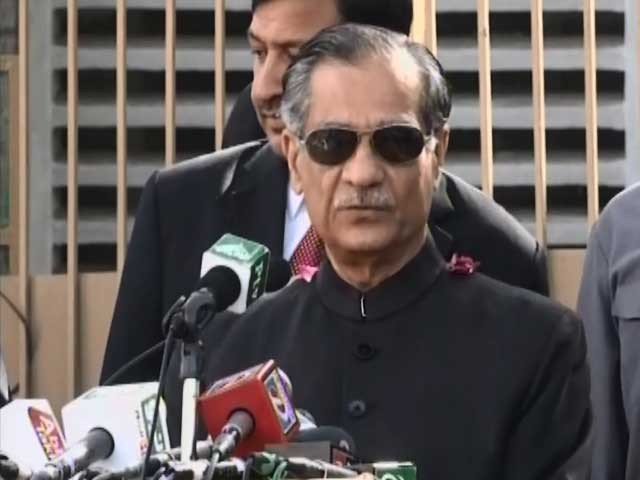 ---
RAWALPINDI: Chief Justice of Pakistan (CJP) Mian Saqib Nisar has said draft of a new law for the health sector has been sent to the government and it is now the government's responsibility to implement it.

"Healthcare, heart stent and prices of medicines and fees have been fixed. Now a new formula for the pricing of medicines will have to be set after the recent increases in the price of dollar," said the CJP while addressing the concluding session of a two-day workshop on complete treatment of paralysis at the Rawalpindi Institute of Cardiology on Saturday.

The top judge said: "Guidelines for the machinery of the hospitals have been given. The Supreme Court will continue to fulfil its constitutional responsibilities for the basic needs of the people."

Justice Nisar said, "Providing free treatment to the poor is responsibility of the state," adding that poor health facilities depicted teh government's failure.

Zulfi Bukhari case: CJP takes exception to PM's remarks

He said he visited all major hospitals of the country. "But hospitals do not have basic equipment for treatment. Even the ventilators are out of order and the ones that are working serve the wealthy and influential."

He said during his visit to a Peshawar hospital, he saw three patients on one bed. "I asked the chief secretary to explain this. He said the hospital did not have enough beds." The CJP said in such a hospital the ventilator serving a poor man "is removed and given to a wealthy patient upon his arrival".

"I went to the Christian Hospital Lahore. Once this was a great hospital but now it has been fallen into ruins. I also went to private hospitals. I was told that there was no one there to teach. I wonder who are the people that we hand over our children to? Senior doctors should take notice of this situation."

The CJP said he decided to take notice of the health sector because of the sickness of his mother. "My mother had always been ill. We had been taking her to all places for treatment. Once we felt that she will not survive. We took her to a doctor. He treated her with affection and attention. She recovered."

He said if doctors treat patients as a mission, "results are good", adding that according to a Chinese physician there were three types of doctors – quack, normal and the one who pays real attention. "Patients lose everything while under treatment of the first two," he added.

He said Dr Huma Cheema of the Children Hospital Lahore met him and said there were 13 children in her ward who need liver transplant. Their mothers were ready to donate their livers and funds were also available but India and China were not giving visas.

"When I asked I was told that liver transplant facility is not available in Pakistan. Then I took notice which gave positive results," he said, adding that right now only the rich or the influential could afford treatment in Pakistan.
COMMENTS (1)
Comments are moderated and generally will be posted if they are on-topic and not abusive.
For more information, please see our Comments FAQ