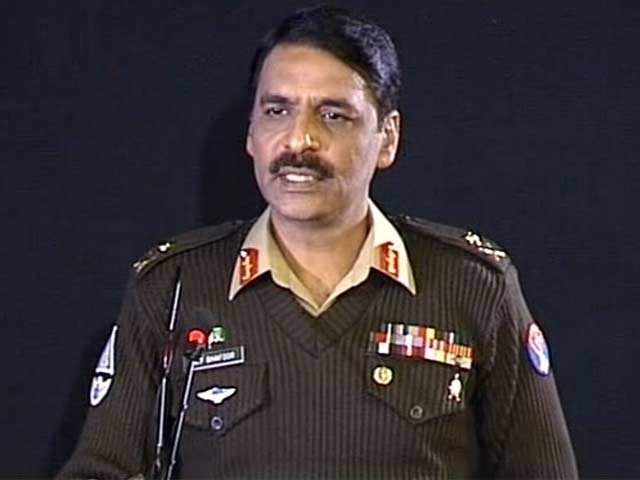 ---
OUR CORRESPONDENT: The military on Thursday threw its support behind the latest US efforts for a political settlement with the Afghan Taliban to end a 17-year-old war, urging Washington to leave Kabul as a friend of the region rather than a "failure".

Addressing a news conference, the head of the military's media wing Major-General Asif Ghafoor regretted that India had not agreed to the resumption of dialogue with Pakistan and criticised the hardline BJP-led government for the deterioration in the bilateral relations.

"As much as we can, we will facilitate," Maj-Gen Ghafoor, the director general of the Inter-Services Public Relations (ISPR), told journalists, replying to a query about Pakistan's role in a political settlement with the Taliban.

"What the US is expecting from us, and the Foreign Office is cooperating with, is that somehow they could have these negotiations with them (Taliban)." Ghafoor added, "We wish that (the) US leaves Afghanistan as friend of the region, not as a failure."

No official accounts of DG ISI, army officers on social media: Maj Gen Ghafoor

He pointed out that some 2.7 million Afghan refugees had been living in Pakistan for past 40 years, and "we want their repatriation in an honourable manner". "An improved situation in Afghanistan means regional security," he added. Pakistan, he continued, was fencing its 2,611-kilometer border with Afghanistan to check cross-border terrorism.

Referring to the recent opening of the visa-free Kartarpur corridor, the top military spokesperson said that the Pakistan Army was focused on improving bilateral relations with India. He added that the Kartarpur initiative was taken to facilitate the Sikh community and to ease their pilgrimage.

"Kartarpur will be solely a one-way transit passage and Pakistanis will not be able to use the corridor to travel to India," Gen Ghafoor made it clear. "The corridor will be completed in six months," the ISPR chief added.

Expressing his concern over the continued violation of ceasefire by India, Gen Ghafoor told the media that in 2018, Indian forces killed 55 civilians and injured more than 300 in incidents of unprovoked firing from across the Line of Control (LoC) and the Working Boundary.

Responding to another question about the heavy military build-up by India, Maj-Gen Asif Ghafoor said that Pakistan was a "confident and responsible nuclear-capable state" and any misadventure from India would be responded in a befitting manner.

Domestic security situation

Dilating on the law and order situation in the country, Ghafoor said terror incidents had reduced significantly across the country in 2018. Similarly, there had been big reduction in terrorist incidents and abductions in Balochistan.

"Incidents of terrorism and other crimes like abduction and extortion have greatly decreased in erstwhile FATA [Federally-Administered Tribal Areas], Balochistan, and Karachi," he said. "A total of 2,200 Ferraris have laid down their arms in Balochistan during three years," he added. Similarly, he went on to say, 4,000 out of 7,000 cases of missing persons had been settled, while process was underway in the remaining cases.

Law and order should be maintained: DG ISPR

He said that the law and order situation in Karachi had improved greatly. "There were no terrorist attacks in Karachi in 2017 and only two happened in 2018," he said. "The Rangers should be commended for their efforts to restore Karachi's lights," he added.

He said that a total of 44 major operations were carried out under Raddul Fasad operation across the country. The general regretted that despite recovering 4.3 million units of arms and ammunition, the country had not yet been de-weaponised.

He said seven to eight terrorist incidents would take place every month in 2013, but the number had considerably declined, adding that civilian casualties have also decreased to a great extent. He expressed confidence that there will be complete peace in the country as a result of the ongoing stability operations. "We pray for a day when there is no terror attack."

Addressing what he referred to as the three demands of Pashtun Tahaffuz Movement (PTM), he informed reporters that since the PTM was non-violent movement, the army did not resort to harsh measures. "We request the PTM not to cross the line, otherwise the state will have to take action."

He said 43 teams were working in different districts and 44 per cent of mines had been cleared, referring to the second demand of the movement. Continuing, he pointed out checkpoints in northern areas had been reduced from 469 to 300 but since there was no assurance from Afghanistan that threats from across the border had been eliminated, all checkpoints could not be removed.

Accountability

The army spokesperson also touched upon the topic of accountability within the armed forces. Stating that the institution was a disciplined force, he stressed that the army had an entire bench led by a three-star general.

Elaborating on the checks and balances present within the armed forces, Gen Ghafoor said a correction regime was in place and punishment, ranging from a warning to imprisonment, existed for every unlawful activity.

Army chief warns India over continuous ceasefire violations, war rhetoric

Giving an example, the spokesperson said that an officer was dismissed from service after he was found guilty of Rs10,000 corruption. He advised that the country "needs to move forward, which cannot happen if we do not get over with the past".

The ISPR chief said that Pakistan had reached watershed point, where internal fault lines like economy, governance, and religious and sectarian diversity had to be addressed. He urged the media to play its effective role in projecting soft image of Pakistan as it did to shape public opinion against terrorism.