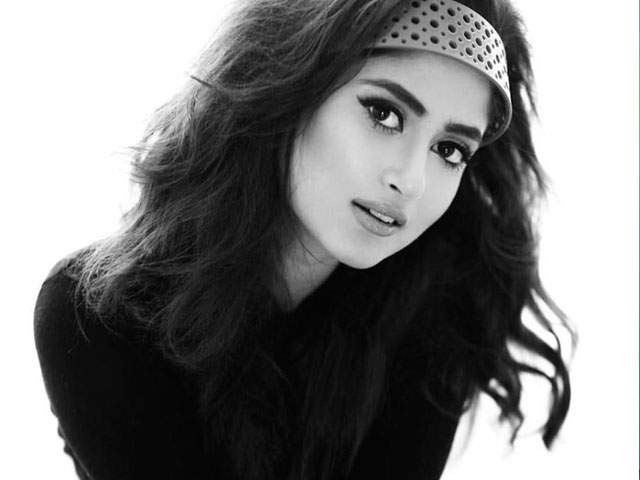 ---
DUBAI: One of the many things you'll hear about film and television star Sajal Aly is that she works round the clock. Every time I've interacted with her, she's either headed for a shoot or completely immersed in her million other commitments.

The starlet made her TV debut with Mehmoodabad ki Malkayen in 2011 and got her big break in Bollywood after starring alongside late legendary actor Sridevi Boney Kapoor in Mom.

Needless to say, she has been unstoppable since. Locally, Sajal has garnered a massive fan following, courtesy her acting stints in Chup Raho, Nanhi, Sannata and Yaqeen Ka Safar.




When I finally got the chance to speak to her at length, she was filming for her upcoming drama serial Alif, written by Umera Ahmed and starring Kubra Khan and Hamza Ali Abbasi.

Another one of her forthcoming projects include Aangan, which charts the story of a family during Partition. She plays the character of Chammi – an avatar diametrically opposite to what she played last year in Yaqeen Ka Safar.

Sajal's life took a turn when her mother Firdous passed away last year, she tells The Express Tribune. And soon after, news of her on-screen mother Sridevi's death emerged. Sajal recalls Firdous as playing a vital role in her personal and professional decisions. When preparing for a role, Sajal tells me how she would go to her mother and ask her if she would be able to do it.




"She would say, 'Yes, yes, you can do it, Sajla'," she says. "She was my strength. She was everything to me. She helped me believe in myself and she took care of so many things for me."

She has pushed the envelope when it comes to her career and her current choice of roles has been interesting, to say the least.




She often allows her character to stay raw, sans the glamour and devoid of the paraphernalia modern heroines surround themselves with. Most actresses want to be simply 'heroines' as they enter and exit scenes with their hair flying and lipstick intact.

In Yaqeen Ka Safar, her character of Dr Zubiya goes through many changes and does not have much need for over-beautification or airbrushing. As Sassi in O Rangreza, Sajal had brief shades of glamour. Her acting prowess was exhibited in the scene in which she screams and breaks down as her character comes full circle at the end.




"It was the way Saji had written it," Sajal adds, refusing to take all the credit. "He had written some very beautiful dialogues and constructed a wonderful story."

Speaking about whether she is a part of the current crop of talented stars in the industry, Sajal mentions, "Am I? Really? I get nervous before doing roles. I worry if I'll be able to do them right. I ask my loved ones, my friends and my support group if I can do this. And, they say 'Yes you're can, you're Sajal Aly'. So, they give me the go ahead."

During our conversation, Sajal received the news about a student who committed suicide in Lahore.




"It breaks my heart," she says. "Why aren't we educating parents? They shouldn't just spend time with their children; they should also be educated about mental health. If their kids are going through something, they should know. Their children shouldn't be alone in this. You know how they have those parent teacher meetings in schools? They're compulsory, aren't they? That's how they should make classes about mental health mandatory too. These beautiful young kids are suffering alone in silence and it's our fault that we haven't created a society where it's okay to talk about these things and not expect backlash."

Clearly, working towards a better society is one of Sajal's top priorities. "I understand the position I am," she reveals categorically.




"I know that I can influence people with whatever I say or do. I was so surprised you know when I began receiving these videos of little girls lip syncing to my dialogues in Aangan. They're really young girls and they follow me and my work. This is an opportunity for me to help them gain an understanding of mental health as well. Education is also another important area that I wish I could work on more. We need to help educate the people and the masses, so they can make better decisions for themselves and for their children."

A celebrated artist such as herself is rarely seen commenting on important subjects on social media. Why is that? "Social media is a tool sure, but I'd much rather think about things than spontaneously go and say something on social media or even in an interview. I want to know about things, I want to think about things before commenting on them. Social media is all about immediate responses."




When asked about how she feels to be in the spotlight, Sajal says, "I'm an artist. My personal life is not up for commentary. My work is. Please look at what I do as a character, in a film, in a drama. Talk to me about that. Ask me about that. Why did I play a certain character the way that I did? How did this story appear to me? Tell me about that. That's what people should be asking. Unfortunately, most people don't ask any of this stuff. And, it's not just me. They ask a lot of actors really irrelevant and silly questions which have nothing to do with their craft."

"Actors work hard, you know. It's not something they can 'substitute'. No one can fill in for their role. They have to be totally committed to it. I was shooting for O Rangreza and Yaqeen Ka Safar and I was dealing with the grief of losing my mother. It was not easy by any stretch of the imagination. And I feel artists haven't been getting the kind of respect they deserve because of the regular stereotypes we have about artists. That they're not from 'good families' or that it's just not great work or something. Nothing could be farther from the truth," continues Sajal.




"This is a very demanding and talent-consuming field. And, many actors work in very tough conditions. We're there to entertain you, the audiences. We're not pretending to be other characters for our own sake. Otherwise, we could have just done that in front of our mirrors or at home in our laptops. We create all this magic; we make a film or a drama to entertain the people and the public. And that should be respected. What I really wish is that one day, the same way that we say, 'Oh I want my kid to be a doctor or a pilot when they grow up' we say, 'I want my child to be an actor when they grow up'!"

We hit the last leg of the conversation by talking about Aangan. What kind of character is Chammi and how does she view it? "My character doesn't need a hero," she replies.




"And that's a great thing about these kinds of stories. You don't need 'leads' or 'couples' to create a compelling tale. In Aangan, we've got a lot of fantastic characters who are on different journeys. Chammi is also one of the characters who is on a journey. Partition of the subcontinent impacts her and the house that she lives in. It's shot beautifully, and the character itself is very close to my heart. I'm very proud of this character. This is one of those once in a lifetime role and I'm very lucky to do it."

Sajal remains grateful to her fans who have stuck by her during tough times.




With a following of over two million followers on Instagram, Sajal says, "My fans help me be a better person – I stay with the realisation that there are people who follow me and learn from me. And that's what I want to do for my fans. I want to be able to give them something through my platform that can make their lives better. I have a strong belief that I had a lot of prayers and love and appreciation from my fans," she says.

These fans put up pictures of my mother, they've made groups about her and they have such nice things to say. Allah has always been with me and has always helped me and I am so grateful for that. But, I've never really had the opportunity to thank these fans, these wonderful people who have stuck by me in my darkest hours. They've made me realise that they matter to me more than any award or any laurel."

We're waiting to see what she pulls of as Chammi in Aangan and Momina Sultan in Alif, because Sajal's stardom is only on the rise.

Have something to add to the story? Share it in the comments below. 
COMMENTS
Comments are moderated and generally will be posted if they are on-topic and not abusive.
For more information, please see our Comments FAQ