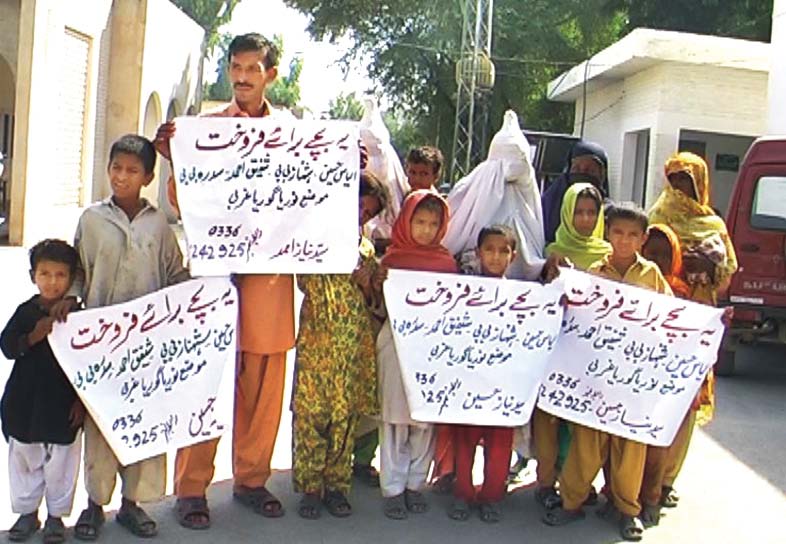 ---
ISLAMABAD: 'The State of Pakistan's Children 2009', a first-of-its-kind report was launched at a ceremony organised by the Society for the Protection of the Rights of the Child (SPARC) on Thursday.

Addressing the ceremony, Director Save the Children Sweden Syed Mehmood Asghar, said that every year Pakistan gets funds from international agencies to stop child trafficking. However, no work has been done in this area and the issue remains unaddressed.

Asghar said that children trafficked to Arab countries are employed as camel jockeys and labour on camel farms.

He also expressed concern over pornography which children access at net cafés.

"Civil societies working on children's rights are planning to take up this issue with the Pakistan Telecommunication Authority (PTA) and ask them to take some measures to put an end to such activities", he said. "Nobody takes up the issue of children working in coal mines in Balochistan, which authorities deny. I have seen children working in the mines who also claim to have been sexually abused," he added.

Member National Assembly (MNA) Bushra Gohar said that for many years she has heard that the government is doing a lot to safeguard the rights of children, however, no work has been done in this area either on the federal or provincial level.

"We have not moved forward regarding the rights of children, we have to show our commitment and make clear recommendations for the path forward," she said.

She suggested that the minimum age of criminal responsibility should be raised from 7 to 14 adding that the 18th amendment makes education compulsory and that the Government should ensure that children get a quality education regardless of their social strata.

Senior programme officer International Labour Organisation (ILO) Saifullah M Chaudhry announced that ILO in collaboration with the labour ministry and the statistics bureau will begin a child labour survey in 2010 in order to plan policies and strategies required to eliminate child labour in Pakistan.

The report says that in Pakistan every year 400,000 children under the age of five die, of which 300,000 are in the first year of their life, due to various diseases.

Increasing poverty is forcing children to work.  A large number of children are denied access to education, health, safety and security, and are victims of terrorism, internal conflict and displacement.

In 2003, Unicef said that there were about eight million child labourers in Pakistan.

In 2005, the Human Rights Commission of Pakistan report estimated the number of child labourers had increased to 10 million.

According to the Pakistan Labour Force Survey of 2007-2008, 2.68 million children between the ages of 10 to 14 were working.

In Swat, due to the conflict with militants, up to 600,000 children are reported to have missed up to a year of school. The total estimated cost of the damage caused to the education sector in the five districts of Buner, Upper and Lower Dir, Shangla, and Swat as well as the two tribal agencies of Bajaur and Mohmand in Fata is estimated to be Rs 3.04 billion.

Director Sparc Arshad Mahmood said that the Children Protection Bill should be approved as soon as possible.

"We have to ask the State as to what has been done in the past 20 years to ensure all children enjoy their basic rights. We need to know why it is taking so long to legislate for children; why budgetary allocations for child centered programmes remain at bare minimum levels; why there is still no statutory body to protect and promote child rights in Pakistan," he said.

"How can we expect Pakistan to prosper without investing in children?" he asked.

Published in the Express Tribune, June 4th, 2010.