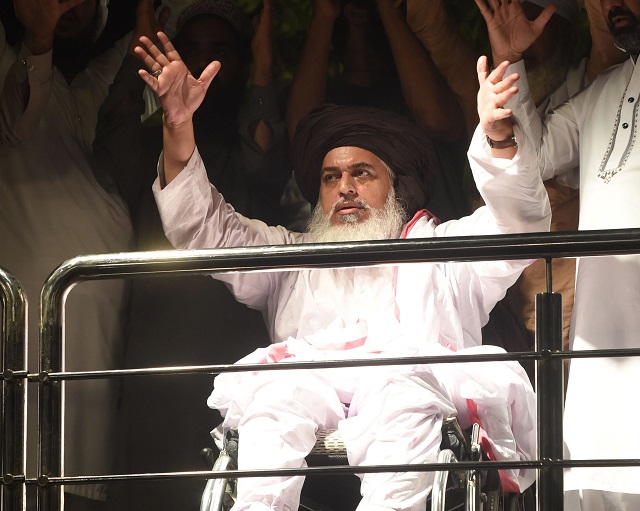 ---
ISLAMABAD: Tehreek-e-Labaik Pakistan (TLP) leaders Khadim Hussain Rizvi and Afzal Qadri have been charged with treason and terrorism, Information Minister Fawad Chaudhry said during a press conference on Saturday.

Khadim Rizvi among TLP leaders detained in countrywide crackdown

On November 23, Rizvi was taken into "protective custody" as security forces launched a crackdown against the religio-political party.

"A large operation was launched in which all the institutions of the government took part," said the information minister that all institutions and major opposition parties were onboard and supported the government decision.

Fawad also thanked the media for its support in the operation against elements of TLP involved in anti-state activities.

The terms for treason and terrorism may be life imprisonment and the case against the TLP's leaders will be heard in an anti-terrorism court (ATC), elaborated the information minister.

Referring to those workers of the TLP who were earlier taken into 'protective custody', the minister added they will be released after giving "sureties".

Fawad touched upon the recent opening of the Kartarpur corridor and said a mindset exists in Pakistan and India that decisions are taken by the country's armed forces.

"The Indian army chief has given a statement that no talks with Pakistan will be held till Pakistan becomes a secular state, while Prime Minister Modi termed the Kartarpur corridor a positive initiative."

"Aren't these two different things?"

The information minister also referred to the ongoing anti-encroachment drive in Karachi and clarified that the operation does not fall in the domain of the federal government and is being conducted under orders from the Supreme Court.

However, Fawad said the operation must start with the rich and influential as they "did in Islamabad".

A crackdown was launched against the party's activists and leaders in all major cities of the country, following the arrest of the firebrand cleric.

The party had staged violent countrywide protests against the acquittal of Aasi Bibi last month.

Top court moved to seek contempt proceedings against cleric Khadim Rizvi

The action was taken following TLP's refusal to withdraw the call to stage a protest sit-in [at Liaquat Bagh in Rawalpindi] on November 25.

"Protecting public lives and properties is the first priority of the government," said the information minister in a tweet earlier.