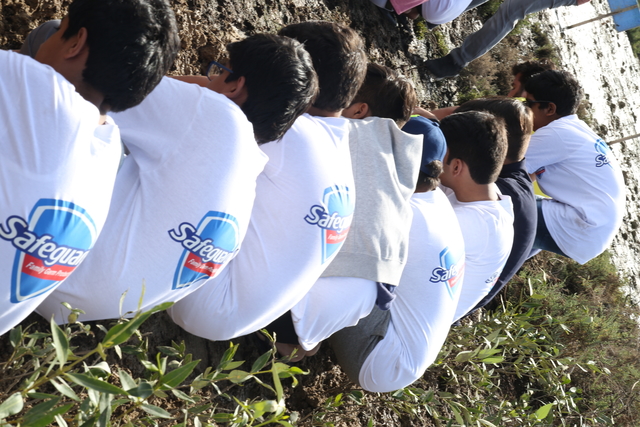 ---
Safeguard Pakistan joined hands with WWF Pakistan to give back to community by organising a trip to Hawksbay for 100+ students from The City School. The students took a pledge to be more socially responsible, planted mangrove trees and participated in an extensive and highly productive beach cleanup along with Safeguard's brand team and WWF representatives.




The activity kick-started with a comprehensive presentation replete with facts and figures on how global warming and animal extinction is affecting the world we live in and why conservation is more important now than ever. WWF soul reel on conservation concluded the presentation along with an interactive Q&A session that gave students a chance to exercise their grey matter.

The level of engagement shown by the students was proof enough that conservation is a topic taken seriously by all age groups, and students today, are much more aware of their environment and feel a strong sense of responsibility towards it. Close to 1,100 mangrove trees were planted by students of The City School chaperoned by their teachers at the WWF Wetland Centre. The whole trip came to an end with students chanting 'Pak Pak Pakistan, Safeguard Pakistan'.




Tree Plantation means contact with mud, dirt and germs, but to to help kids remain germ-free, Safeguard's Army was present to wash their hands so that kids can play their part in protecting the environment without worrying about germs. In the past couple of years, the brand has really upped its ante as far as Health & Hygiene is concerned.

Since last 2 decades, Safeguard has been leading a mission to impart healthy hand washing habits in the children of Pakistan. This year, they aim to create an even bigger impact by taking a step forward and organize tree plantation drives along with their school program to hinder on the importance of a Clean and Green Pakistan.




From introducing their extremely pragmatic idea of Safeguard Army at food festivals and hand wash stations at public events to their socially responsible drives, Safeguard is becoming more and more inclusive of the greater community and we can't appreciate that enough. The community as a whole could really benefit from such events if and when more brands decide to break the screen barrier and adopt this communal approach. The alliance between two socially active giants such as Safeguard and WWF heralds a change in the marketing as well social landscape, and one can only hope such collaborations become a norm and not an exception.




Safeguard Pakistan with its #BachpanNonStop moto also aims to encourage mothers to actively engage their kids in exploring and protecting their environment without worrying about their hygiene. So plant at least 1 tree at home with your kids, but don't forget to stay protected with Safeguard! Purchase it now for #NonStopProtection  here.

Has Safeguard been to your kids' school? If yes, share with us the pictures of their school program or tree plantation activity using #BachpanNonStop and show us how are you helping the environment without worrying about germs.


COMMENTS
Comments are moderated and generally will be posted if they are on-topic and not abusive.
For more information, please see our Comments FAQ