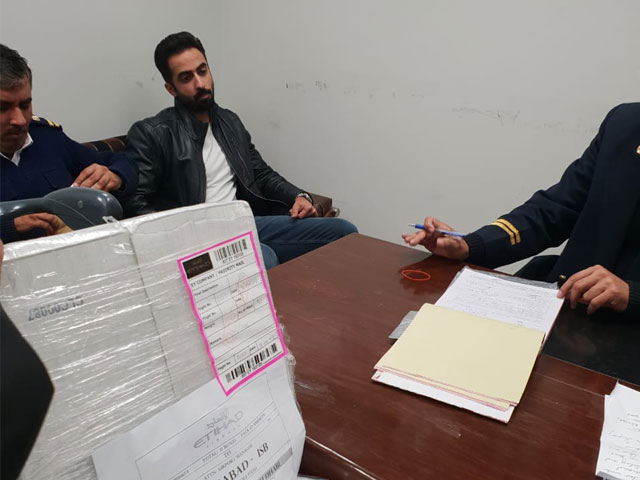 ---
Authorities at New Islamabad International Airport on Wednesday apprehended a Kuwaiti national for laundering US dollars.

Khalid al Basiti was off loaded from a private airline's flight 206 and taken into custody after he was found responsible of attempting to travel with over USD46,000.

Customs officials says the money was confiscated from the passenger during the screening of his luggage.

WATCH: Cellphone smuggler rips customs official's uniform at Islamabad airport

Basiti, who claimed he was a Kuwaiti diplomatic official, could not produce a legal document pertaining to the currency he was carrying.




PHOTO: EXPRESS

On Monday, a suspected mobile smuggler has been arrested for manhandling a customs official after being caught red-handed at the New Islamabad International Airport.

CCTV footage of the incident showed that during checking of a passenger's luggage, authorities found multiple cellphones he was trying to smuggle.

Upon finding the contraband, he tried to flee but custom officials managed to grab him after he tore an officer's uniform during a scuffle.
COMMENTS (1)
Comments are moderated and generally will be posted if they are on-topic and not abusive.
For more information, please see our Comments FAQ