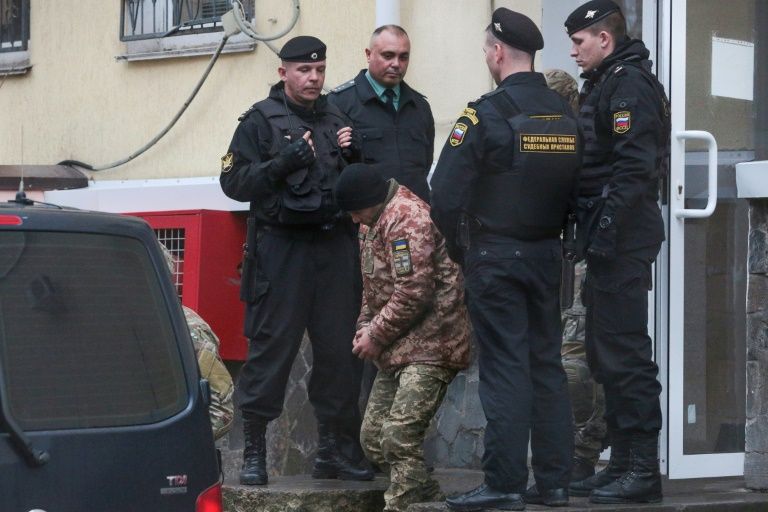 ---
KIEV: A court in Russian-annexed Crimea on Tuesday ordered three Ukrainian sailors to be held in custody for two months after a weekend confrontation at sea with Russian border guards.


"For now, the court has ordered three people held until January 25" on accusations of crossing into Russian territory illegally, Crimea's rights ombudswoman Lyudmila Lubina told AFP at the court.




Several others of the more than 20 Ukrainian sailors held by Russia were expected to appear before the court later Tuesday.




Russia seizes three Ukrainian naval ships off Crimea




They have been held by Moscow since Sunday, after Russian forces captured three of Kiev's ships off the coast of Crimea, sparking the most dangerous crisis between the ex-Soviet neighbours in years.




Kiev says 23 are in detention, while Russian officials have put the figure at 24.




Three of the Ukrainian sailors were wounded in the clashes and are being treated in a Crimean hospital.




Ukraine introduces martial law citing threat of Russian invasion




Russia has so far resisted calls to release them, accusing the sailors of crossing illegally into Russian waters and of ignoring warnings from its border guards.




The incident was the first major confrontation at sea in the long-running conflict pitting Ukraine against Moscow and Russian-backed separatists in the country's east.




The court hearings took place in Simferopol, the main city in Russian-annexed Crimea, and are expected to continue on Wednesday.
COMMENTS
Comments are moderated and generally will be posted if they are on-topic and not abusive.
For more information, please see our Comments FAQ