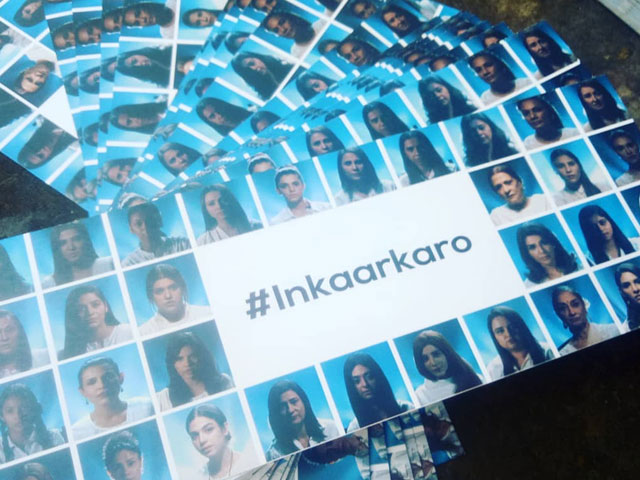 ---
KARACHI: #InkaarKaro, an initiative set up by Angeline Malik, launched its first campaign in Karachi on Friday, with a music video and stringent plan of action. With this, the actor and director hopes to give  voice to the various issues plaguing Pakistani society.

The event played host to who's who of Pakistani entertainment. A powerful video addressing the movement was shown, featuring veteran TV star Samina Ahmed, PR mogul Frieha Altaf, classical dancer Sheema Kirmani and a number of artists including Arjumund Rahim, Ayesha Omar, Nadia Hussain, Zhalay Sarhadi, Zoe Viccaji, Sonya Hussyn, Sanam Saeed, Farah Shah, Tooba Siddiqui and Faiza Saleem etc.




But what does #InkaarKaro stand for? The initiative allows people to share their stories and assures them that if they feel they have ever been wronged, there are many others here to support them.

Unlike #MeToo, #InkaarKaro is a movement which believes that if people get the courage to recognise and understand abuse initially, the issue can be eliminated altogether.

"It is a subject very close to me," Malik told The Express Tribune. "I thought I should start creating some awareness on the subject. When I started talking about this to people, I realised that almost every woman has been a victim of harassment - be it verbal, physical or emotional. Luckily, we've got all these strong women on-board."

She continued, "While working on #InkaarKaro, it dawned on us that there are very few laws with regards to harassment in Pakistan. The awareness level is minimal. So, I hope with this movement, we can spread the message and raise our voices."


PHOTO: PUBLICITY

The 43-year-old also explained how #InkaarKaro is different. "#MeToo is about combining the voices of the victims - the ones who've shared similar ordeals of sexual misconduct. With #InkaarKaro, we want women to realise that they don't have to be victims. They have the power and the voice to say no," she shared.

Malik revealed that the idea stems from her  own personal experiences. "I think it's not just me but every woman on the planet who has gone through such incidents. This covers domestic violence, abuse, rape - you name it. We just want to prevent such horrific incidents by making women realise the power of saying 'no'," she added.

Sarhadi also attended the event to extend her support for a cause she hopes will make its way to Pakistan. "I'm a supporter of educating children about sexual predators and how to protect themselves from such people. I've taught my daughter that. So, this was like a welcome thing that Angeline started," the Jalaibee star commented.




"The moment I heard about #InkaarKaro, I was on board. The reason is that we need to educate those who are unaware. Most women think that when they are victimised by sexual harassment, they instigated it. That's not their fault. We also need have a very imperative conversation on how they can protect themselves. They should be taught that they can say no."

Sarhadi thinks it's mostly because of religious barriers prevent people from discussing the matter openly. "We wear a shroud of religion. We wear a shroud of culture. We wear a shroud of tradition and we kind of hide behind it. So in Pakistan, sexual harassment isn't a taboo. It's traditional," she stated. "I think we are very progressive as a race but we just don't implement the means to have a conversation about this. We have the necessary equipment, we just don't use it. I think it's high-time we make it happen."




Transgender activist Kami Sid said it was essential for the trans community to be a part of women-oriented movements. "Transgenders are women. We consider ourselves as one, so the issue is very close to us," the Rani star commented. "My issues are just the same as any other woman's. If anything, our issues are more problematic as we are more vulnerable."

"We have to break the norm. Someone has to break it. I always say this: don't agree to everything you've been asked to do. Learn to say no. Put that chin up and refuse," she added.

Have something to add to the story? Share it in the comments below. 
COMMENTS
Comments are moderated and generally will be posted if they are on-topic and not abusive.
For more information, please see our Comments FAQ